Hands on with Skype Preview, now accessible on the Xbox One's Alpha ring (video)
By Jez Corden last updated
For a few months now, Skype's UWP Preview app has been available in the ready to install list, albeit inaccessible. Until now!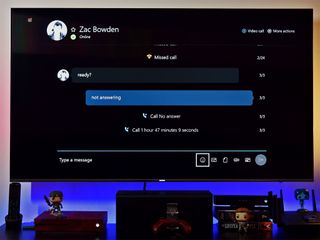 It appears that this only works on the Xbox Insider Program's Alpha ring as of writing, but if you're able to get it elsewhere, let us know in the comments!
For those who are in the Alpha ring: if you have previously downloaded Skype Preview for Windows 10, the app will be in your Ready to Install list under Games & Apps. If not, you can search for Skype in the Xbox Store and download the Preview app.
Skype Preview will eventually replace Skype on Xbox One, which was previously Windows 8-based. The UWP version shares common code with the Windows 10, Windows 10 Mobile, and HoloLens version of the app, showcasing the power of the platform. Here's a quick look at the app so far, which appears to be off to a decent start.
The Skype Preview app for Xbox One has a unique interface which is clearly still a work in progress. It's a little odd navigating the app's elements with a controller, but given the way Groove has improved since its initial beta phase, Skype should see similar improvements.
The instant messaging experience is a little awkward to navigate on a controller. Some of the icons are very small and fiddly to select. For example, selecting the text field automatically opens the soft keyboard, whether you want it to or not. Additionally, you open the sidebar using the menu key, even though the menu key is supposed to be for opening the hamburger menu, which is a little confusing.
Most of the features seem to work, including video chat, instant messaging, and voice calling. But interestingly, Skype Preview for Xbox One also supports the new UWP File Explorer, allowing you to send files and photos as if you were on PC.
When it comes to unique Xbox One aspects, the app has a tiled contact list and conversation view, which is far easier to navigate with a controller than the Windows 10 columnar view would be. This makes navigation of the app really easy on a TV and shows that the Skype team are considering how to improve the experience per device, rather than making a single app for PC and being done with it.
Image 1 of 2
Image 2 of 2
As of writing, there's no sign of Skype Preview's Compact Overlay Mode, which is available to Windows 10 Fast ring insiders. We believe that Compact Overlay Mode will replace Snap Mode on Xbox One, which is removed for the Creators Update. Microsoft is clearly still working to align the APIs between Windows 10 and Xbox One for this feature, but it's almost definitely on the way.
These are early days yet, and there's plenty of time to improve the app before it hits the general public. It's already far faster than the previous Windows 8 version, and the inclusion of the File Explorer is rather encouraging.
Stay tuned to Windows Central for all the latest information from the Xbox Insider Program, and let us know if you're able to grab Skype Preview on Xbox One in the comments.
Thanks, Jesse C., for the tip!
Jez Corden is a Senior Editor for Windows Central, focusing primarily on all things Xbox and gaming. Jez is known for breaking exclusive news and analysis as relates to the Microsoft ecosystem while being powered by caffeine. Follow on Twitter @JezCorden and listen to his Xbox Two podcast, all about, you guessed it, Xbox!
Seems so, just syncs any content it receives in the cloud.

Im looking for the same xD

I've said it before, I'll keep saying it until it's fixed: Current Skype design language sucks. By the time everyone else has moved to NEON they will just be introducing MDL 2.0.
I want Skype to succeed but it still feels like it has such a long way to go. Functionally its getting better which is a good sign but its also been in preview a very long time.

Kinda agree, I wish they would modernize a little. They're getting hammered in the IM space.

Don't most IM platforms use the same kind of UI? Certainly between Discord, Telegram and Skype they all look pretty much the same aside from the colour scheme.

MDL2.0 and NEON have a distinct iconography. Sure, the function might be the same in the way that messaging apps have a vertical linear flow to the application, but take a look at the icons, drop down design, notification design, etc here and tell me that Skype is applying them http://www.windowscentral.com/whats-new-microsoft-design-language-2-wind... and https://docs.microsoft.com/en-us/windows/uwp/style/segoe-ui-symbol-font By comparison, everything in skype seems so bubbly and 1990's.

ill have to try it out. :D

Think they should have dropped Skype name as most people will think I've tried Skype before and it was rubbish and not bother checking it out, there is big competition in the messenger​ market

Skype is still used by many millions of people, so the trademark is strong. Whether you like the Skype applications or not, is a matter of personal taste and what your friends and family use. In my case, I basically know four people who use Skype and all of them use it to a limited extent: while at home in front of a desktop computer. A fifth person I know use it sporadically on his smartphone. At the same time, I know that almost everyone I know, including at work, use Facebook Messenger instead of Skype. I don't use Facebook in any regards but I understand that they find it convenient to have one Messenger app to rule them all, so to speak. I therefore think Skype needs to "face" (pun intended) the competition by continuing to improve and focus on everything related to high performance and low latency, as well as keep up with the hype around offering even more animated smileys, fireworks and other toys. Keeping it stable and SMS-aware goes a long away too.

same here only know 1 person that uses skype, i don't get how i have a messeging app on the pc which worked for about 2 days then microsoft switched the send button off saying they where working on skype, reply to text from the pc was great, i can't see peopel moving to skype without some killer feature, what will it do for them that other messeging won't do already

To drop the Skype brand will be a disaster.

I like skype and use it daily so this could be really handy for my sms as well, nice to see Microsoft really pushing ahead with the UWP

Hoping to see if SMS works on XOne...im updating with my sister phones internet and in 4 hours and almost 30 minutes have downloaded almos 50% of the update xD

Hoping they add the support of webcams, other than Kinect.

Seems like Kinect would be useful here for navigating the UI via gestures or just using voice commands.
How about a new Xbox keypad that includes a mini trackpad?

The blurs in the video are not that effective. I coincidentally happened to pause at a certain time and the white rectangle was above the numbers and names and hence numbers were visible. Seeing that the video is publicly available on Youtube, I think you should check and re-edit the video if necessary.

Neat ill have to check it out
Windows Central Newsletter
Get the best of Windows Central in in your inbox, every day!
Thank you for signing up to Windows Central. You will receive a verification email shortly.
There was a problem. Please refresh the page and try again.