Hands-on with Skype Qik for Windows Phone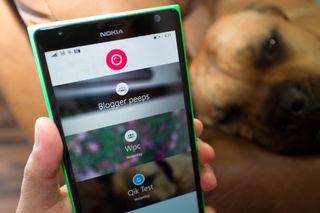 If you missed it, Skype Qik was announced yesterday. It's available now on Windows Phone, iOS and Android. A lot of our friends have not signed up yet, but we did get a few messages going. We've tried it on our Lumia 1520. Check out our hands-on video.
After installing Skype Qik on your phone, you'll need to register your telephone number to get started. You can send a message to one person or a group, as long as their number is in the address book. For testing purposes, Skype has included a profile called 'Qik test' who you can send test messages to.
Tap the red button or its white background to open the camera. The front-facing camera opens by default, but you can change it to the rear camera by tapping the rotation button on the right. Tap the red button to start recording and tap again to stop.
List of conversations is displayed on the main page. Tapping on them shows off the messages.
You have to be careful because this is not like Instagram where you can preview your video before it uploads. Skype Qik immediately uploads the video at the end of recording. If you don't like what you see, you can delete it afterwards. It disappears after you tap the trashcan on the left. All messages also get deleted after two weeks.
You can add people to existing conversations. Just tap the three dots on the lower right corner and then tap 'add people.' If they haven't signed up with Skype Qik yet, they'll receive an SMS letting them know what to do.
What's currently missing on the Windows Phone version of Skype Qik is a feature called Qik Flik. They are 5-second videos you can pre-record and send with just a tap. This lets you quickly respond to anything if you're busy to record right now. This feature is available on Android and iPhone and is coming to Windows Phone in the coming months.
We like Skype Qik so far, but we think the biggest hurdle is whether our friends on WhatsApp, SnapChat, GroupMe, or Facebook messenger are willing to try out the new service.
Have you been tying Skype Qik? Let us know what you think in the comments!
Get the Windows Central Newsletter
All the latest news, reviews, and guides for Windows and Xbox diehards.