Hands-on with Skype Qik for Windows Phone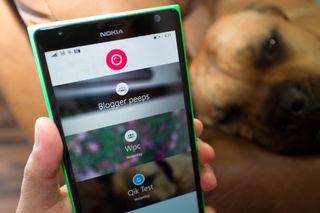 If you missed it, Skype Qik was announced yesterday. It's available now on Windows Phone, iOS and Android. A lot of our friends have not signed up yet, but we did get a few messages going. We've tried it on our Lumia 1520. Check out our hands-on video.
After installing Skype Qik on your phone, you'll need to register your telephone number to get started. You can send a message to one person or a group, as long as their number is in the address book. For testing purposes, Skype has included a profile called 'Qik test' who you can send test messages to.
Tap the red button or its white background to open the camera. The front-facing camera opens by default, but you can change it to the rear camera by tapping the rotation button on the right. Tap the red button to start recording and tap again to stop.
List of conversations is displayed on the main page. Tapping on them shows off the messages.
You have to be careful because this is not like Instagram where you can preview your video before it uploads. Skype Qik immediately uploads the video at the end of recording. If you don't like what you see, you can delete it afterwards. It disappears after you tap the trashcan on the left. All messages also get deleted after two weeks.
You can add people to existing conversations. Just tap the three dots on the lower right corner and then tap 'add people.' If they haven't signed up with Skype Qik yet, they'll receive an SMS letting them know what to do.
What's currently missing on the Windows Phone version of Skype Qik is a feature called Qik Flik. They are 5-second videos you can pre-record and send with just a tap. This lets you quickly respond to anything if you're busy to record right now. This feature is available on Android and iPhone and is coming to Windows Phone in the coming months.
We like Skype Qik so far, but we think the biggest hurdle is whether our friends on WhatsApp, SnapChat, GroupMe, or Facebook messenger are willing to try out the new service.
Have you been tying Skype Qik? Let us know what you think in the comments!
Love the app, but it does crash or states that my camera isn't working...

No crashes here yet but the video quality is horrid.

I can barely get my Apple fanboys to use Skype. How the hell could I get them to use this?

Know how you feel. All my friends don't want use anything related to Microsoft.

Really? It was actually my friend that loves apple devices that got me to start using it.

Yeah, they use facetime. They do have Skype but if not used in a week or so they just get signed out on ios so I can never call them unless I first tell them to start Skype...

I use an iPhone and an ipad. Never noticed this issue you're pointing to. Strange.

Skype Qik has a cool feature that the others don't have... and it's a feature that Windows Phone ironically doesn't have yet! the ability to make custom real emoji (the Qik Flik feature). let's say you make an angry face clip, a sad face clip, a "no, no, no" clip, a "yes, yes, yes" clip, a happy face clip, etc. and when you need to respond to someone, rather than sending a generic emoji, you're tapping on a real emoji. That's very cool. not just real emoji... but video sayings like "come home now!" or "we're going out tonight"

Skype is ALWAYS behind on Windows Phone. But in case of this feature, it's nowhere near understandable why it's missing.

I haven't been able to send one Qik message because it keeps crashing on my Lumia 1020.

It's saying that my phone number is invalid..wow that's a new information for me..

Yea same here. When I try to send a recorded video to my contacts the app crashes. Hope Microsoft releases a patch soon.

I've had to restart my phone once or twice to get it to work. Other than that, I've been having fun with it...

You don't. Just close the app and open it again :)

Sam is it possible to upload to the Gram or any other means from this app? If no tell them boys and gals at MSFT to make this possible. Nice review thanks Mark.

Ah. You were emoticoning in the video. Got it.

;-)~ Chinese smiley face. Yeap. Lol

Hey Sam... Just curious... Why does windows gets updates and features after android and ios? I mean if they are other apps... I agree. But Skype? Doesn't it belong to Microsoft? Just curious to know why this is this way...

Hey Sam... Just curious... Why does windows get updates and features after android and ios? I mean if they are other apps... I agree. But Skype? Doesn't it belong to Microsoft? Just curious to know why this is this way...

I have to echo your sentiments about getting people to use this app. Skype is super late to the video messaging app party, and I don't see why you would throw effort into an app like this right now. Oh, anyway, no one I know will be using this app. I would like to see usage numbers per month on this thing.

Just close the app and restart it. No need for restart

cant wait to see the usage go under 100 per month

Say's 3 people are using it right now. Aw maybe 2.

sell them on the Qik Flik feature. that's unique and super cool. see my post earlier...

I still don't really understand the point in the separate app.

a cheap snapchat replica i would say

I'm not understanding the Snapchat comparisons. The point of Snapchat is to have quickly vanishing messages of videos and pictures and from my experience, it's mostly pictures. Qik seems to be more geared towards continued 2-way (or group) communication. The messages won't auto vanish for two weeks.

Agree, non real-time video messaging seems dumb, if I wanted to talk I would call or even Skype, if I don't want to I would send a text or some other messaging app, I just don't see where this fits in.

I've had fun leaving video messages to Skype friends before, so I definitely get the excitement. Not every app is for everyone, though.

Well not everyone uses Skype but this is yet another fun social app. Maybe it will catch on or maybe it will not but I don't really understand why there is so much hate. If it does catch on, I can see audio messages being incorporated and then text. I've been using it for 2 days straight and liking it. Rather than complain, let's just get people to download the app. I now have 19 people using it. It may not be the goto app for them but I'm sending them clips all the time and doing my part to help build the ecosystem.

Not hating, just don't understand the need or effort put forth to an app that Skype already does. They should be putting effort towards a really great Skype app. (though, since switching from 1020 to 1520 my Skype experience is much, much better. Hardware must make a huge difference). Long story short, they already have an app that does what this app does. Unless I am missing something.

Not only that, they should be taking advantage of current Skype users. It's one thing to make it an optional separate app so that people that don't have Skype can use it. It's another thing to abandon the massive user base of current Skype users entirely

I have to either restart my phone or reinstall the app,because sometime it said it can't recognize my camera.
It's a good app,but those features that Android and IOS have,Windows Phone should of have it first and other platforms should have get it next month,Microsoft biggest mistake.

m using n625 in india i cant get this app :/ its this available only in US?

add chst feature too. the app os great of developed seriously further

Does not work for me. My contacts never receive a sms asking them to use Qik.

This option is not available on Windows Phone. Seriously, only iOS and Android.

It has to send the SMS, otherwise the messages exist only on your own phone. I hope this is incorrect information. I wouldn't know, Qik just crashes on my phone.

They are talking about the SMS the app send to non Qik users as an invite. It's not available for Windows Phone. I used the app on WP and Android, and only Android (maybe iOS) have this option.

you record your video. then you add the contacts you want to send the video to. then you send the video and you'll get a prompt to send an sms. then it'll send you to the sms messages in your windows phone messages. then you send the sms.

Not me. I can record the video but Qik crashes while trying to add contacts. Every single time.

Yep, I get this when I try to send the invite...
Hey, check out the video I just sent you on Skype Qik http://skype.com/get-qik?src=sms (Can't send message) Uninstalled.

This app do not work here in Brazil in some regions. Since two years ago some states started to "add" a nineth digit number in the cellphones numbers (XX 9XXXX XXXX) and Qik can't understand this...

We've identified the cause of the issue and should be pushing out a fix for the Brazil issue soon.

Why not make a instant messenger like what's app/viber/wechat/kik/hike etc...Like adding contacts through telephone number instead of login ID... With Skype user base you don't even have to do marketing... It will be a hit overnight... But what does MS do... Make a video app... What a waste of energy and resources... Sorry if I M rude... I just want to meet your strategist...

If you provide the number without the leading 9 it'll work fine. It's still annoying because it doesn't accept the numbers I've already updated in my contacts.

Same issue in Mexico. We have to add a 1 after the country code and before de phone number.... Viber, Line, Whatsapp works with this, but not Skype Qik

Woah, that pic of Sam totally reminds me of a skinnier version of that telepathic policeman from Heroes. :-o. On topic, I need to try this out with my family.

Pretty neat. Also a good way to use Skype even on a phone that only has a rear facing camera, like the Lumia 635. :)

Wow Sam. You're....very good looking.

What is the point of this app? First off, searching the app store for this app doesn't even bring results?? Secondly, why would they make a separate app?? Ummmmmm how about the Skype app itself?????? And lastly, how about fixing the Skype app itself by reading some of the thousands and thousands of negative reviews. Microsoft needs to fix the problems with the Skype app before making a new app.

I am with you. (again, Beta, not complaining, trying to understand) I can normally justify why MS does things, good or bad, but I just cannot understand in this situation why this makes any sense at all. If Skype didn't already do this, then ok, but it does.

come on, what's the definition of 'beta' nowadays?

OK, why am I not in on the joke? MS is now just intentionally burning down the platform and I keep thinking they're actually trying to do good stuff. No Cyan and no message that they even know how upset people are. Same here. These are PR disasters and no one cares to even type a little note.

:/ I've got a love hate relationship with msft ecosystem at this point. Just when you think they're learning they just drag you back down. Like why would they name xim released a few days ago Microsoft xim....people have such an aversion to the msft brand. Keep it simple...xim and leave Microsoft brand out of it. Back to this app...its pointless, should've never been published like the surface mini never was announced.

Again, how does the WP version come up lacking a feature, especially when it is developed by a Microsoft owned company. In my opinion this is getting ridiculous. Why neuter your own platform. I try to champion WP wherever I go but this kind of crap takes the wind out of my sails.

Metoo, I love my 1020 but I'm seriously considering leaving WP because of crap like this! After reading that "in the coming months" I couldn't stop laughing!!!

Does anyone else experience issues where the app doesn't show anything when its open? Sometimes I have to refresh the app or restart my phone to get the app to refresh to see new videos or for mine to send. Hoping they release a patch soon.

Just close the app and open it again. No need for restart

Doesn't work for me. Trust me. Its very hit or miss on whether the screen will be white or not.

U are wrong and I'm too damn high to reply

Its missing another feature and that's switching between front and rear cameras while recording. That feature works fine on android. So its nothing special with the two missing features. Once they are available I think it will be different enough from other apps with video capabilities that it will catch on.

I don't know why we are missing those... Android and iPhone both have those features.

Just bothers me, we as WP users listen to all the app shortage comments by other OS users. Microsoft has done a few things to encourage developers to make apps but they fail in making an equal app at launch for all OS's and the shortage is its on smartphone. I wouldn't release the app to any phone until my device had a complete feature filled app. Oh Well!

A couple of updates should fix the app.

Still waiting for a Skype fix. Just forget about it, it'll be a shitty app for us for long time.

Yet another Snapchat clone from Microsoft..

I never receive notifications of new messages, am I the only one?

Sad... I wish I knew how to fix it.

I receive the notifications but takes a while, like 30 sec or 1 min.

Just a toast notification or do you also get a role notification?

I get toast (user *** sent you a message) and live tile. But, as I said, it's not immediately.

I think I figured out the issue. B is background tasks were turned off in battery saver

I have tried the app and it works beautiful. Is not the fastest but is so easy... The only problem is its adoption rate. We'll see in a couple of months if this app is well received by consumers. Microsoft should try an integrate more of the phone basics into Skype. As in Skype becomes the default phone to use and carriers use this option for its daily use as well as Skype messenger. Otherwise we will never see them grow.

I am getting really sick about MS. We support WP even when people make fun of us. Google refuses to produce apps for WP and blocks APIs whenever a third party tries to develop. Yet, MS keep giving priority to IOS and Android on apps that should be way better in WP. We still have the crappiest Skype app even below Blackberry standards while the IOS and android counterparts are glorious. This means either that MS don't care about its own OS or WP is a failure from the development/Implementation stand point. In January if I don't see a serious and clearing indication of a change I will abandon the ship.

Same here. Three years on WP and Im about done with this. Android L looks nice.

I know how you feel. I have about a week left before i jump overboard myself.

Well, you'll get the usual replies of 'This is business/marketshare'...'you don't understand' etc etc. That's fair, in that it's good practice for Microsoft overall, but the other side of the coin is that it's bad for Windows Phone's future. Given their priority to their competition, i myself would no longer recommend a Windows Phone. Other than a few of the OS features, it's becoming a less compelling argument to make for someone to choose it over Android or iOS.

Me too, just waiting for Windows 10. If they keep their shitty development I'm out.

Having this feeling that Skype is gonna be another dead brand from MS if they don't catch up with viber, whatsapp and other top contenders.

Agreed 100%. What makes it so frustrating is Windows Phone is a phenominal OS. That's why I am so mad that I'll probably be leaving soon because I will really miss the OS experience but on a day to day basis that experience can only take you so far before you start to realize _every_ single app is 10 times better on Android and even better still on iOS. At least before I could count on the MS developed apps getting preferential treatment on WinPhone but Skype Qik is a clear example that's gone out the window, there are features implemented in the Android and iOS counterparts that are not in the WinPhone version. That's inexcusable. Not launching a WP app because you proritized the top two platforms is fine, it's business. Launching a half assed app missing features on your platform while giving full apps to the top two platforms, that's poor form.

We needed to wait for Flipboard... It's Ok. We have 1 year with a Beta of Instagram...It's ok (6tag does the job). Facebook it's still catching up... Fine. Google WILL NOT give us a Youtube app... Hmmm we have some 3rd party options. In all of these cases WE UNDERSTAND that it's not MS's fault but when we see Microsoft developing apps for Android that are Way better than the ones in WP it's something gross. We are not asking Ms to shit on Android apps as Google proudly does with WP (Remember the Youtube app fiasco!!!) we just want them to give priority to their own platform and to support all of the people swimming against the current in the Mobile OS world. WP as a mobile OS is gloriously forked. I like the animations, how snappy and beautifully designed it is... but I do not trust MS's commitment to the platform anymore. How can I know if they will give me excellent apps anytime soon? Whatsapp in zillions away from the Android and IOS counterparts! And we complain because those companies (Whatsapp, FB, SnapChat) are not giving WP the importance it deserves. Next time I write to those companies asking for some love for the WP community I can expect a reply like these. "We will not give priority to a platform that is not even prioritized by its own owner, They go android/IOS first, so we do. We would do something for you in the future... if we have time". I do not think we will be able to say anything back. After a frank response like this. Microsoft, we need to hear this from you. Android and IOS users Sorry but you need yo wait, we are focused in our platform and our users... Once they have what they need we will consider building something decent for you. P.S. I just sold my Lumia 1020 and Lumia 822 and will be using all of Microsoft products in the competition. I know Microsoft will be happy to know that.

im all in for anything from microsoft but this is just a desperate try to imitate snapchat. beaides as microsoft i wouldnt waste mytime developing an app that already exists and is doing great right now ironically, the extra feature of the quick videos is found in iphone and not on windows phone ...

Snapchat: Bad security, you need to know the name of the other person, ugly ui, bad camera resolution
Skype: Security, SMS to contacts so they can join, easy fast with better ui, great camera resolution.

lets not judge snapchat based on the Snappening , it was one little mistake. because if we are gonna start pointing fingers , microsoft has alot of fingers to answer to, not only by android amd apple but even by itsown users. now i dont want anyone telling me that microsoft is targetting the mass market by giving its apps to other platforms. im not saying make the wp app better than the rest. i just want it as good. microsoft should stop eating android and apples crap and mke itsown way , make google beg them to make ayoutube app for them...

I really like the app although its missing other features apart from the one mentioned, like it be good to copy the video you sent to someone and send it to another, and I don't know about the rest but I have lots of contacts linked so when I want to add a friend I get a full contact list with repeated names... about having to wait for features that they made available for other platforms before their own... just shameful, they know about the bad quality apps available for windows 8 and windows phone that are so much bette in other platforms but yet they do the same as other developers and make a better app for other platforms...can't understand it, so are they trying to say hey U guys windows lovers just hold in there because we knee U love us a won't go to the competition..but guys the money is some where else and we have to conquer them and we hope U stick around with us until we get market share or whatever...MICROSOFT WAKE THE F**** UP YOU ARENT TREATING YOUR CUSTOMERS RIGHT!! and if some one says ohh nonono but its the Skype team blablabla ....if I was head of Microsoft and one of the apartments brings me an app before release and tell me ohh but we made it better for other platforms but gonna work on that and bring it to ours soon, I keep quiet and grab the money... pathetic... or are they showing that is actually a lot easier to develop apps for other operating systems???? Damn so long no one is gonna read it but well... had to say it COs I'm a bit passed off with this crap after being loyal to Ms for so long....

Face the fact, MS is going to develop for the other platforms along with windows phone. The other platforms are more mature and as much as it pains me to say, things run better on them at the moment.

Of course and they must, but why cant they make the apps with the same features for all the platforms?as all developers should, so we can get rid of this OS fighting crap...

I like this app very much. I hope my contacts will follow that. It's nicer to send such a personal message rather than only text.

i can see my self using using this app a lot but why can't we keep messages we received for a little longer, i'd like an option to save video messages

925 on TMO running 8.1 DP. My videos are always saying "sending", but are never sent. I like the app, but it doesn't seem to work for me. I'm gonna keep it for now, and maybe it'll work in the future. If anyone has any suggested fixes, that'd be great.

Steviewigs, I also am on 925 T-Mo, but I refuse to dwnld the 8.1 for developers. (I feel like it removes the priority for TMO to push 8.1) with that being said...i can't dwnld on my phone. I did on my wife's ipad, The app; snapchat-ish but not for sexting tweens, NY Congressmen. Less skeevy, more purposeful.

Their introduction video said that user will be able to change the camera (front to rear, rear to front ) while recording, but I am not able to do that. Can anybody else do it ?

I'm having the same issue. That feature is available in the iPhone version (my wife has one). Yet another slap in the WP user face. If there was another phone with the quality of my Lumia 1020 camera I would be out.

How stupid MS developing better app version to other platforms and deliberately ignoring WP users.

Great job by Microsoft in making the app "lack of " some features that iOS and Android enjoy. Great job really!! When users on iOS feel proud of what they enjoy while the others can't, as well as those android users. We WP users enjoy what we lack while others cannot lack. Great concept from Micosoft. I think Micorsoft should make some console game, that has multiplayer feature on PS4, but not on XBox One. That will increase their sales. When my Nokia phone dies, I know which mobile OS NOT to use.

Why is this not a part of the Skype app, or integrated in some way? Video quality is a bit grainy, is that the app or my 920.

I have no problems at all with it and most of my friends and the people I work with at MS xbox are using it already as well. So its a big plus for me this app.

So, you are filming and driving a car? Even handsfree. You look more to the camera than watching the road.

Whut are you talking about?

I think MS is developing not a snapchat competitor but a whatsapp competitor. I completely expect a future upgrade to include text.

What the duck, Micro$oft?! We support your platforms and you doing this shit with us again? No app for Windows 8.x and a half baked app for Windows Phone. How the hell do you want developers to support your OS if you don't? Very very dissapointed. Again.

I am so disappointed that I am already looking for my next android phone. And most of my friends are back in android or IOS for similar reasons.

Keeps crashing when I have to chose the person i want send it. Restarted the app, the Phone, softreset, reinstall it... Still crashing!

And I have a Lumia 520. Is this relevant?

Just can't see myself using a product that is intentionally gimped from the start while competing platforms have the full experience, and judging from the sorry state the main Skype app is still in you'll be waiting a long time for an update. No thanks.

Again Microsoft dwarfs it's own platform. Feeling pathetic to be a Windows phone user

Agree, I'm tired of taking this crap, supporting the platform and receiving half backed broducts.

Looks like MS is joining the other developers and making ios and android apps 1st/better and screwing WP!

I still don't understand the need for messenger apps.

Android the app is fine with Apple the app is fine with WP the app is ...mmmmmm i don't remember that i have said something before about..so shame on you Microsoft

What the duck! They gimped us again!

Miss the unified messaging in windows phone 7.

How much more of this crap do we need? I don't need 999 ways to send a freakin video or send a picture. The shit is getting ridiculous.. share this share that.. but yes I've tried it yet uninstalled it immediately after (and I am happy without it :)

From my experience this app is completely broken on 512 mb devices. It crashes the moment I choose a contact on my 635 and when I click to open a video it displays a blank white screen.

i am fan of WP.. and i wish for WP to succeed. However, why is WP always gets left off of features available to other platform. Worse, WP is supposed to be "THE PLATFORM" for Skype. i just dont get it... a fullblown OS with BETA APPS on it...

For once, I would like to see an app developed for WP that is on par with Android and iOS. It's like WP versions was an after thought.

I still don't really get what this is for, even after reading the article. I have no idea what instagram and twitter are good for ither, though...

No need for this. Majority of users users already use snapchat. They cant push and cut deals with app companies to improve existing apps aswell bring new apps to the table. Now they just replicating snapchat in another form. Did they do one of instagram already? Lol

Why not have them both? I got more than one browser, more than one email, shop at more than one store and have more than one woman so why limit yourself? Two completely different services here. Many on Skype prefer Skype. So yes, there is a need for both. lol.

I like the idea ...but why no chat in it or some note on video

Uh can't you get your point across via voice??

Why cant they just integrate this to skype instead of asking users to use multiple apps.

"this app is not available for your device" this is why im considering dropping WP.

Wooh, Lumia 521 working perfect minus the ffc

Mark Guim, gettin' it done. Thanks again cousin. This will get some use.

When you type app name in store you get zero result!

It's way too late now with big competitors like viber, vine, watsapp (ect). all the above brings similar features if not the same on Skype qik. Microsoft should think of improving their Skype app instead or just think more ingenuitivly and make something new and not cloned! Meaning it has to be new and found non were else

I installed it last night. I don't know if my video message was received by the person I sent it to, but I assume it did. I uninstalled the app today, as my Lumia 1020 crashed several times during afternoon. The only thing I could think of (and the only new app I installed) was Qik. I'll have to wait and see if the crashing (freezing) continue,s now that Qik has been eliminated from the equation.

I've been with WP for 3 years, thinking of heading back to iPhone; pending a compelling release from WP

I havnt been with WP that long,only since the 521 was released on T-Mobile and have had the 925 since it was first released,but im getting tired of waiting for the next flagship to arrive on Tmo and not getting the 8.1 updates to run these newer apps.. I'm considering going back to android and picking up the nexus6 when its released.

Why still no synch to address book?

What would've been nice as opposed to this is if they had kept the messaging threads and integrated all the messengers Into ONE Hub.

I installed it yesterday on my Lumia 1020 and it works completely fine. No crashes, doesn't freeze etc. I'm actually surprised because the app is really fast. I definitely will be using it :-)

Apps like reading list, poki 2, Facebook, Skype Qik are faster and they don't have resuming issues( though loading problem still persists). And you may have noticed these apps don't close when you hit back button. That's really nice. I guess its winrt vs Silverlight thing(i m not a developer so i may be technically wrong)

I like it a lot! Been using it and will be using it from here on if I have to send a quick video, people will eventually catch on. Sending a qik to someone without the app will promote him/her to DL it, so just send stuff to people and they will download it sooner or later.

Telephone number? How convenient!

Anyone tried sending a Qik to Android? Apparently it does not work

Another missing feature is ability to pull down to record which is available on android version. WP version only allows tap to record. And btw you cannot change your number even after reinstalling the app(at least in wp)

fork you microsoft. -_- cut a deal with snapchat and get the real thing for WP. and do it real "qik" -.-"

Again an application developed by Microsoft people. Still they included features that on Windows phones are not yet available, aka. Qik flik. Never heard of that stupid strategy in my whole life.

I am trying to obtain a Lumia 1520, I would trade anyone on here my iPhone 4s in exchange for a 1520 and 50.00.

I feel guilty about convincing friends, colleagues and family to switch to WP. I was hoping WP would make a big breakthrough this year and that this would automatically fix the app issue. But unfortunately the opposite is happening. If is was an objective bystander I would think ms is going to let WP die slowly.

They should integrate this with the Skype proper for it to have any chance of succeeding. But perhaps/likely that is the plan.

I think it's awesome ... I like qik

I have successfully converted 5members of mt family my gf N 4 of my friends to use WP.. and they all love it... No body complains...!!!

I think it is the best platform out there... It's amazing in all ways...

I think its absolutely ridiculous that wp is lacking behind android with this app. Microsoft products should be better on windows phone than any other os

Very frequently it is asking me to restart my phone.

So what this article said was the windows phone app is not as good as the iOS and android app? Really? Has MS even given up on us too? This is the kind of crap we get from other companies and now even MS is giving us inferior app!!!

If someone would have a chance to have a debate w/ Satya Nadela about "Why choose a WP over iOS and Android?" I wonder if he could really say anything of consumer significance to convince the public right now.

Is it me or does the opening video seem to only show ios and android devices ?

Attempt to add contacts = CRASH
Reopen app = error message telling me to restart phone. Repeat

uninstalled. draining battery on my Lumia 635.

Sorry... Not interested at all.

It worked ok for the first day. Then it started freezing saying I needed to restart my phone (1020). Uninstalled and reinstalled. It worked for a day again and now the same thing. It freezes and/or says I need to restart the phone. Totally unusable. I'd say there are some issues here. Please fix it MS!

Why don't we have ROUNDS on window phones? It's one of the best video call apps around right now. You can make a group or conference video call of up to 6 persons. I want it on window os
Windows Central Newsletter
Get the best of Windows Central in in your inbox, every day!
Thank you for signing up to Windows Central. You will receive a verification email shortly.
There was a problem. Please refresh the page and try again.