Skype Windows 10 UWP preview for Insiders adds group calls and messages support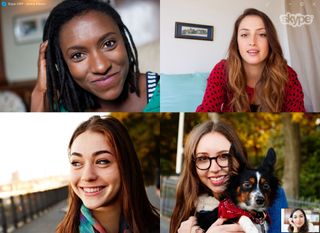 Windows Insiders on Windows 10 for the PC can download a new version of the Skype UWP app preview. The update adds support for group messages along with group audio and video calls.
In a blog post, Microsoft stated:
The new Skype Windows 10 app update also allows texts to be edited or deleted. Microsoft added that the Windows 10 Mobile version of the Skype app is due for release soon:
Download Skype app for Windows 10 (opens in new tab)
Put the skype integration back till the uwp skype is released for mobile insiders...

Don't you think they took it out because the UWP app is coming real soon? Like, soon enough that it will be out before the next build? So no. I think some of you need to back down from telling Microsoft how OS development should happen.

soon, real soon, virtual soon, augmented soon... (just kidding)

Sorry but I don't trust Microsoft in this case.
They are really fast in removing things without giving an adequate alternative. For instance the new music app from Windows Phone 8.1 was never this fast, stable and good to work with it like the old one from Windows Phone 8.


You're using insider builds.. I'm not sure why you'd expect an adequate alternative while being on the fast ring. Posted from Windows Central for Windows 10

No I'm not using the Redstone builds in a every day case. But I'm afraid that the Anniversary Update could be official released without a properly working Skype integration although the current version has this. It would'nt be the first time.

The alternative is to use the existing windows phone 8.1 app. You may not like this or you may be ok with it, however this is the short term solution til they release the new app. Patience ;) +640 on Windows10Mobile

Daniel - are you paid by MS? We complain because we buy apps and other services and to be honest ... MS is slow in many ways as hell. And if MS cares about our complains? - its their own business. We are customers with money for they can pay their bills ...

You must be new here. Daniel already posted rants on MSFT before, and I agree with his position here. You're complaining about preview software. If Microsoft doesn't deliver the Skype UWP app in time for the public Anniversary Update, then you can complain. If you need to ask, the Insider Program isn't for you.

Agree, this is fast ring folks live on the edge.

Plus, MS has to test things.. Remember that this is the inside program, whatever they add, or remove, they might need feedback on. There's a chance that removing skype from the messaging app could cause problems, so they have to take things one step at a time...
........
Once MS has determined that the messaging app works fine after their deletion they will release the new skype app... Redundancy, also is never a good thing with software, so they had to release a build without it first.

Why would they remove something if they don't make available the other? It is just dumb, no offense, but it is dumb AF. even if it's real soon, what concerns me is that we are talking as UWP Skype, UWP!! how come it is not released for both platforms since it is UWP?
So..this brings me to my next question... is it really UWP?

Yep it's 100% UWP. People have already side loaded the UWP Preview app onto their phone right after the initial release of it to PC Insiders. So people have it running on their phones already. Doing this isn't supported, but to answer your question YES, it's definitely a UWP app. Also, UWP is the platform don't forget, UWP doesn't mean available on all devices.

I just want the integrated skype back regardless. For me it has been the best experience I've ever had with Skype on any mobile OS so I'm very disappointed to see it go even if the new app is amazing I just love the fact that I can (could) use the Messaging app as a hub. Ideally I want the Messaging app to have Skype / WhatsApp and Facebook messenger all integrated into one fluid app. It doesn't have to enable full features of each service just instant messaging / emoji's and picture sharing and for anything else you can just use the actual dedicated apps. Posted from my Lumia 950

Well its not like they were really successful on mobile with that...also you can't trust MS, maybe it will be out "soon" or it will be delayed. In both cases...why take the integration out from the messaging app anyway? They could just do it on the next Build, when the know, the app is ready...or just leave the integration like they said previously for people who like it...

You can side load the uwp preview. Or you could recently at least. It's not supported though.

Do you have a link for today's build? I'd love to keep it up to date.

I haven't sorry - I've not side loaded the previous release myself either as I'm just waiting for them to release it to insiders instead. Todays update on PC has made a number of visual tweaks as well - It's looking a lot more polished IMO. Comparing the old version on my Surface to my desktop and loads has changed in how it looks. Coming along nicely Sent from Microsoft Band

I understand. In fact I tried the app on both PC and mobile so I could spot the differences. Hope they release it officially soon :-)

I love the integration but comeon it is not a big deal, we sould learn to live with kind of things on fast ring.

https://twitter.com/flobo09/status/721229704620089344

So skype will deal with sms on phone? I like this idea but will normal people go to skype too send texts?

I don't think so, Skype will be Skype, sms will be SMS imo.

But this article says "while leveraging the benefits of the Skype integration into Windows 10 you previously experienced, like a single view of your SMS"
That suggests to me it's built into this app

Sorry your right, I was skim reading because I am driving I'm stuck in traffic. My mistake sounds pretty good.

Put your damn phone down while you're driving!

+1 to that, it's a stupid thing to do, even if it was in a screen mount it's a dumb idea!

Yeah, before now it sounded like SMS and Skype wouldnt be integrated but I'm glad to hear this. Sent from my Toaster Oven (Lumia Icon)

I wouldn't get too excited about it, Skype has had the ability to send/receive SMS for years - so long as you have a Skype credit and a phone number from Skype attached. I read the same thing and thought it was referring to that service, not cell SMS via the Skype UWP app.

Honestly, even though I still mostly use the skype app on my phone, I find the messaging and skype integration very very nice, and I always like to show it off to my friends. I wish we can get to keep both the integration and the UWP skype when it's released to mobile

you will according to article.

nop, you won't. Read again.

@Florin you are wrong sir.
You read this part again
"While leveraging the benefits of the Skype integration into Windows 10 you previously experienced, like a single view of your SMS and Skype conversations."

Just add end to end encryption and make it as fast as whats app. That would be great if we could share documents. it will be the best messaging app then

How about providing a dial pad so I can call non skype users.

Pls call recording option on 14322.1000

What is the Version number for the latest Skype UWP release?

11.3.119.0 I'm seeing in PowerShell Sent from Microsoft Band

can you delete contacts now without blocking them?
​can you delete a single conversation without hiding it?
does it actually ring when someone calls you?
does the other phone you call ring when you call it?
​do messages sync properly now?
damn skype sucks so much.... forever and ever...

Can you even delete a single conversation in the PC version? I'm sure I was trying recently and you could still only hide it, which was quite annoying; but I think it's always been that way in Skype.

Even if they are making standalone Skype UWP app, it will be a good thing to have skype integration into phone, people and messaging apps.

It seems really amazing, I can't wait to use group video calling in Mobile

Can you log in with your Skype credentials and not Windows ID?????????????????????????????

I'm an insider on slow ring and I can't download the app, it opens 'get skype' app and not skype. How to fix?
Windows Central Newsletter
Get the best of Windows Central in in your inbox, every day!
Thank you for signing up to Windows Central. You will receive a verification email shortly.
There was a problem. Please refresh the page and try again.