Skype for Windows adds media toolbar and URL previews in latest update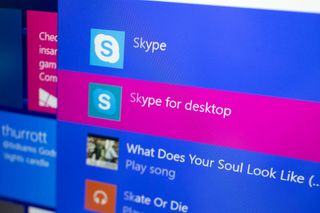 Microsoft is adding two new features for Windows Skype users. The latest update brings the version number to 7.16 and includes a media toolbar and a URL preview features.
Microsoft says:
The URL preview feature will allow users to copy and paste in a website link to a photo or video that will show up in the chat as an image, rather than a long URL address. You can download the new version of Skype now (opens in new tab) from Microsoft or hit Help > Check for updates within your existing Skype app.
Source: Microsoft (opens in new tab)
Looks like it's catching up to the iOS skype apps, which are fantastic. Good stuff.

IOS already have such things???

It has link previews, at least.

OSX had such things months ago.

its secretly an ios port from project islandwood. you can tell by the icons in the media toolbar

That is nice . Now if only we got an update on mobile .....

That would be great...it will not even let me log in!!! Keeps saying check my network..

First update mobile Skype. Still I think it's worst compared to other OS app.

Its not coming with automatic updates yet, but nice to finally see url-previews. God that took a while. Now lets add playing gifs and movies from inside the chat window

I'm glad they are putting effort into the windows 10 application

Hey wait a minute... this isn't even for Windows 10 Skype apps. These new features are included in the Skype for Desktop program (.exe) which means it's only useful for those on Windows 7 and 8.1

Well it's still useful on windows 10. I was being sarcastic. I do want the win 10 app to get better though, I use it on the surface a lot.

Skype for windows phone is a joke. It's so slow! I would use messaging and skype but groups don't load not even on my PC what a joke.

Skype on WP8.1:
1. Missed notifications
2. Crashes
3. Missed messages
4. Constantly logs out
5. Very slow We just need a decent app, is that too much to ask?

It's great on my 640 XL with 8.1 :)

yes. especially since ms wants you off of wp8.1

But WM10 isn't fully out..

What does "fully out" mean? I just paid $700 for WM10 phone and I'm supposed to wait for what? Until all older phones get upgraded? Or maybe when they sell 10 million phones? Or what exactly "fullly out" means? They ignored WP7 and WP8 and they will ignore WM10 equally. A while ago I asked them on twitter why are they doing that and their answer was that they have a surprise. I think the surprise was the built-in messaging. Frankly - I was surprised. Surprised how they can get away with that. Of course it's a neat feature. Or rather - will be, when it will start working well but even then it will deliver only basic functionality. No comparison to iOS or Android. I don't think they will ever release universal app, which means WM10 will always be a bastard in the family, an afterthought they take care of in the spare time. Honestly I don't get it. Yes, there are complaints that MS cares more about other mobile platform and they might be substantiated sometimes but there's also a valid argument that they were waiting for WM10. But what Skype team does is much worse. They clearly IGNORE Windows mobile, they act like they were fully against it from the very beginning of Windows phone.

6. You can't start group calls.
7. Often when you start a call if the phone locks Skype will just drop the call.

URL previews needs to make it's way to the messaging app too

I updated to this version but I can't see any link preview in my convesations, Am I missing something here?!

Check your version number in Help > About. New version is supposed to be 7.16, but for some reason mine updated to 7.15 and states I now have the most current version when I check for updates again. Something screwy is going on.

It happened to me too, you have to install from skype website not the update option from app. Mine is 7.16 but still I can't see the link previews, even tried uninstalling and installing again.

Gotcha. Figured that out already, but thanks. I was just returning to give an update on that. Yeah, the "in app update" doesn't update you, but will tell you that you are updated. Downloading from Website works IF you close skype first. Still no link previews, but the media bar is there.

Skype is maddening. All the progress appears to be happening in the x86 app, while MS is telling developers how they need to adopt the new W10 universal app model. I guess with W10, Spype is supposed to be integrated into the OS - different from an app, but progress has been unbelievably slow.

I downloaded, installed the update ... nothing has changed, still the same as before. Did they send out the wrong update?

The same here dude! I just update mine and see version 7.15.103 and I do not see any of those changes.

All I want for Christmas is Skype for Desktop notifications to be integrated with Action Center...

I think for that you need a universal app...

Nah, Telegram implemented Windows 10's notification system and it's a Win32 app.

I just updated mine and see version 7.15.103 and I do not see any of those changes. any ideas why?

http://www.skype.com/en/download-skype/skype-for-windows/downloading/?in... Follow this link and update, it will fix. I was having the same version like you after update. This update link fixed.

It needs a lot of speed. For me its unuseful

For me its updated to 7.15.0.103, and displaying you have the latest version :(
Windows Central Newsletter
Thank you for signing up to Windows Central. You will receive a verification email shortly.
There was a problem. Please refresh the page and try again.