Mojis come to Skype for Windows Phone 8.1 in latest update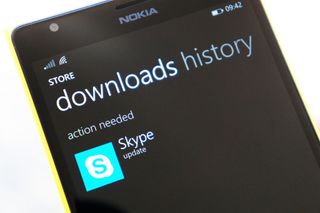 Rejoice, Skype for Windows Phone 8.1 users: Mojis have arrived. The Windows Phone 8.1 version of Microsoft's cross-platform messaging client has received a fresh update that adds support for the animated Moji clips, allowing you to spice up your conversations with bits from your favorite movies, shows and more.
Aside from the addition of Mojis, there doesn't look to be anything notable included in the latest update. Still, if you want to add a bit of animated flavor to your Skype chats, you can grab the latest update to Skype for Windows Phone 8.1 (it works with Windows 10 Mobile as well) at the link below.
Thanks for the tips, Thamarai and Edipose!
Download Skype for Windows Phone
Dan Thorp-Lancaster is the Editor in Chief for Windows Central. He began working with Windows Central as a news writer in 2014 and is obsessed with tech of all sorts. You can follow Dan on Twitter @DthorpL and Instagram @heyitsdtl. Got a hot tip? Send it to daniel.thorp-lancaster@futurenet.com.
Actionable notifications would be nice Microsoft. Posted from Windows Central for Windows 10

"Actionable notifications would be nice Microsoft. "

You would need to re-write the app for Windows 10. 8.1 apps can't just grow features from the Windows 10 OS/SDK.

You're right. I didn't think of that part. Hopefully the Skype experience in the W10M messaging app will become less painful to use. Posted from Windows Central for Windows 10

Well, in the new messaging app I can finally do group skype messaging for the first time without it crashing. For me, that's huge progress as that has never happened until this week, lol.

You're right, group sync and the notifications are working much better. Last update fixed many bugs. Only thing I would like is p2p chat support, but I guess that's too much to ask. I'm sad because I have like 4 groups that use p2p.

@Madr Duaz Reyes. They updated their backend away from p2p.... Lol.

I know, but I still have some chats with p2p. I know it won't happen, hence me saying it's too much to ask.

Can't the p2p chats be re-created by making a new group?

@Dan Harris, looks like the Op doesn't want to; which is odd to say the least. Never the less to each their own.

Good to know lol. I haven't been using it lately, because the notifications weren't reliable and it killed battery life. Posted from Windows Central for Windows 10

I updated microsoft messaging app and found that new update bring moji, image, camera and location attachments features.... ☺

Holy cr*p, that's true! I was waiting for this for a long time. When did this happened?

Today ☺ Posted from Windows Central for Windows 10

Not on my phone yet, I don't see the update there on 8.1 or 10 !!! Posted from Windows Central for Windows 10

I don't have this update yet - I'm on Release Preview ring on my Lumia 950, on .107 Are you on Insider Preview builds?

Sweet, the update looks like it's finally appeared! At this point pictures are the main thing I've been launching the full apps for. Just waiting for an update on PC to fix picture sending as I get an error every time so far

The biggest thing missing for me is the ability to dial a number and call out over Skype in the integrated experience, as opposed to having to use the old 8.1 app. Unless I'm missing something. Oh and missed call notifications too. Posted from Windows Central for Windows 10

Sounds good, I need to try this out. Just need group video calling in the app too and it's getting close to doing 90% of what I use it for. I finally figured out why I wasn't getting notifications from the Windows 10 Messaging app too.

There's no Moji on both w10 and 88
.1 yet any suggestions Posted from Windows Central for Windows 10

Thanks for the updates...8.1 also Skype. Now old imojis loading little bit slowly y i don't know?

That didn't take long at all (I type sarcastically)
The "bubble" style conversation layout would be very welcomed (I type seriously)

Isn't that old fashioned like some other outdated OS?

Any minute now we'll be awakened from the fake reality of The Matrix.....

There was just another update for message and skype with the same mojies

That came out over a week ago for Insiders and a few days ago for non-insiders.

Actually, I only got it today, including the latest update for Mail and Calendar that I didn't get before now.

What were the main additions in the Mail and Calendar update? I think I'm still waiting on that one. I just got the Messaging update now. Works great. I need the PC app to get a fix for sending images, as it doesn't work for me at the moment

Yea my messaging + skype finally got updated. Still waiting for the people app update with history.

People app for W10 is now with history! •Posted from Windows Central for Windows 10•

Not for me waiting for the update

Same here. Also, Messaging has not updated on desktop yet.

Is there a Messaging update for desktop going out with the new Emojis? I have the option to send Images, Location, Camera but no Emojis - Got this on the recent redstone builds but the photo sending hasn't worked so far.

I haven't got this on PC yet so I suppose PC is getting this update a bit later than mobile for some reason.

Not there yet Posted from Windows Central for Windows 10

Same here for Messaging + Skype, I just got that now.

Wattpad got updated too, along with 6tag. Btw, the moji's aren't playing on my phone. I can send and receive them, but they are still images only. Is it that .gif files aren't supported?

I'm loving this in windows 10 mobile!

The man in your avatar is looking very yummy.

That man don't swing with dudes...

He was only being complimented so he shouldn't feel threatened. A thank you would've sufficed.

Hey sorry to point it out but it seems you forgot to add the download link in the app(which links direct link for the app and brings that download button on the bottom bar in the new app) Posted from Windows Central for Windows 10

I wish MS would focus on productivity and functionality features first. Candy is the priority?

Yeah like you think they would maybe perfect Outlook Mail and Calendar first before this nonsense?? Posted from Windows Central for Windows 10 Mobile

There are obviously different people working on Skype and on Outlook.

This. and also these Skype changes are important to some people - I dropped the 8.1 app a while ago at the cost of not being able to send and receive images on my phone, so I've wanted this for a while.

Which is exactly their problem. No comprehensive strategy on messaging. Why not develop with the goal to forge E-Mail, Video / Speech / Text Messages, Live Video- and Speech, cleanly and with a consistent user interface. Over all their hard- and software - platforms, including Mobile and XBox. They have a nice and comprehensive line-up, with Outlook as a blockbuster in E-Mail messaging. The competition like FB Messenger, Viber, WhatsApp, Face Time, ...) would be struggling to keep up with such a super integrated offer. And that after 5 years of being MS.....a pity...

If you want to enjoy mobile productivity and functionality from Microsoft, please consider buying an iPhone or an Android device.

Thank you for the suggestion, but no thank you. I'll stick with Windows Phone. It could be better, but I think, when you add up the pros and cons, Windows Phone is better.

That's is not true with w10m.
And I didn't know android and ios have Continuum Posted from Windows Central for Windows 10

I feel like I'm the only one here on WC who still uses WP8.1 not W10M

Don't worry. I'm there too.

Three Windows Phones on 8.1 for our family. I read somewhere that something like 10% of all Windows Phones are on WP10.

I feel like I am missing mojis in the messaging app compared to the skype app. There doesn't sem to be very many... And I can't find any of the despicable me ones

Give them a moment to come in the first time you fire it up. Mine finally came in. I can now finally set Messaging + Skype as my default. Good to have most of the full integration back in 10 that went missing after going from 8 to 8.1 Posted from Windows Central for Windows 10

Mine came in, I have like 4 categories of mojis or whatever but still seem to be missing some.

Yeah, looks like they get pulled down from the server the first time - This makes sense as the desktop app seems to get them from the server and it allows them to update the Mojis without an app update to each platform

Oh boy now my mobile experience is complete! /s Posted from Windows Central for Windows 10 Mobile

Oh boy, this definitely made it worse /s *rolls_eyes*

New mojis for the old app and for Redstone insiders bit not for the majority of insiders, awesome. They could at least add the ability to send pictures in the messaging app already.

Not through Skype... Only sim... e.e

Actually, with the today's update you can do that. Posted from Windows Central for Windows 10

The update seems to have gone out to most of those still waiting today - It started rolling out to insiders and has slowly made it's way to non-insider builds over the last few days it seems. I literally just got it 20 minutes ago

ohhh they remembered they have skype app for windowsphone too :P

Does it support the group video chat function that they recently released on other OS?

It's probably on their list of things to add eventually. I think they want to take a break from the massive emoji update before they continue again. /s

yes My persistence paid off

How do you see the new emotions? I can't seem to find them on my Lumia 1520 Skype app!

Tap the smiley face to the right in a conversation and navigate using the bottom bar that shows up.

Is it me or the android version has this version already?

Can't tell if sarcastic ...

please add sharing with Skype to the Phone's OS....

It didn't happen in 2 years, it won't happen now. Maybe in the integrated Skype.

Just tried this - It does indeed work with the Messaging + Skype app on W10M - I shared a photo from the Photos app

They still care about 8.1??? I am touched!

Great. Mojis. They'd rather make their resources think over a comprehensive roadmap, with all their products, so forge them together, and to bring communication to another level.
Fuse E-Mail, short video, audio, text messages, live video, live speech, and whatnot. And after that they are free to add whatever crap to an integrated messaging system.
MS has everything to make such a thing, Hardware, software on all kinds of platforms, be it operating systems, be it an E-Mail client which is as popular as it gets and which runs on all important platforms. They had already 5 years since their 8.5 Billion acquisition, and almost nothing has been done. Just a bunchload of different apps for W8.1, WP8.1, W10, W10M, Browser App, x86 Program, Linux, Mac, iOS, Android, Skype for Business, all looking and feeling different......with very unintuitive UI's
And they really have time to integrate such silly Mojis???? Seriously, Skype is a failure of epic dimensions.

Skype looks fine on PC, OSX, iOS and Android. It's WP, W10M and Linux that's a disaster.

Fine, yes, but if you use the x86 program with a touch tablet it's not that fine. And the W10 App is a huge disaster.

Finally, it was silly that these had to be viewed in edge.

Got an update on my 950xl for Skype. Didn't have the emoji's yesterday, but since the update, w10m has them too in the skype app. Already had those emoji's in the messaging app.

US crap. Don't gonna use it. Not funny at all. But, some People will like it I guess.

Can someone please tell MS to add FB messenger support like skype support in messaging app.. it will be an awesome feature of wp8,,returning to win 10m

Facebook fault, not Microsoft.
FB don't allow that. Posted from Windows Central for Windows 10

knew that...but still ms can allow the connectivity in accordance to fb's new plot or algorithm ..

Actually, no. Facebook changed their terms of service, which is why Microsoft removed it from the messaging app to begin with. Posted from Windows Central for Windows 10

Spent a few months out contributing to the Skype community forums and got asked to be an ambassodor, got to admit I turned down the offer and have since stopped helping out, as far as I can see although I am a fan of Skype and the idea behind the new apps, Skype has soooo many problems and issues that are causing so many ordinary users to get very frustrated and leave Skype for other platforms. I understand MS are leaning on Skype a bit more, but if all they come out with are "Mojis" then they need a much larger kick up the pants at Skype than Microsoft gave the former employies of the aquired phone division, because as far as I can see they were doing great stuff compared to what's happening or not happening at Skype and their really poor efforts to communicate with customers.

Thanks for that. Big big failure from MS Management. And they had 5 years to correct that. I hope this whole thing will bust and this should make place for a new start. With new people in the lead.

Okay Michael Allison?! Yeah...him specifically =p Posted from Windows Central for Windows 10

No animated emojis.. If I am not wrong?
Windows Central Newsletter
Get the best of Windows Central in in your inbox, every day!
Thank you for signing up to Windows Central. You will receive a verification email shortly.
There was a problem. Please refresh the page and try again.