Slacker Radio app now supports Windows 10 PCs with latest update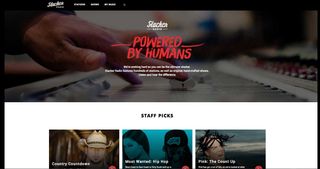 The Slacker Radio service has made itself available on the Windows Store for Windows 10 PCs for the first time. However, it appears this first release may be just a web-based app.
The Windows 10 PC was first spotted by Reddit member "inteller", and the change notes for the Slacker app claim it will also work on the Xbox One as well, presumably when the upcoming Anniversary Update adds support for the Windows Store to the console.
There's speculation on the Reddit thread that the app is web-based, since some users cannot play music from the app in the background. This version of the app does not yet support Windows 10 Mobile natively, although there has been a Windows Phone version of Slacker Radio available in the store for some time. Let us know your reactions to the new Slacker Radio app on Windows 10 PC in the comments!.
Download Slacker Radio in the Windows Store (opens in new tab)
Why would they make an app like this just a web wrapper? What a stupid and lazy thing to do

Microsoft themselves provide the tools to make apps from websites so why is it stupid and lazy to use those tools?

Not for an app like this I mean c'mon now

If it allows for notifications, live tile, etc, I think a web wrapper can be fine for some web media services like this.

I have Slacker pinned to my Windows 10 desktop via IE 11 (website). Works when minimized to the taskbar. I installed this new Win10 'app' and yes it is a web wrapper. Layout is the same. However when I minimize to the taskbar the Win10 'app' it goes silent (unlike the pinned-to-taskbar IE 11 website). So this new app will not play in the background when minimized to the taskbar. Otherwise it works in the background when NOT minimized to the desktop taskbar.

"So this new app will not play in the background when minimized to the taskbar." Any audio centric app that can't play in the background is an automatic fail in my book...minimized and/or not focused.

Didn't we already have slacker for pc? I could've sworn I had it on my start screen.
Windows Central Newsletter
Thank you for signing up to Windows Central. You will receive a verification email shortly.
There was a problem. Please refresh the page and try again.