Sleeve Music is out for music lovers: Exclusive to Windows Phone, it's a beautiful way to discover music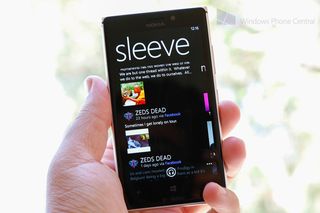 Back in early May we told you guys to join a beta for an app called Sleeve Music. A sleeve note (also known as a linear note or album note) are those pieces of paper you found with your vinyl records and CD cases back in the day. On them you'd find things like biographies, info about the album in your hand, and much more. These days we don't really have an equivalent. Sure iTunes offers a "digital booklet" with some albums, but you're probably not on iTunes and Sleeve Music for Windows Phone is so much more than that. Let's check it out.
So by having an idea of what the term "sleeve note" means you can somewhat guess the functionality of Sleeve Music for Windows Phone. It's an app that allows you to follow your favorite artists. You can grab biographies, check out their latest social media broadcasts, view tour dates, and more all in a beautiful designed app for Windows Phone.
When you first launch the app you'll be able to quickly import your favorite music artists through either Facebook or Last.fm. It's a pretty quick way to grab artists you've liked or followed in the past on those social networks. And as expected, you can just as easily unfollow an artist when it's done importing. Useful for that random band you briefly liked for about 2 minutes a few years ago. And you can manually add artists to Sleeve.
So you've added all these artists. Now what? There's a number of things to do with Sleeve Music and it really rocks.
You'll see what's new from your favorite artists. Here you get their latest updates from places like Facebook, Twitter, YouTube, Soundcloud, and more. Find similar artists to follow based off your preferences around artists you already follow. And dig into a specific artist.
What I really dig about the app is the playlist section. The playlist will bring in new tracks from the artists you follow and put them together into one giant playlist that acts as a discovery mechanism. It really clicked when I found some tracks from that Deadmau5 had just pushed to his Soundcloud account that I had missed, but really enjoy now. I also found a new Macklemore and Ryan Lewis track that had gone unnoticed by me. It's the 21st century, I shouldn't have to go out of my way to find brand new music from the artists I like. Sleeve makes it pretty easy to get that music.
Another cool feature is to check out upcoming shows around the artists you follow and your location. Our very own Daniel Rubino was impressed by Sleeve when it helped him discover that tickets were going on sale the next day to check out Deltron 3030 right in NYC. Do we need another Pandora or Spotify type service? Not at all, which is why it's refreshing to see an app like Sleeve come along that helps to supplement the music discovery process for artists you really care about.
Sleeve has been out of beta for a little over two weeks and recently picked up a fresh update that ironed out a few issues from the initial version. Overall though, it's an incredibly solid foundation for an app that has made it onto my Start screen.
Sleeve Music is free for Windows Phone 8 users. It's a great app if you love music and you should download it right now. It's also a graduate of App Campus!
Grab it in the Store, use the QR code below, or swipe to the right in our app.
Windows Central Newsletter
Get the best of Windows Central in in your inbox, every day!
This app sounds pretty cool, I'm going to give a shot

Me to, unless it has an uncontrollable background process, then it gets the boot!

Yeah, to much in the background makes my 928 croak. Oh well!

Well, let me just wait until it's optimised... :P RAM-wise, I mean. Sounds amazing, though.

still holding on with my Arrive until my contract is up or until Nokia and Sprint work out a deal...but gosh it makes want to get an Ativ or 8X whenever I see 'exclusive to WP8'. One day I'll be in that Windows Phone 8 number!!

Go for a Lumia. The difference between them and the other OEMs is like the difference between WP 8 and 7.

yea I definitely plan to, a few years ago I told myself that I'm done with HTC phones, a few years before that I told myself that I'm done with Samsung phones. Hopefully I'll have a Lumia in a few months, although I'm sure that I'll miss my physical keyboard. Aside from that, I love the support Nokia gives to WP.

I had the HTC Trophy, then I switched to a Lumia 822. And I don't regret it. Nokia seems to get all the good stuff first.

I vouch for this app. Really nice and it helped me find shows for my favorite bands.

I should ban you for that :P

I really need to upgrade to WP8....

It really is a noticeable upgrade from 7.8.

Wait it out just a little more, 8.1/GDR 3 is a little whiles a way (only a few months with 1080p support, quad core, etc). I'd wait if I were you (especially given 6 nokia code names for up coming phones were leaked recently).

If u have some $$$ to burn get a low end Nokia now and use it as a backup if your future (high end WP) dies.

True. You could get a cheap 520 (around ~$99) to tide you over until GDR 3 comes out.

I agree that you should. WP7 lead the way but the sun has set.

If you can wait then wait. All I'm saying is that there is a noticeable difference from 7.8 to 8. Everything just runs better or has been upgraded. Animations are smoother, apps appear better designed, Skype works much better, even the Tellme voice sounds much better. Just a better experience. Find my phone is on by default you can take advantage of applying information directly to the lock screen. Enough stuff to rediscover on your phone. I'm sure 8.1 will change it yet again but I can see how 7.8 while good is the EOL. It'll be the same sentiment when Xbox One comes out and people want to hang on to their perfectly good 360. It's just time to upgrade.

Seems obvious the app would have the option to import artists from your music collection already on the phone, even if WP would restrict to picking them one by one.

This is the first app that made me wish for a higher end WP8... Any chance it'll be updated to support us lower end 512 ram phones?

"What's I really dig about the app"?

I love the smell of exclusive apps in the morning.

I'm still mad about that halo-Verizon deal. ;/ (they totally backstabbed me right before a long vacation) but, on the whole, I like good, exclusive to windowsphone apps.

Agreed, that Verizon deal on Halo was stupid, let me clarify, I like exclusive windows phone apps as well

The devs were great to work with in ironing out the Facebook import issues some were having.

Downloaded, this app is amazing.

If they add the option to import artists from your music library, then this will be awesome

Boo, 512mb restriction >_

Damn it, another app with a 1gb restriction. Really should mention that in the review.

1GB RAM requirement. Someone has work to do.

Wish this worked on my Phone.
Windows Central Newsletter
Thank you for signing up to Windows Central. You will receive a verification email shortly.
There was a problem. Please refresh the page and try again.