Sling TV lets Windows 10 PC owners cut the cable cord with new app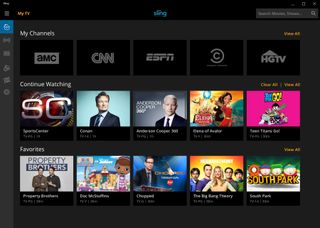 Sling TV, the internet-based television provider, has launched its official Windows 10 app for PCs and tablets. Sling TV provides a number of cable TV networks for both live and on-demand viewing for as low as $20 a month.
Sling TV allows people to watch programming from networks like ESPN, CNN, Cartoon Network, and AMC, among many others. There's a seven-day free trial for folks who want to put the service through its paces. Here's what Windows 10 PC owners can expect when they download the new Sling TV app:
Live Tiles – Love "Game of Thrones" or "The Walking Dead"? You can easily see content updates from your selected "Favorites" and the "Continue Watching" ribbon when you pin Sling TV to your start menu.
Cortana Voice Integration – Quickly search for specific shows or channels by voice, using Cortana, Microsoft's personal digital assistant. Try saying, "Watch ESPN on Sling," and Cortana will pull up your content in the Sling TV app.
Vertical Menu – Windows 10 users will feel right at home with the Sling TV vertical main menu.
Responsive User Interface – Sling TV on Windows 10 was built using Microsoft's Universal Windows Platform (UWP), so that your screen easily adapts to different sizes as you're viewing content.
Touch Compatibility – Sling TV works on both touch and non-touch Windows 10 devices.
A Sling TV app has been available for Xbox One owners since March 2015. There's no word on if or when the app will be made available for Windows 10 Mobile owners.
Download Sling TV from the Windows Store (opens in new tab)
Windows Central Newsletter
Get the best of Windows Central in your inbox, every day!
The Xbox One app is horrible and actually made me cancel sling tv. Very slow and buggy. I'd like to see this Windows 10 version replace the Xbox One version.

Same. The app on Xbox constantly crashes and buffers quite often. As long as this app is better, would love them to replace the crappy xbox app. Love the service though.

No problem, PCs and Xbox One are the same now with OneCore, and have a unified store, so this PC app will also run on Xbox One because of UWP. Oh wait, you mean thats how how it works on in the real world, thats not how it EVER works out in the real world? Color me shocked.

Current release is PC only. Would like it for Mobile and Xbox... Please download on PC and use Feedback to send the message! Having a UWP does however bring hope... could just be an initial release until they test on other platforms.

One of the developer responses for ratings stated that it is being finalized for Xbox 1 and windows phone.

Completely agree. I was watching Sling on a Roku in my room the other night and decided to move to my living room to keep watching what I was watching on a bigger screen hooked to my Xbox One. While the Roku app just works beautifully the Xbox One is SOOOO bad. It's truly beyond words how awful it is. I hope the Windows 10 one is good and that it goes on to the Xbox One. It wasn't just the performance... The content itself is a lot sharper in the Roku. And this does not seem the case with only Sling. For example the ESPN app on the Xbox One is so crappy and slow. I wonder if this is a fault within the apps themselves or the Xbox One or maybe a combination of both. It's truly remarkable that the Xbox One being far more powerful than the Roku cannot handle these apps. (I think I read that for these apps they don't have access to all of the Xbox One resources but still... It's so awful). All of this for a console which is supposed to be strong in the media department leaves me feeling somewhat irritated.

I tolerated SlingTV on the Box One for 6+ months. The constant 10 second loops, buffering and failure to load the channels makes it useless. I held out hope that they would fix it. Eventually, I just had to cancel.

Yep. I had Sling.tv for a while. Firestick app, iOS app, both were terrible. So I stopped. I would try PS Vue but its not on PC last I checked. So might give it another shot if the app is good. :)

Also, they dont have a family plan where I can watch it on two tvs so me and the wife couldnt watch stuff at the same time :(.

that irked me too. complete nonsense, and poor planning/execution.

I used SlingTV on Nvidia Shield for almost a year and it sucked, even though I have a 300Mbps plan. Constant buffering and drops. All I like was the price and channel selection but I hated to switch for local channels. I have changed to PSVue (running on a PS4), $40 here in Cali, w/ local channels, more concurrent stream, more news and sports channels, DVR, etc, and the service is way, way better than my exprience with Sling, and I think totally worth it. IF only they could bring PS4Vue app to Windows 10, but I doubt it will happen. I just think, in my experience with both, it is a better service.

it's not just the Xbox app. Their site doesn't offer a better experience either. I ended up cancelling due to their overall lack of quility streams. I used it on the Xbox and realized how bad it was, then I switched to using it PC (direct site) and really didnt notice much of an improvement.

You had me at Cortana Voice Integration. I'll be checking it out.

Excellent! Looking forward to this coming to Mobile and also replacing the, uhhhhhh, pretty crappy Xbox One app hah.

Too bad the service is horribly laggy and constantly drops the stream or makes it look as if the entire screen has been pixelated. I can stream other services without issue. I don't think they have the resources needed to handle the demand. I tried the 7 day trial and canceled after day 3. I've talked with numerous people that have tried SlingTV and none of them were able to successfully make it work. All canceled quickly. One friend even had a 70mb internet connection....

Works great for me with my Roku. The old Windows app never connected. I hope this Win10 one works on my laptop and tablet. Now, where's the mobile?

Welcome to W10. Perfect timing as I'm considering cutting the cable.

I'm at work so i can't really test this out, but it seems like it's MUCH better than the xbox one version and maybe even the old x86 application. Xbox one suffers from quality issues, this was crisp from the start.

You were able to get the x86 one to work? It never worked for me. If it wasn't for my Roku, I'd have cancelled Sling.

Mine worked, just not very well.

It worked okay, except it didn't like being full screen on my surface, I'd see the mouse pointer flash when it should have went away. Other than that it was much better than xb1. I've considering cancelling it many times, but it's the only way to watch certain programs for me.

This is super exciting! I hate the desktop software. Made my day!

The Roku app is better than the Xbox app atm. But if its a UWP app what to stop them from sending it over to the Xbox and Mobile???

It is better, but it has its own wonky issues.

Yup, agree Ibeezy. No issues at all watching Sling on the Roku. It's the Xbox One app that kills me every time. (Same for ESPN).

We've been without cable for more than three years and recently tried out sling... was not surprised to find there's still nothing on.

Too bad, I was thinking this could be better than Hulu. For some reason SyFy makes it really hard to get any of their shows without a cable subscription, which is the whole point.

Tried also and I agree with you. Maybe for $5 per month it would be worth having, definately not $20.

It's worth it to me, though I mostly use it for ESPN (it also works to access WatchESPN), AMC, TBS and IFC.

The UI is far from adaptive right now, the favorites and my channels continue off the the right. If that is fixed, and it does need fixed even for PC, then this will work fine on mobile as the video window already scales.

I just cancelled my free trial of Sling literally an hour before this article was published. Combining the price of unbundled home internet with the price of the packages I need to get the channels I want from Sling, I'm not going to be saving any money. So sticking it out with the cable company it is. :(

Glad to see this here. PS Vue, you're next.

Cutting the cable haha... Prices quickly add up when you add channels to the 20 dollar base. I prefer my Hulu and Netflix but each to their own.

I haven't need to add to the base. This closed a couple of gaps for me with ESPN +WatchESPN for live sports to go along with my HD antenna for local networks. I also like having AMC for things like The Walking Dead, which no streaming service seems to offer. I also have Netflix. I opted out of Hulu for now, but I have Amazon Prime. All that to say that there are use scenarios where SlingTV makes a lot of sense to a cord cutter.

Still waiting on a Windows 10 Directv universal app!!!

Well, looks like I might keep my Sling subscription after all... Now, where's that mobile app?

Just got a response from their Dev team - looks like Xbox AND Mobile are coming in a few months.

The moment the app appears on Win Mobile, I'll finally sign up.

To use the current app, I have to uninstall and reinstall every time I want to use it.