Sloppy AT&T store uses original Focus for Focus S display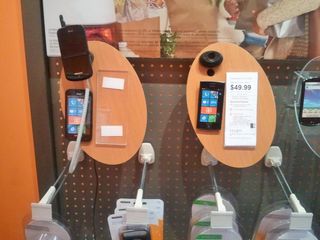 We're pretty sure if you took a tour of the thousands of AT&T stores across the country, you will find tons of sloppy displays, errors, etc. Anyone who has ever managed retail knows the difficulty in trying to control appearance, which is why chains employ internal checks, secret-shoppers, etc.
In that case, perhaps this AT&T store in Florida is not that different and we're just picking on a single case. But using the original Samsung Focus as the display phone for the brand new, much praised Focus S is a bit much (we're forgetting for a second the lack of display card too). And while mistakes and sloppiness like this are sure to happen on occasion, Windows Phone simply cannot afford to have instances like this occurring.
Update: Reader Justin A. sent us this photo from another AT&T store. Here they are mixing up the Focus S for the Flash. Sigh.
Big thanks to Jack F. for the photo!
Windows Central Newsletter
Get the best of Windows Central in in your inbox, every day!
Daniel Rubino is the Editor-in-chief of Windows Central, head reviewer, podcast co-host, and analyst. He has been covering Microsoft since 2007 when this site was called WMExperts (and later Windows Phone Central). His interests include Windows, laptops, next-gen computing, and for some reason, watches. Before all this tech stuff, he worked on a Ph.D. in linguistics, watched people sleep (for medical purposes!), and ran the projectors at movie theaters because it was fun.
I wish samsung would release some of these phones on verizon. Would definitely get me to switch to wp7.

If there is no card how can you say it is for the Focus S? How do we know the Focus S is not to the left or right, just out of sight in this picture?


Look closer. The Focus S is the display unit. That's a Focus S physically strapped to the board on the left (on the right is Flash). All stores should be showing the Focus S and Flash next to each other; original Focus is rarely if ever on store-display anymore. All phones have a secondary, live demo device that has a coil tether to it allowing you to actually pick it up, turn it on and use it. The Flash doesn't even have that--which is bad but not unusual if the store has no stock. The Focus S model though has the original Focus as the tethered, demo phone.

Wow, you guys are lucky. Here in Canada we didn't even have the plastic first gen phones on display. So far there are no 2nd gen WP7 phones in site here in Canada.

This looks like a Authorized reseller store to me.
All ATT stores I have visited in Arizona have displays that not only look the same from store to store, they look NOTHING like this.
However a few resellers I have gone to have this similar looking decor in the background etc.

Doubtful. I have an official AT&T store down the street from here in NY that has displays exactly like this.

What do you think the chances of Nokia getting all this changed? In Europe they seem to have had success getting retailers and carriers to correctly diaplsy the Lumia 800, but the US carriers and store reps are notoriously hostile to WP7. Any thoughts?

I imagine Nokia could want their own, custom kiosk in stores. So long as they pay for it, I'm not sure if AT&T would be against it. But from what I understand, this is a sticking issue in negotiations right now.

The first time I tried the Focus S the battery cover nearly ripped off. I wouldn't be surprised if someone picked up the demo unit and the back detached from the security lock. That person was probably like "hey, free phone," and walked out.

This is so frustrating for a Windows Phone fanboy like myself. I have always loved AT&T (they have treated me right and I get fantastic deals through them), but it is infuriating to see how AT&T corporate stores don't give a darn about Windows Phone.

Nice to see that those devices are running Windows Mobile. F***ing idiots!!!!

Right? What is up with THAT? Horrible, horrible.

AT&T is really fu**ing this up, I swear they hire a bunch of morons in their stores. I heard an AT&T rep tell a customer just yesterday that the iPhone 3GS was a better device than the Windows Phones because of superior performance and faster hardware.
I told the customer not to listen to him, and then explained that the rep was simply trying to tie them into a 2 year contract to get a phone that is practicaly already a EOL. They asked me to leave... I smiled and agreed... then the customer followed me out (I had taken them to the store to help them port from Sprint).

Dude that was awesome, but what was the end result? Did the customer end up with a Windows Phone or iPhone later that day?

"Reader Justin A. sent us this photo from another AT&T store. Here they are mixing up the Focus S for the Flash. Sigh."

and also it is running Windows Mobile! :D I'd like a Samsung Focus Flash with Windows mobile 2003, that looks like Samsung Focus S please /s

anyway, its sad stores do that but oh well, i have seen this before, but since i care about Windows Phone i wish AT&T and the other carriers would care more. but i feel thats asking too much

Give them a break. It's Microsoft's fault for continually changing the name. Even you said "Windows Mobile 2003" which doesn't exist. It was Pocket PC 2003 Phone Edition.

Microsoft needs to train a group of windows phone enthusiasts and station them at each AT&T store in America. That way, customers won't be greeted by biased or ignorant sales reps if they try out a windows phone

I think they're game plan is to open more Microsoft stores where they can control everything.

All the ATT stores in my local area don't even display Windows Phone. I went into one of the ATT stores and was greeted by a sales person that didn't even know what the titan was. It was no ware to be found. Another ATT had the Titan in the very back corner with no battery installed. When I asked the sales person if they had a functional Titian available to test, she replied "Those phones have been giving us problems and we don't have one that works." Can you believe that? Out of 5 ATT stores I visited to check out the titian, only one had a titan powered up and with no wireless network to access. I took the phone and setup the tiles to show Xbox live, Office, Zune and the people Hub right on top so you can see the major tiles right when you start it up. I also set it up to always stay on. It's sad to see that ATT is allowing this to happen. It's no wonder Android is dominating. Someone that is new to the Smartphone is going to end up with an Android just because they were not given a choice. All my Android friends that have personally seen my WP at work say if they new about WP they would have never had gotten suckered into getting an Android.

That whole "Those phones have been giving us problems and we don't have one that works" bit sounds like BS to me.

wow 1 year on and Microsoft still cannot get this figure out? and then they wonder WHY WP7 is still hovering at less than a 1% share? and please do not expect nokia to be Microsoft's saviour. They have their own s*** to clean up they arn't in any position right now to bolster another company.

Exactly what does this incorrect display in a (more than likely) franchise AT&T store have anything to do with Microsoft?

because its the same s*** over and over again with less than stellar retail outlets and the people who run them.

This is typical of most of the ATT stores I have visited in Jacksonville Florida. I still see a lot of 1st Gen devices up. Sales reps at these ATT stores better yet the managers should be fired for displays to look like this. These stores are NOT giant stores where you would not have time to fix something so small.


I like the pic where they put a focus S instead of focus flash.... I would immediately buy the focus there for 50 dollars, mistakes like those are good for us ;)

microsoft is not seeing something that would be HUGE for them....
MICROSOFT SHOULD BUY A CARRIER!
ps: mcrosoft get rid o ATT as a premier carrier, they don't treat you as premium

I don't know why u guys like the samsung devices, they s#ck, I own a samsung focus first gen and it s$cks, the recording video quality and audio quality is absolutely crrrap
even listening to audio is such a crrrapy 'no-bass and plastic-sibling-highs' thing.
if it wasn't that I 'LOVE' the Windows phone 7 OS I would have boughtsomething else..... in my case I am wating for NOKIA to arrive to US
Windows Central Newsletter
Thank you for signing up to Windows Central. You will receive a verification email shortly.
There was a problem. Please refresh the page and try again.