SmartThings launches Windows Phone 8.1 app for controlling connected home devices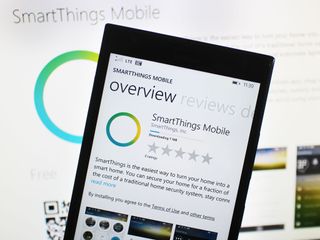 SmartThings, the connected home hardware maker, has announced the launch of its Windows Phone 8.1 app that can be used to control its many devices via the SmartThings Hub
Here's a quick bullet point list of the features in the app, which is exclusive to Windows Phone 8.1:
Receive notifications when people, pets, and cars arrive and leave
Know when doors, drawers, and valuable items open, close, or move
Set your lights to turn on or off when you come, go, or when different things happen
Trigger window A/C or space heaters to turn on when you leave work
Turn on a light or TV in response to motion at night
Use your smartphone to automatically perform actions based upon your location
Monitor and control your energy use
Do you own any SmartThings products and if so how do you feel about the company adding Windows Phone support?
Windows Central Newsletter
Get the best of Windows Central in your inbox, every day!
Looks like they couldn't decide between iOS and Modern UI ;-) Cool though that we see more and more WP apps. No sign of a Universal app yet.

Any modern UI after 2010 is a modern UI. Apple and Android are both biters of Microsoft ish.

Modern is the name of Microsoft's touch interface in Windows 8.

This could be me, but I don't use smart home products.

I would if everything wasn't so overpriced. For now, I just use webcams connected to my PC, and a Windows program called Webcam 7. It uses a webserver to stream and notifies via email and text, so you don't need an app. Crude, but works well. Would rather have some sleeker apps and devices, but $45 for just a door/window sensor (which seems to be just a slightly more advanced version of those simple alarms you can buy for $1 at Dollar Tree)? That's a lot of money when you have a few entrances and windows...

That sounds useful and a great app to arrive to windows phone :) i like the fact that windows is getting better everyday from functions to the modern OS design.

This news may very well have changed my mind about which home automation brand to go with. They were not on my list at all, now they are at the top.

You should consider Insteon, right now it's the most complete. They're on Windows Phone and Windows with Cortana Support too.

And has a great UI. I recently switched from Zwave devices to Insteon. And I'm very glad I did. Highly recommended.

I love Insteon too, I have a Surface tablet mounted to my wall and it now controls everything in my house with Insteon. All i'm waiting for is Cortana support on Windows.

Insteon doesn't have alot of the features I want and from what I can tell is less flexible as far as protocol support. Most importantly I want IFTTT.

The problem with Insteon is you're locking yourself into a proprietary system. This uses Zwave and Zigbee so theoretically it should be more open. Also, as far as I know, the Insteon Windows Phone app doesn't do geofencing like this Smartthings one does. And if it matters to you, I don't think Insteon works with door locks.

Ya...Insteon seems pretty basic and that's fine...it works for some people. Geofencing is another one of those features I want. Works well if IFTTT.

Insteon doesn't work DIRECTLY with door locks (they don't have one yet) but they have a module that can run a third party door lock. (Can't remember the manufacturer) I'm looking to set up an Insteon system. For those who have it, I got the hub programming software. How in depth can I get? Does it support IF/THEN kind of setups? IE: if I had a coffee maker on a plug-in with a motion sensor in the kitchen could I set it up that if it depicts motion in the kitchen between 5 and 9am to turn on the coffee maker and slow ramp the lights to not blinding dim?

According to http://www.insteon.com/2242-222-insteon-hub.html , no, it doesn't support conditional triggers and alerts. Also, take a look at this table: http://www.insteon.com/home-automation-compared.html . I didn't find it now, but there is another site that tells about integration between insteon products and other technologies. Then, maybe, you could have that support, but not from our Insteon for Hub app, you know. I got one little kit here and it works like a charm. Loving Cortana. Cheers!

I tried insteon but they don't support Mac filtering or hidden ssid for wireless networking. At least I was told that by their support. Also did not like having to open a port in order to access remotely. More security holes.

Well that sounds really cool!

What's that bell with the slash thru it next to the Wi-Fi notification in the store screenshots, never seen that on my cyan 920

ringer off, vibrate off (basically, full silent mode)

Thanks; never switched the vibrate off, I just tap quiet hours when I don't want to be bothered

ring tone and vibrate both turned off.

It's for both ringer and vibrate being off. If vibrate is on, you'll see three wavy lines instead.

That's great and all, but this is a really ugly app.

about time!, I left WP for android a few months ago basically for smartthings. Now i can go back! just need someone to release a decent phone, im sorry but the 830 just isnt good enough. I want the 930 on ATT!

when i download the app how will I receive notifications?

They'll be mailed to you within 3-5 days.

Interesting...Smart Things was acquired by Samsung recently if I'm not mistaken.

Great, let my home security begin...

Man, wanted this to be WiThings...

Now I can consider this company again.

Great start, there definitely needs to be more like this though. The Wink app, currently supported by Home Depot among others, an official Philips Hue, etc etc. And on top of that, it'd be great to see some of these startups like the August Smart Lock (among others) to consider developing for Windows Phone as well. Still, I might consider getting one of these hubs and a few outlets (maybe even a temp/humidity sensor) just to play with.

When I saw the logo I thought it was Hyperlapse :P

They think this is going to work when my treasure tag don't even work?

For what it's worth, the phone and SmartThings hub communicate over a network connection, not Bluetooth. Then that SmartThings hub will do the actual communication with your devices.

I have the Insteon kit and so far so good

I thought this day would never come. These guys and their dev community have done some amazing things. I've been waiting for over a year. This really just made my day!!

Good to see so many productive apps being launched on WP platform.