Smash hit Crossy Road now available for Windows Phone and Windows 8.1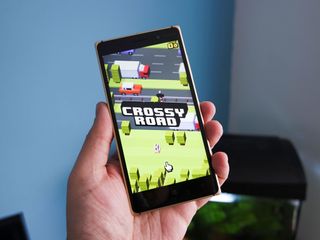 For the third day in succession now, a major title has seen an official launch on Windows Phone, and in this case, Windows 8.1. Smash hit mobile game, Crossy Road, has made its debut on both platforms and is available to download right now from both stores.
This follows the launch of Pocket Casts and Monument Valley, rounding out a great week for Windows fans.
Crossy Road is a really simple to pick up game that sees you as a chicken, well, crossing the road. For anyone who ever played Frogger back in the day, this is pretty much along the same lines. You just keep on going, one tap at a time, crossing roads, rivers, train tracks, collecting things as you go.
It's free to download and play and has seen monumental success on iOS and Android. It's a fine way to round out what's been a crazy good week for Windows and Windows Phone, so grab it now at the store links below.
Richard Devine is an Editor at Windows Central. A former Project Manager and long-term tech addict, he joined Mobile Nations in 2011 and has been found on Android Central and iMore as well as Windows Central. Currently you'll find him covering all manner of PC hardware and gaming, and you can follow him on Twitter and Instagram.
Looks like a Frogger clone :) Will check it out.

Was about to comment the same :) Ninja'd by 4 sec..


And clearly neither of you read the article where they specifically mentioned Frogger ...

I swear I saw this game before being played on the train and I wanted to facepalm myself.... We're moving forward in gaming alright...

While I agree I do also think the games I played as a kid (frogger, arkanoid, nebulus and even slightly more detailed games like dungeon master, oids etc) are all perfect for the phone form factor. For people born 20 years later it gives them a chance to enjoy those classic titles.

Agree wholeheartedly! I was a fan of the fighting fantasy games too - hopefully the sorcery series will arrive on WP. I've emailed them with links to the keynote!

This. Who's says we can't enjoy classics?

It has been here for a while.

If by that you mean all the BS clones and rip-offs...

Actually there's one called crossy bird and it's fine.

Wtf they took more than 1 month to introduce this game in store?

And why would a reaction like yours make the devs happy they bothered at all?

Guess that iOS\Android conversion program we released works pretty well :-)

Dam you, beat me to it ;)....

Good to see it in the marketplace.

Looks like lot of ios/android games might come due to the porting tool by Microsoft

This was announced at GDC. It's unlikely this is using those tools. Remember, those tools are for Windows 10.

Richard, not exactly. The Candy Crush we're currently using on 8.x was ported using this new tool.

I know he's right. But those tools aren't officially available yet. We don't need 3 months of assuming everything is a 'port.' And it really doesn't matter if it is. It works just fine. Job done.

Microsoft gave them early access I suppose. They explicitly mentioned the Candy Crush app is running iOS code and then ported to WP

King used those alpha tools, remember. Although I doubt these developers got to be first in that program. :)

Crossy Road is built with Unity. It can already build to Windows Store and just about everything else. It wouldn't be too difficult to port this. I ported my game to iOS, Android and WP with almost no changes betweem then. Just had to handle some 3rd party tool issues (UnityAds, etc).

I thought that too. Time will tell

this is a clone isnt it? not the real deal.

No. This is real. We already knew it was coming to Windows Phone from GDC. http://www.windowscentral.com/gdc-2015-we-get-our-hands-crossy-road-windows-phone-8

The unnecessary access to calendar and contacts, together with the other two Chinese-titled apps from the same dev sure smell like a scam....

This developer is official developer of this app for Android and Windows.

ios says = Hipster Whale Pty Ltd wp says = Yodo1 Ltd are they the same ppl?

Nope, but this developer has an official permission for develop this app.

ok, thanks for explaining.

Great question. Looks like the Hipster Whale wrote the first for iOS, and used Yodo1 for porting/publishing to Android and now WP. http://www.crossyroad.com/ (scroll to the bottom, they indicate it was published on Google Play by Yodo1.)

No. The MS program it's still limit, and this game was demonstrated months ago.

What...no...damnit. RIP battery/productivity.

Not available. 930/Brazil.

Change your rregion setting to US, download it then if u want change your location again to Brazil.

Looped on pending. Guess I'm gonna have to manually deploy it.

Not available here in Brazil, sadly.

Change your location setting to US, download it then if u want change your location again to Brazil

I see this as a new beginning for Windows Phone, it took round about the same time to come to Windows Phone from Android that it took to get from iOS to Android, so looks like we're finally getting into game.

Yes yes yes! Its a good week for windows phone!!!

Cant b installed on sd card, but good to see new apps nd games coming to windows! Waiting for pvz 2!

Why does it need access to contacts and appointments?

Exactly. No install here.

It'll call your mom if you die crossing the road

Cancelled my download as soon as I saw those permission requests. There is no reason for that, aside from it wanting to spam your contacts...

I was just about to point this out. I was looking forward to this too but appointments, contacts and SD card. No install for me. This will be the issue when we get alot of android ports. Apps and games on android ask for alot more permissions than WP. Because that's what google/Android does, that's their business line.

I think contacts might be for the sharing of high-scores

You guys are going to need more staff. Are you hiring?

So after the succes stories of "seems faster" & "wen in India", the new phrase is going to be "Is this ported"

And my response will always be... Does it matter?

Only because it would be interesting to know how successful the code-conversion programs are that Microsoft worked really hard on creating.

Don't forget the always under appreciated "not available in Brazil"

This games runs Perfect on my 930 :D!!!!! It´s such a nice time for a windows user!

Needs access to appointments and contacts? Not for me.... It's a game for crying out!

Probably because it's a ported app from other OS...

And would you pls elaborate that? -_______-

In other words, if the game was originally made for phones without an SD card (iPhone), and didn't have the code written for SD card support, the developer chose not to add any extra code to the game, and "easily" ported the game for WP.

Candy crush pretty much supports downloading on the sd card. Isn't it? And this was coming long back. Wc has reported on it during gdc.

This is The Best week In Windowsphone history Period !!

We had a similar period during last year's build. People were literally dying to download the 8.1 dev preview.

But Windows 10 For Phones won't launch this summer:(

Downloaded... Gotta keep developers interested! If we don't download, they'll pull their apps

Same here, I downloaded so many apps only due to that reason.

Exactly! We need to download every one of these apps and games to show the devs that there IS a market here!

Wonder it is an iOS coded version also.

Haha, I was thinking the same.

My flights just got about 100% less boring.

I sure hope you're not a pilot..

Super cool! Laggy sometimes. L730.

Wow, this is insane. One great game everyday. Keep em coming!

Sorry.no chance. Get some Xbox integration and try again.

Lets support the cause. I would love to have Xbox live integration but hopefully it will come eventually :)

Xbox integration. Lol, does that still exist? Even Microsoft doesn't do it anymore.

Perhaps you missed Microsoft Studios' big launch of Xbox-enabled Halo: Spartan Strike the other week? They definitely still do it. In fact, all but one of their Windows Phone games is Xbox-enabled (Minecraft: PE is the lone exception). #SaveXboxWP, details here.

Isn't it enough that the good games are finally making their way over??

We have a Frogger remake, when's E.T. coming?

In 5 minutes if you touch him the right way

Wow, this is the most perfect port of any other game I have seen the market. It runs amazin and never crashes for me.

Cannot install to sd card

What I found interesting is that under requirements it lists that it requires access to the SD card but you cannot install to an SD card

Funny how everyone automatically assumes this is an iOS port :D guys, it probably isn't

With the app thing Microsoft made for easy developers to make apps for Windows phone,is making me stay ;)

Finally, I Played it almost since 8 years on PC

We lost some to gain many soon.

Looks like frogger + pako

Needs to have account synchronization with phone and PC, either through Xbox (which I want) or Facebook login.

Can't install in SD card :(

Great game, works without a hitch on my *2-year-old* Lumia 520.

Addicted already, was obsessed with Frogger when I was younger. Bringing back memories.