TextExpander snippet expansion app launches in beta on Windows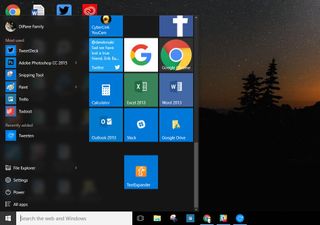 In addition to launching new versions of its TextExpander app for Mac, iPhone, and iPad, Smile Software has launched its first beta of TextExpander for Windows. TextExpander allows you to create small snippets of text that expand into larger blocks when you type the snippet. You'll need Windows 7 or later in order to run the beta.
You can manage your snippets both from the app and the new TextExpander website (opens in new tab). In fact, you'll need to create an account in order to use TextExpander at all. Additionally, after your 30-day free trial, you'll need to pay for a subscription. Individuals can pay $4.95 per month to sync unlimited snippets, share snippet groups, and free app updates. Companies can pay $9.95 per month per user for those features, along with management of team snippets and permissions, organization-level snippet sharing, and more.
You can grab the TextExpander for Windows beta directly from Smile (opens in new tab) right now.
Windows Central Newsletter
Get the best of Windows Central in in your inbox, every day!
Out of their minds. 4.95/month for software to type **** that I have to tell it to type anyway...

I don't know what this does or how it's useful. I'd appreciate it if someone would give me a better explanation. Windows Central for Windows 10-Microsoft Lumia 640

This is a tool where you have a block of text such as prefab responses or clippings or frequently used phrases and you can just easily copy and paste it to whatever you were writing on. This is especially helpful in tasks like email or chat support.

Can't the same be done with OneNote and OneDrive? Maybe less options in some respects but more capable in others.

They should have made this UWP. Maybe someone can run their app through centennial.

ahhh this screenshot is Scroogled lol

Would rather write my own than pay stupid money like that.

For those who are thinking what it exactly does they need to visit the website (https://textexpander.com) to get greater details. Looks fantastic.... Example: you create shortcut text like: "ty" and when you type "ty" it will expand that to "Thank You ". Could be of great use for coders and frequent emailers..

You can do that with AutoHotKey and it's free. It also goes further in that you can assign keypresses to actions like (Ctrl+shift+N) to open Photoshop and open a new file in it.

I use PhraseExpress (http://www.phraseexpress.com) for Windows and Android. Is there anything what this Textexpander can do that would me make enter a monthly subscription?

Actually, something like this is rather useful, especially for computer programmers (in the old day before "app developers") or even for people in the customer service industry that have to type the same canned replies all day. However, there are so many useful ones for the Windows Desktop already that are rather advanced to the point of making this one "just another one of many" of this type of app. However, I've never heard of having to pay so much per month for it before. I've got one I use that was free and has more features than this one. I also get my snippets synched for free online as long as I use my own online storage for it, like OneDrive.

All the features listed on the website: Share your snippets with your team to keep them on track. Keep your whole sales team on message. Give your whole support team the current answers to all your customer questions. Integrated TextExpander online service and Apps Access your snippets on all your devices with your TextExpander user account Current snippets and edits everywhere Share snippets easily with coworkers and friends You pick who can edit your shared snippets Setup an Organization to easily manage and share snippets with your team Automatically join an organization using your company email address Automatically share company snippets with anyone who joins your organization Work faster and smarter Use TextExpander's powerful snippets and abbreviations to streamline and speed all you type.
Create powerful snippets to save you time so that all you type is a short abbreviation, and TextExpander does the rest of the typing for you. Expand your snippets in any application from single lines to whole paragraphs Style your snippet text and add images and links. System-wide spelling correction in multiple languages Group snippets and print by group Search and expand snippets, abbreviations, and suggestions inline as you type Reminders to use your snippets and suggestions as you type Customize the standardized Streamline your email. Take boilerplate email responses or sales queries and customize just the areas that you need. You wear many hats, use your email signature du jour, with current social media links! Use fill-in-the-blank snippets to create custom forms with multiple field types and sections Expand a snippet as part of another by nesting Automatically insert clipboard content in a snippet Position the cursor wherever you want in your expanded snippet Create perfect email signatures, one for every occasion Create snippets and signatures with formatted text, pictures and links It's about Time Quickly insert the date, anywhere. Add future due dates to your invoices and current dates to your file names, all without picking up a calendar. Insert the current date and time in any format you prefer With date/time math insert a future date, or past time. Add or subtract years, months, days, hours, minutes, seconds from current date and time. Streamline code & data; Advanced functions TextExpander has many features to help you sling code, create scripts, craft HTML and CSS, and satisfy the geek in all of us. Built-in HTML, CSS, AutoCorrect, accented words, symbols, Emoji snippet groups For programmers, make editor-independent code templates Invoke multi-platform JavaScript, AppleScript and shell scripts Shorten long URLs automatically (Internet Productivity snippet group) Automatically insert clipboard content in a snippet Import data from other type expansion apps Import and export snippet group files

I've been using this free app CopyQ for this kind of thing. It was an app promoted on NeoWin a few months back. This might be something programmers would find useful.

Can definitely see the potential in this app - especially on phones, but that pricing is madness. Single user pricing is in the realm of an Office 365 subscription! Sorry, but that is not an effective way of enticing users. In addition, the corporate pricing being twice the price per user per month - where is the justification for this? Sure, extra tools and functionality for management are provided, but shouldn't that be part of the package to convince companies to use this software? Why does a corporate user cost twice as much as a regular user. Sorry, but no sale.

Been waiting on this since I ditched Mac. The only app I miss. Been using Phraseexpress since but it's not as good in my experience.
Windows Central Newsletter
Thank you for signing up to Windows Central. You will receive a verification email shortly.
There was a problem. Please refresh the page and try again.