SMITE for Xbox One officially launches Aug. 19, Founder's Pack offer ends on Aug. 31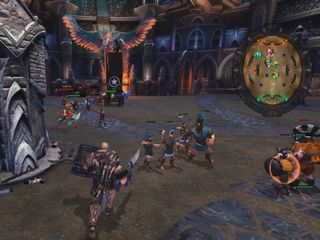 After about a month and a half in open beta testing, developer Hi-Rez Studios will bring the Xbox One version of their mythology-themed free-to-play MOBA game SMITE out of beta on August 19.
The official launch of the game on Microsoft's console also puts a ticking clock on two offers for SMITE Xbox One players. The SMITE Founder's Pack, priced at $29.99, will no longer be available on August 31. It offers Xbox One players unlocks all of the games's Gods, both present and future, along with 400 of its in-game gems and two exclusive character skins. That same date is the deadline for players who which to merge their SMITE Xbox One and PC accounts.
Once again, here's the quick description of SMITE:
Source: SMITE
For anyone wondering about the Founders Pack its a great buy for a game that's free. You get all future Gods, 400 gems, and two skins.

Cool it's going out of pub but sad to see the merge account also being removed. Already merged mine so I got my founder pack on Xbox One but it's sad to see future player that want to play on both Console and PC will have to pay twice to receive their gods.

Lets hope we get the patches same day as pc and clan too....

hmm, havent played in awhile, was in the closed beta. Always considered getting the founders pack, but not sure if i will ever play enough. hmmm guess i have two weeks to decide.

Will this game feature cross platform matchmaking?

I love Smite, but it saddens me that the merge-Account thing only works from PC to Xbox and not from XBox to PC.
I couldn't use my PC for a long time so I got the pack on Xbox, but from time to time I want to play on the PC too :( And I would be glad if we can get the Updates the same day/week as PC-users. Still waiting for Lokis remodle and that awesome Bug (Keprhi) Man DotA and Smite my life is so fucked :D
Windows Central Newsletter
Thank you for signing up to Windows Central. You will receive a verification email shortly.
There was a problem. Please refresh the page and try again.