Windows Unshipped: The ambitious plan to merge Cortana and the Action Center on Windows 10
Windows Unshipped, Chapter 2: The Taskbar and Action Center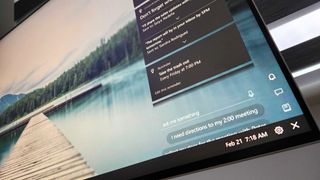 (Image credit: Windows Central)
Welcome to the next chapter of Windows Unshipped, a series that explores unreleased internal features, concepts, and ideas that Microsoft have at one point worked on, but since canceled. Last time, we detailed a handful of unshipped features that Microsoft were toying with for the Windows 10 Start menu, including a feature that used Lumia McLaren's canceled 3D tiles interface for pinning apps.
This week, we're taking a look at a handful of unshipped plans and ideas that evolved around the Windows 10 Taskbar and Action Center. At the time when these were drawn up in 2017/2018, Microsoft had a bit of a problem: The Windows 10 Taskbar had become too cramped. It was full of system buttons, including Task View, Cortana, Windows Ink Workspace, My People, Action Center, and the large search box.
All of these system icons were becoming a real problem for devices with small or low-resolution displays. There was little room for users to pin their own apps without first turning off a number of "default" buttons the user didn't want, need, or did want and need but had to sacrifice in favor of more space.
So internally, teams began drawing up ideas and concepts for how they could declutter the Taskbar by simplifying it, combining certain buttons, turning off buttons users didn't want or need, and changing how the System Tray functioned to save space. Some of this work actually ended up in Windows 11, but it started life here about 5 years before that as a Windows 10 effort.
Control Center
We start with a new flyout the company was working on called Control Center. In an attempt to help clean up the system tray and move quick actions out of the Action Center (more on that in a bit,) Microsoft conjured up a UI that functioned similarly to that of the Control Center on iOS; a dedicated menu for system functions and shortcuts.
The Control Center would sit in the System Tray as a settings icon to indicate that it's for system and app shortcuts. Clicking it would present you with Quick Actions, a brightness and volume slider, as well as System Tray overflow items like Windows Security, OneDrive, and third-party icons.
If this seems familiar, it's because much of this idea was recycled for Windows 11 as the Quick Settings panel, which is accessible today by clicking on the Wi-Fi, Volume, or Battery icons in the System Tray. Curiously, this concept started life on Windows 10, and would've looked something like this:
The Control Center would have also been a place for controlling IoT devices, under an effort internally called Windows@Home. We might explore this more in the future, but for now Windows@Home was an effort to turn Windows PCs into a hub for IoT devices like smart speakers, security cameras, and lighting, similar to HomeKit or Google Home today. Windows@Home sadly never shipped.
Other ideas Microsoft had explored for cleaning up the system tray was simplifying the date and time flyout to just show the time by default, or giving the user the option of showing the date and time next to each other. My People was going to remain on the Taskbar, as at the time the company had big plans for it, even though none of those plans really came to fruition.
Lastly, here are two additional concept designs for the Control Center for both Windows 10 Mobile and Andromeda OS, as well as an early working code version of Quick Actions on desktop with a peculiar design:
Image 1 of 3
Here is a look at what the Control Center would have looked like on Andromeda OS, the canceled version of Windows that was being built for Surface Duo in 2017/2018. I wasn't able to confirm if this is a render or real working code.
This is an internal concept render of the Control Center UI on Windows 10 Mobile, which at the time was still in active development. It shares similarities with the desktop version, as the code between them would have been shared.
Here's an interesting look at a super early configuration of quick actions on Windows 10. Notably, check out the Windows 10 Mobile style blue divider running down the left side of the flyout. Thanks to @thebookisclosed for sharing this image!
Cortana + Action Center
Now, onto the more interesting stuff. In addition to cleaning up the System Tray with a new flyout called Control Center, the company was simultaneously working on a new version of the Action Center that was powered by Cortana. Instead of having Cortana on the Taskbar as a separate entity, Cortana and the Notification Center would become one, and would be accessible from the far right of the Taskbar.
This vision actually began with Andromeda OS, but there were also plans to bring this over to Windows desktop as well. Cortana would appear as a conversational interface that slid out from the right of the display, and would allow the user to either talk with voice, or type to initiate commands or ask questions.
Notifications would be accessible in a separate tab, but Cortana itself would also be able to "manage" your notifications and present you the ones up front that it thinks are most important or interesting to you. The Cortana icon on the Taskbar would animate and come alive when it had new notifications to show you.
This was an ambitious idea, but sadly it never shipped. Code for this was certainly developed, as it was working to some extent on Andromeda OS. In fact, I even wrote about it back when I first started hearing whispers of this plan.
In fact, if you'd like to see unfinished versions of the Control Center and Cortana / AC implementations in action, be sure to check out our exclusive hands-on with Andromeda OS that we published a last year.
So, that's a look at a handful of concepts and ideas that Microsoft were considering for Windows 10's Taskbar. I don't know why none of these ideas ever shipped on Windows 10, but it's clear some of the ideas around cleaning up the System Tray were recycled for Windows 11. Sadly, not long after these plans were drawn up, Cortana was pulled out of Windows and essentially put on the backburner. Sad times.
In the next instalment of Windows Unshipped, I plan to take a deeper dive into Microsoft's plans for "Continuum 2.0," which would have shipped with Andromeda OS and eventually new Windows Phones running WCOS, had that project come together.
Windows Central Newsletter
Get the best of Windows Central in your inbox, every day!
Zac Bowden is a Senior Editor at Windows Central. Bringing you exclusive coverage into the world of Windows on PCs, tablets, phones, and more. Also an avid collector of rare Microsoft prototype devices! Keep in touch on Twitter: @zacbowden.