Microsoft is bringing back classic Taskbar features on Windows 11 — but not because it screwed up
There is a good reason why Microsoft is adding old features to the Taskbar, but the explanation is more complex than others claim.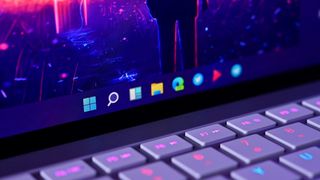 (Image credit: Future)
What you need to know
References to more classic Taskbar features have been spotted in recent Windows 11 preview builds.
The ability to ungroup app icons and show Taskbar labels appears to be in the works.
These join the recent additions of Task Manager shortcuts and displaying seconds in the System Tray.
---
The Taskbar on Windows 11 famously launched as a simplified variant of its former self. Over many years, the Windows taskbar became significantly complex, with support for toolbars, shortcuts, system buttons, and third-party extensions. So with Windows 11, Microsoft wanted to reset everything back to basics by rebuilding the experience from the ground up.
That's why the Windows 11 Taskbar has been a point of contention for many power users because, functionally, it's a significant regression over previous versions of Windows. It's much nicer to look at, with cute animations and a consistent design that matches the rest of Windows 11, but it's missing out on many classic functionalities.
In other words, Microsoft didn't remove anything from Windows 11. It started over.
Rebuilding something as complex as the Taskbar can take time, which is why you're just now starting to see some of that classic Taskbar functionality return. Last year, Microsoft added back the ability to launch Task Manager from the Taskbar right-click menu and recently added the ability to display seconds in the system tray too.
The latest Windows 11 February 2023 Update just launched with a rebuilt System Tray overflow menu, which also hadn't been touched since 2009. It's now built with modern code, using the same design language as the rest of Windows 11, and can now hide the overflow menu completely even when icons are present in there.
Additionally, references to two other classic Taskbar features have been spotted hidden in the latest Windows 11 preview builds, which reveal the ability to ungroup app icons and show app labels on the Taskbar may be making a return, two functions that have been part of Windows since the Windows 7 "Superbar" launched in 2009.
Being able to ungroup icons and show Taskbar labels will make it easier for some to find running apps on the Taskbar and essentially restores how the Taskbar used to work in Windows Vista and prior days. That said, I imagine most users are more familiar with the current functionality, as that's been the default since Windows 7.
Now, not every classic Taskbar feature will make a return. With rebuilding the experience from the ground up, Microsoft took this opportunity to revise the vision for what the Taskbar should and shouldn't be, so features like support for toolbars or the ability to move the Taskbar to the top of the display likely won't be returning.
So that's why the Windows 11 Taskbar is the way it is, because Microsoft wanted to rebuild it as a more modern experience. They're slowly adding back core functionality, but not everything will make the cut. The Taskbar in the latest version of Windows 11 is very good already, so it's only going to get better from here.
Get the Windows Central Newsletter
All the latest news, reviews, and guides for Windows and Xbox diehards.