Software Keyboard Roundup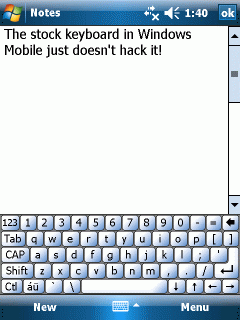 One of the big selling points of Windows Mobile at this point is the amount of choice you have when you are looking to buy a device. Whereas some of Microsoft's competitors in the Smartphone market are pushing one piece if hardware on one carrier, you can find Windows Mobile phones in all shapes and sizes on your carrier of choice. Honestly it's kind of ironic that Microsoft is one of the more "open" or "accessible" choices when it comes to buying a handheld.
A priority when choosing a new piece of Windows Mobile hardware is what input method you prefer to use. I think most of us would agree that the software keyboard in Windows Mobile leaves a bad taste in your mouth, especially when compared to what is offered on some of the more popular hardware on the market.
With that in mind, we're going to take a look at a small selection of what is available from third party developers in the way of software keyboards.
First off, let's set the stage for what we're trying to find. In order to be truly useful to me, a software keyboard needs to meet a couple of basic requirements. First of all and most important, I should be able to use my fingers to type whether on a large or small screen. This is the area where the default keyboard fails in the worst way. Secondly, I would like to be able to use the keyboard in portrait or landscape mode. Other things that I'm looking for include an inexpensive price point, and any additional functionality that is offered by the software to make navigation and/or text entry easier.
Now into the contenders…
ZoomBoard from ViTO Technology
We've looked at several of ViTO's offerings in the past, such as SMS-Chat and Winterface. ViTO is known for making apps that attempt to be sleek and functional. ZoomBoard is no different in that respect.
ZoomBoard's biggest selling point is that it offers a zoomed in view of your keys when you tap and hold on a key. This allows you to make sure that you have the right key highlighted before you pick up your finger and activate the letter. Several types of zoom are settable within the preferences and give you different options to fit your taste.
I like the idea that ZoomBoard focuses on, but I want something that I can type accurately and quickly on, and ZoomBoard only accomplishes one of those goals for me. It is simply not fast to press and hold until the zoom window comes up in order to make sure I have the correct key pressed.
Zoomboard will set you back $14.95 at the WMExperts Store.
Ratings (out of 5)

Finger Friendliness: 3Bonus Features: 2

Overall:

Pros

Zoom feature helps with accuracyLooks pretty

Cons

Doesn't help you type any faster
SPB Keyboard from SPB Software
Most of us are very familiar with SPB. Everything from Mobile Shell to SPB Weather to SPB TV has been reviewed on this site. With the success that they have enjoyed with their software, I was very hopeful that SPB keyboard was going to be my soft keyboard of choice.
The major selling point of SPB Keyboard is the Full Screen mode. Basically this converts the entire screen into a landscape full screen keyboard. Text is entered in a small box at the top of the screen and can then be returned to whatever application you started in. This is a cool feature, but I could see this being a problem (or at least not much benefit) on screens with square devices like a Treo or the Samsung Epix. SPB Keyboard also supports some gesture based functionality, such as swiping left instead of hitting backspace or swiping right to add a space. Another piece of extra goodness is the Ctrl button, which allows you to use familiar keyboard shortcuts like Ctrl+C to copy, Ctrl+V to paste and Ctrl+N to create a new file.
SPB is always a contender in whatever they do, and their Keyboard is no exception. I would give this one a look, particularly if you are using a device with a large screen. My requirement of finding a finger friendly keyboard still isn't fulfilled with this option, although the full screen keyboard does do a fairly good job, it's still not as precise or fast as a hardware keyboard would be.
SPB keyboard is also available from the WMExperts Store for $14.95.
Ratings (out of 5)

Finger Friendliness: 2Bonus Features: 3

Overall:

Pros

Full screen keyboard is really niceGestures are coolIt's from SPB

Cons

Portrait mode still isn't very finger friendly
TouchPal from CooTek
TouchPal is a keyboard that we've looked at briefly before, and Dieter raved about it then. As far as I can tell, TouchPal is the only software offering from CooTek, but from what I've seen, I hope they start working on some other projects.
CooTek designed TouchPal that gives you two letters per key. This gives you a larger surface area to target with your finger. Coupled with some pretty astounding predictive text, you've got a pretty amazing keyboard.
But it doesn't stop there! Each key also has a number and a symbol associated with it (in some cases it's actually two symbols). Using gestures, you can pick and choose which item you want to select. Some examples…
Press and slide up to capitalize.
Press and slide to the left or right to choose a specific letter (after which you can slide up to capitalize the chosen letter)
Press and slide down to choose the symbol on the bottom of the key
Press and slide up, and then down to choose the number or symbol at the top of the key
You can also swipe across the whole keyboard to switch to a different keyboard style. Additionally, the tabs across the top of the keyboard allow you to choose between letters, numbers, symbols and other various keys. Swiping up or down on these keys access additional functionality.
I could go on about TouchPal for days, but the bottom line is that it doesn't get much better than this. Aside from something like Microsoft's Tellme, I haven't seen anything that can compete with TouchPal in the software input market.
TouchPal is currently available directly from Cootek for a special price of $12.98.
Ratings (out of 5)

Finger Friendliness: 4Bonus Features: 5

Overall:

Pros

Text completion works really wellBonus features are amazingPrice is right

Cons

Doesn't wow in landscape mode
Phil is the father of two beautiful girls and is the Dad behind Modern Dad. Before that he spent seven years at the helm of Android Central. Before that he spent a decade in a newsroom of a two-time Pulitzer Prize-finalist newspaper. Before that — well, we don't talk much about those days. Subscribe to the Modern Dad newsletter!
TouchPal does not work with the native autocomplete to pull information from the contacts db for certain input fields. E.g. the "To" email address field in the Outlook mail app. SPB Keyboard does. Huge win for SPB in my book, and subsequently why I left TouchPal.

Personally, I could never leave Touchpal for SPB because it's just so much better IMO. But you're right about the contacts fields. Very annoying at times. The only workaround for this is to manually input the name once so it goes into the Touchpal user words. It also triggers the autocomplete as long as you enter some letters of the person's name but having to enter subsequent letters to filter is a bit cumbersome compared to other keyboards. It would be amazing if they somehow remedied this.

Just backspace once. It works then.

How did you miss the BEST (and free) keyboard, FingerKeyboard2? http://forum.xda-developers.com/showthread.php?t=501407 -McHale

Agreed. I've tried a bunch and it's no contest IMO. Fingerkeyboard is by far my favorite - at least in portrait mode which is what I use 90+% of the time. Love the layout, customization, haptic feedback, etc. For portrait layout, I do still love the old SPB keyboard. I'll still use that one occasionally whenever I have to type out a really long email or something like that.

5/5 for FingerKeyboard2 !!!

Agreed. I used to be a skeptic, but FingerKeyboard2 destroys all of the products listed in this review. But since it's free - and thus cannot be sold in the WMExperts store - it's not included. I guess that's a bit cynical of me. I love this site, though.

You'll notice that TouchPal isn't sold in the WMExperts store either. :-P

Check out TouchPal v.4.0 Beta which support landscape now. But there are some changes to the T+ keyboard layout too.

I actually prefer the half-qwerty that comes with fuze/touch pro
With xt9 enabled, I can type quickly and accurately
Typing the "quick brown fox" takes about 15 seconds (full keyboard brings it down to around 10 secs)

Tim, thanks for the great overview of the keyboard software.
Though when you say that it is simply not fast to press and hold until the zoom window comes up in order to make sure I have the correct key pressed. I can't agree with you as there is such an option called "smart zoom". When you enable that option ZB sets the exact time of the zoom appearance. Therefore if you type quickly the zoom appears immediately.

you guys should have included fingerkeyboard from the guys over @ xda...i know its freeware, but its still pretty damn nice.

Fingerkeyboard is very nice. The best full qwerty I've tried. But I have a Touch Diamond so it's a bit small in portrait for my tastes and I have skinny thumbs! I imagine it'd be great on a screen bigger than 2.8" though.

I agree with the people up there...
FingerKeyboard2 should have been on the list... maybe Resco Keyboard too? Can I do a request? Do a roundup of Music Players? have a hard time finding the best :P

On my touch HD I pull out my stylus and use the stock keyboard, faster then anything i've ever used! real easy with the gestures.

Did you forget the Phone Pad from HTC? It

I apologize for not mentioning FingerKeyboard2, I fully intended to when I was planning for this post, but it somehow slipped my mind when I actually started typing. I

I love the Omnia's default keyboard. It's working very good. Also available:
1. FingerKeyboard2 (people already mentioned that)
2. Cliquick: it's an innovative keyboard with some very good layouts and features especially for portrait mode: http://mobilespoon.blogspot.com/2008/12/cliquick-innovative-keyboard-for...

FingerKeyboard2 looks good, but I haven't used it. On my HTC Touch, I'm using the Diamond keyboards which I got only for the QWERTY, which is really nice.

one day i went shopping outside ?and in an links of london store?I found some kinds of links of london i love most?they are: Links of london mens bracelets Links of london mens bracelets Links of london mens bracelets Links of london mens bracelets Links of london mens bracelets Links of london mens bracelets Links of london mens bracelets Links of london mens bracelets Links of london mens bracelets Links of london mens bracelets shopping Links of London Bracelets shopping Links of London Bracelets shopping Links of London Bracelets shopping Links of London Bracelets shopping Links of London Bracelets shopping Links of London Bracelets shopping Links of London Bracelets shopping Links of London Bracelets shopping Links of London Bracelets shopping Links of London Bracelets
Windows Central Newsletter
Get the best of Windows Central in in your inbox, every day!
Thank you for signing up to Windows Central. You will receive a verification email shortly.
There was a problem. Please refresh the page and try again.