Some UK Lumia 950 pre-orders seeing delays from resellers [updated]
Many eager British Lumia fans are now being told to wait a while longer for their new Lumia 950.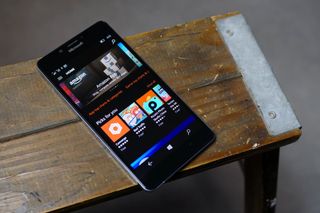 (Image credit: Windows Central)
Update: We're getting a lot of tips from people saying Amazon UK has now pushed back its pre-order shipments. Microsoft's statement below applies here, too, as far as we currently understand.
December 3 is supposed to be the day that Lumia fans up and down the UK are unwrapping their shiny new Lumia 950 or Lumia 950 XL for the first time. But not everyone is that lucky with reports coming in that at least two different resellers are now telling their customers to expect a delay.
The first we heard of was from online retailer, Clove, as late as December 2. We received some tips that messages were going out to those who pre-ordered telling them to now expect delivery the following week. We reached out to Clove for some clarity on this and were informed they were unable to comment.
The second report arrives on launch day, with high-street chain, Argos, sending text notifications to pre-order customers of a Microsoft enforced delay due to a "software issue."
Here's the thing, though. As far as we know Microsoft has still shipped its own orders from its own store. Indeed, you can head over to the Microsoft Store right now and order both new phones. They're in stock, ready to roll. So if there's a software issue, Microsoft seems less bothered by it when sending out of it's own store.
We've now heard from Microsoft who provided the below statement on the matter:
So some folks will have to hang tight but mostly there's not a whole lot to worry about it seems.
Thanks to everyone who tipped us!
Richard Devine is an Editor at Windows Central. A former Project Manager and long-term tech addict, he joined Mobile Nations in 2011 and has been found on Android Central and iMore as well as Windows Central. Currently you'll find him covering all manner of PC hardware and gaming, and you can follow him on Twitter and Instagram.
Ah that explains why the Carphone Warehouse originally had 3/12 on it's 950XL page. It soon changed to the 8/12 and I've just checked with them; It's still the 8th. Hope it doesn't go out any further to the right. That's a rubbish response from Argos. Any "software issue" can be rectified OTA.

I just contacted buymobiles.net and up until I just rung them had confirmed that they would be getting stock today, however that just changed and they just confirmed to me that their own stock sheet is mentioning a software issue with no confirmed date for release. This is very frustrating,I would buy it now from the MS store but £82 saving is not worth it....argh how can someone else sell your own phone for less!

Check my comment below regarding MS price matching these other resellers.

Iv ordered from Carphone warehouse two for the 950 iv been on to them a few times they said it will be delivered the same day hoping that's true for next Tuesday being the 8th as stated on there website

Just had a horrendous call to CW, I genuinely do not know why the train their staff to such a low standard. There must be around 8 people in UK that actually know what they are talking about, and I never bump into one!

I had the same problem, CPWs service is horrendous, but they seem to have some of the best deals so far.

Mobile phones direct are a lot cheaper. In fact, CW won't even price match them. Mobiles have EE 4g "extra" deals too, CW can't offer them.

Mobile phones direct are a lot cheaper. In fact, CW won't even price match them. Mobiles have EE 4g "extra" deals too, CW can't offer them. Edit... They apparently do offer the "extra" speed 4g plans too. But their upfront fees are much higher than mobilesdirect.

Only MS would sell a high end phone with a deficient OS....

Incorrect. Apple do this regularly. Stop talking rubbish!!

Every release, by my reckoning :)

Apple have been know to brick some of their devices during updates also.

Same happened with me i was going to contact them but cant be bothered... I'll just wait(also I knew there were going to be a delay when they changed the expected delivery date on their website Carphone warehouse)
edit: Does it mean that I'm going to get it earlier?

Me too, I was hoping at least an email would of been sent by carphone warehouse when they changed the date. Went in today & asked, one employee wasn't aware their was a new windows phone being released & the other told me the 12th so hoping its really not that late. I miss phones4u at times like this

Me too bro and they always gave you something free

I went to CW yesterday 8th... They told me that they should receive stock today... The web site was indicating that the 950XL white was in stock. Checked again and now all are again on pre-order and delivery moved to 22nd !!!
3/12 -> 8/12 -> 22/12 ????
What is going on?

This is beyond a joke now, they've already missed their November launch date. I have a pre order with both Argos and CPW, neither of which seem to have received stock from Microsoft yet.

I expect an update very soon. Early next week maybe :)

Mines on route via UPS from Mictosoft UK. However tracking did say delivery today as expected but just been changed to tomorrow! Frustrating.

You're lucky, I'm still waiting for my shipping confirmation.

UPS says mine will arrive in London "by end of day".

Tamworth, United Kingdom
12/03/2015
10:17 P.M.
Arrival Scan

London, United Kingdom
12/04/2015
5:47 A.M. Out For Delivery

Not sure if /s or serious...

My 950 and 950 XL preorders haven't shipped from the Microsoft Store UK. Both still at 'Order Processing'. Called them and they said they're probably not going to be shipped until next Wednesday or Thursday.

Received mine a few days ago (from Microsoft Store) and received an mail today saying my Display Dock has shipped also. Happy camper over here :)

I probably wouldn't care if they hadn't been on preorder since October.

TBH I've not had much time to play with it yet, and won't until next week, but so far, yes I do like it. They really tied up a lot of loose ends with the OS in the last few builds and while there are still bugs and missing features I do believe it's good enough for a general release.

Wonder if the new build of the OS they mentioned will get pushed out today or tomorrow...

Has anyone from carphone warehouse had any luck with there order number, I have mine but when I phoned up today they said they didnt have any record of it/ Not holding high hopes.

They have mine thank goodness just waiting for the bloody thing to be in stock

I got the text from Argos. Not that happy about it but nothing can be done. At least I'll get it just as I'm off work for a few days. Posted via the Windows Central App for Android

I had a shipping confirmation from the MS store at lunch time today. It might take a while for all those pre orders to be processed and emails sent.

I got my UPS notification for my XL through around lunchtime, and MS now show my order status as complete. No indication of actual delivery date yet....

Got my XL pre order on its way email this lunchtime, from MS store

Are others able to order the MS Unlocked 950 from MicrosoftStore?? It just says email me when available... Been checking it for a couple weeks now...

I recieved an email yesterday advising my delivery was delayed from Unlocked-mobiles.com with no explanation other than it would be shipped between the 4th & 7th December, I wasn't happy with that response so enquired further and was told the following. There has been a small delay in release of the Microsoft Lumia 950 & Microsoft Lumia 950 XL. Orders will begin shipping between the 4th and 7th December and we will notify you via email upon dispatch. We will be getting orders out to customers as soon as possible. disappointed as I've been waiting since October 29th.

I'm in exactly the same boat. First time I've purchased a phone off of them, and it hasn't been a good experience. I guess it isn't their fault though.
First it annoyed me that I'm paying £60 more than Amazon and Carphone Warhouse customers but decided the week early will justify the expense, now I'm getting it the same time as them lol. Cant be bothered cancelling now though.

Disappointed alright. Feels like we have been waiting an age. Why show something in October if its not ready for release. I love windows phone but my patience is wearing thin now. I want my new phone.

Unlocked Mobiles also delayed, says they're shipping between the 4th and the 7th. Not cool!

Received my 950xl this morning from Expansys. Hung on screen on first boot saying "getting things ready" for an hour...... thought this wasn't right and then had to hard reset it. All good and very happy at the moment.

Amazon are still showing the 12th?!

It's showing the 20th for me and has for the last few days now. I've got to wait until it's released as you can't use gift card balances with pre-orders :(

When I phoned Argos this morning they put my call through to their distributor Exertis. Exertis told me they have the phones but Microsoft had blocked them going out. They've been told by MS the embargo would likely be lifted on or before Sunday (6th). Once they've been given the green light Exertis say they've got UK Mail lined up to courier them straight away.

Looks like Amazon played it right with a 12 Dec release date

Which they've now pushed back to the 20th. I can't even pre-order as I won't be able to use my gift card balance if I do -_-

Got mine from Argos, had the delay text which states it will be delivered no later than the 6th Dec? That's a Sunday?

Just been on to Argos they haven't a clue what's going on. All they can tell me is that a company called Micro P are delivering the item.

Somewhat smugly sitting here with my FNAC Sourced Dual SIM 950XL then. Arrived on Monday and impressively the free dock is even out for delivery today. Anyone getting one who hasn't ordered a Mozo back, do so now, absolutely lush.

I've ordered off Amazon but the damn thing has been out of stock for for the past month.

I reckon MS are about to release at OTA update in the next few days to address an issue but don't want to ruin the initial user experience so want to hold them back.

In that case why would they start shipping their direct pre-orders today?

'cause logistics is a complex business init mate!

I pre ordered from Clove a couple of weeks ago, yesterday received an email from them notifying me of an MS enforced delay until next week. Today I rang MS, ordered a 950XL for immediate despatch and then cancelled my Clove order. Posted via the Windows Central App for Android

Microsoft supply chain, amazing isn't it

So, to be clear, this is MS stopping launch day orders that aren't placed through them (except for a few that weren't)? Seems like an awesome way to get phones into as many hands as possible and reward the 'fans'.

It seems people are getting different stories from different MS support staff. I was told this morning my lumia 950 was being shipped today and I would receive my tracking info in a few hours. Nothing came through and I saw all this so I asked again. This time I was told it might be sent today but if not it would be tomorrow. Interestingly I was told the warehouse staff don't update the system until the end of the day so the phone could be shipped during the day but not show as that on my account until much later. I also asked about the software bug being widely reported - I was told there are no bugs!! It seems there is something going on that they don't want people to know about and I'm not convinced the phones will be sent today or tomorrow sadly.

This is similar to the chats I have had

I have my shipping notification and UPS tracking number from MS store this afternoon. I pre-ordered a white 950 XL on 19th November. For those thinking of buying elsewhere due to the lower prices, MS will price match once your phone has been shipped. I have a reference number from one of their online chat reps that will be passed to the correct department to process the refund, which should take 2 to 3 working days. They did a price match with buymobiles.net which is currently £83 less than MS store. Looking forward to my 950 XL, buggy or not, I don't really care.

That is pretty cool I didnt know they are doing that. I paid £330 for my 950XL after MS very kindly gave me a £200 promo code to use on the purchase (long story). It shipped today, I recvd notification around 1.30pm ish. Edit : I, like you, am looking forward to my 950 XL, buggy or not, I don't really care. Ms will get any kinks ironed out very quickly. Really looking forward to 1080p 120fps slow mo video recording for rain/snow etc. Will look epic!

I could about stretch to that, just need a £200 voucher.... Anyway, is 120fps ready yet? Sounds awesome.

It is but currently not at 1080p but 720p I think I read recently.

It was painful reaching the point of their kind goodwill gesture- they goofed my original 950 XL & Band 2 orders totally (very long story), but in the end they came good. 120fps is at 720p now, but SW updates will enable 1080p soon.

You're lucky they did a price match - I've tried the same thing and been told by two different people that "unfortunately we don't price match", so I think I'll play with the phone (which arrived earlier today) for a few hours, then send it back.

I had a chat with MS at the weekend and they categorically denied doing price matching. I cancelled my Amazon order for a pre-order with John Lewis. Time will tell how long it takes, but they quote within 14 days.

I've cancelled my order with mobilephonesdirect.co.uk. They claimed on Tuesday to be able to send it next day. They never had it in stock and are now claiming it will be next week.

Yesterday morning it still said "in stock". Last night it said 5 days for white, 6 days for black.

They did have it in stock. They were the ones who supplied 950XLs to the Insider event

I nearly went to the one in Manchester.

No tracking info for me from Ms store. Ordered 27oct. Something's up even at Ms. I spoke to them over chat and they reckoned they had so many pre orders they were struggling to get them all out. But doubt this is the case. I could understand delays for resellers as Ms may have to update the phones before shipping? But seeing As they also sell they obviously don't need to get them somewhere else before shipping. Anyway, looks like on ones getting them today

I ordered from unlocked mobiles too on the 9th Oct and got the same email. From the email they sent me earlier it seemed they were waiting on an official ok from Microsoft to start dispatching

Sounds like they cannot keep up with demand and making sure their main partners fufil their pre orders, mine is due tomorrow but i have had no confirmation from EE. They are saying for new orders fufilled in 7 days on their webbie... Update just got courier tracking for tomorrow... woop woop

Wish they would offer the XL. It is only available for business customers. Begged them for it today.... No joy.

My XL direct with MS shipped this aft. UPS saying tomorrow delivery. Hope Wifey is in!!!

Silly Carphone warehouse making me wait until next week, Oh well new PC tomorrow :D

"Minor configuration issue" = No OS? :)

It's set to release 12th December on the Amazon site, and a few others I've checked :'(

Ordered my lumia 950xl on amazon france the 21th of november. Realase date in France was the 27th of november, still waiting​. The amazon.fr website tells me that "they need time to give me a shiping date"

ALL ORDERS FOR 550, 950 AND 950XL FROM CARPHONE WAREHOUSE WILL SHIP TOMORROW/THIS WEEK. MY 550 ARRIVES TOMORROW

Hope your correct. Was at the insider event at the o2 store, majority of people there wanted the XL which o2 isn't stocking. I decided to head to the CPW store event in Soho but the queue to get the device was coming out the store. Maybe CPW oversold last night. Going to order mine from mobiles.co.uk and hopefully redeem dock via offers app.

Not my order i ordered it to be delivered to a local store and they told me it will be there on the 8th

I finally received my 950XL, but am sad that I am too late for the free dock offer from the Lumia Offers app. :(

What do you mean. When does/did it expire?

I called the Microsoft Store and they said it hasn't expired, but that they are out of stock, and to keep checkin the app. I'm skeptical.

Surely this can't be true, would get a lot of fans peed right off

Sorry to bang on but presumably that's pre-orders from MS store and for resellers we'll have to wait for MS to get the handsets to them before waiting for them to get the handsets to us. Why is it companies that deal with communications are so bad at, you know, communicating?

Just received delivery confirmation from Carphone Warehouse for my SIM-Free Lumia 550, will be arriving tomorrow - interesting as the web site says deliveries are from the 7th, sadly my Lumia 950 is still December 8th

got my tracking number at 18:40 tonight. so the question is now.. will it arrive tomorrow, do they deliver saturday if not? or am i dreaming! i think realistically its now going to be monday now!

Tell me about it! Here in Portugal Phonehouse announced a pre-order and delivery for the 25th of November, of course they didn't make it, and then on the 1st this month and so far nothing! Feeling like going there with a baseball bat! Anybody else in Portugal worth the same issue?

Your username checks out, I'd completely imagine you'd be going there with a baseball bat BigPhillyB, you gangsta! Haha!

I ordered from buy mobiles as a new contract but they keep emailing me every 3 days to say they have not received the phones yet. I'm so excited about my 950 XL and can't wait any longer. I will be sad to see my 930 sit in my room gaining dust Judy like I was with my 925, which I gave to my brother and my 830 which I gave to my other brother who love them far more than their iPhones they had. I wish they could be a little faster.

I'm using my 920 as my main phone and my 930 as a Windows 10 test device. Will probably lob the 930 onto the Fast Ring once I get the 950 Dual SIM, or recycle it. Can run that purely for testing the latest features because I don't mind if it bricks (never worked properly in the first place, place I bought it from have shunned all responsibility and Microsoft can't help as it should never have been sold to me in the first place).

Not true. MS Store pre-orders in Canada not shipping on time.

London, United Kingdom
12/04/2015
5:47 A.M.
Out For Delivery

Got my email from http://www.mobilephonesdirect.co.uk/ to say its out for delivery on next working day, so i will get it Monday

I ordered from mobile phones direct as well.... no such luck. I've tweeded them. Lets see what they say.

I did not get my order today, so phoned them and they said it was sent in error and i will get another email when its in stock around Wednesday or Thursday. I checked and there website is still showing the Black 950 as in stock. They are a joke. I have now complained.

Mines only a day late for the delivery :) getting mine either weekend from dpd or monday.

Got an e-mail from carphone warehouse saying my 950xl has been dispatched this morning. I phoned them yesterday and they said the earliest I would get it would be the eighth. Only issue now is I'm not home for the weekend so won't get it until Sunday night or Monday morning

For what its worth, I got my notification from MS on the 3rd, phone arrived on the 4th. Setup was quick, no freezes and the offers app was easy to use to get the discount code for the dock. I have had a couple of app crashes, but this is in part, at least, to me whizzing round and trying everything out I think as much as anything else - too impatient. Overall, love the phone, win 10 seems a lot more sleek and stable than the last insider release I tried so all in all very happy. Bought a cheap case to keep it in until the MOZOs are in stock, and the cheap 7.99 QI charger I got on amazon works a treat. If you have any specific questions please let me know and I can try to answer them.

Got mine on Saturday it's friking awesome !

Yup friking awesome!!! Oh got mine on Saturday too

got mine on friday (950) from ms direct with price match. absolutely love it. im surprised even dan wasnt more positive. its a great phone that feels premium in the hand. my only complaint is the side buttons which are a little flimsy

I know a few people in the UK who have them already. Dual sim too.

If the issue was solved quickly it doesn't explain why Amazon have put their date back by over a week. Frustrating!

Retailer has to get stock from manufacturer.

I got an email from Clove this morning telling me my phone would be shipped first thing Wednesday. I hope this remains the case.

go to the clove site you will see a big warning so i dont think they will ship tommarow (again

****, why would they email me this morning. I will check now. Thanks for the heads up. The black 950 showing the 9th as shipping date.

Uk ones coming in as single SIM I presume ??

Yes 950XL from carphone warehouse is single sim variant.

Thanks Guys !!! - can't blame me for wishful thinking :D

Orderered 950XL on Sunday from Carphone Warehouse and received it on Monday. So no delays here...

Very strange situation. A friend and I both preordered white 950XL from Expansys on 9 October. The original date given then was 3 December. Last week Expansys showed they had 26 copies of the black one in stock. My friend changed his order to the black one and received it last Friday. White one never came into stock. When those 26 were sold they changed to in stock on 10 December. I hope they they can keep to this now. What I can't understand is how there seems to have been this drip of phones being received. Sounds more like Microsoft totally screwed up on it's supply of UK spec phones. Surely if they have stock for their own UK store they could make some of it available to 3rd party suppliers who have preorders to fulfil. Microsoft definitely isn't helping in making this launch a success in the UK. Boggles the mind

Got mine from Carphone today :)

#FARCICAL......to say the least....

Can anyone confirm that the 950XL from Car phone wharehouse is the dual sim version?

It's single sim dude. In using it right now

Mine is coming tomorrow from Argos. Got confirmation from the courier. Happy days!

Can you update us, did the phone arrive or have you had further information from Argos. I hope its good news.

I've had my 950XL from Carphone Warehouse for 24 hrs now... :-)

Man, i got mine last Saturday from cw!! So no a big delay...

I pre-ordered the 950XL the day it appeared on Amazon UK. My order says the release date is the 20th, and won't arrive till the 21st.. I feel like I should cancel this.

Very originally pushed my order back to delivery on the 10th, they sent me a text yesterday saying it had been delayed further. The order page sitll says tomorrow but the item page says 21st December. If it wasn't for the fact that it's only costing me £413 after quidco etc, then I'd cancel and find one in stock now.

I paid £401 from Microsoft, and it was delivered at 10am on the 3rd. So you're paying more and getting it later - not such a good plan?

Is it signs of high demand? Or production glitches?

Probably neither. Microsoft seem determined to fail in the mobile market, and can't be bothered to get the handsets out there.

Just had a despatch notification \o/

I ordered my 950XL from mobilephonesdirect.co.uk yesterday and it has been delivered at home this morning for free! Cheaper than Carphonewarehouse for the same montly contract (phone cost £179.99 at CPW vs £99.99 at mobilephonesdirect!, same sim card, same monthly contract). I can't wait to be home tonihght and open the 950XL... Xmas came early!
Windows Central Newsletter
Thank you for signing up to Windows Central. You will receive a verification email shortly.
There was a problem. Please refresh the page and try again.