Some Windows 10 Anniversary Update PCs experiencing freezing issues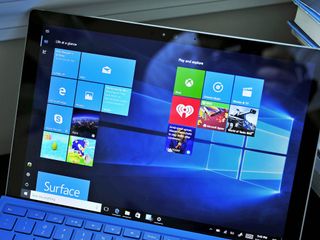 Microsoft is looking into issues with some PCs who have installed the Windows 10 Anniversary Update and have since experienced freezing issues.
In a thread on Microsoft's support forums (opens in new tab) (via Softpedia), a company rep wrote that this freezing issue seems to be happening with a select number of PCs that have installed the Anniversary Update:
The rep added that Microsoft asks "for your patience while we continue our investigation and please check back on this thread for an update."
If you have installed the Anniversary Update less than 10 days ago, you can go back to the older version of Windows 10 to solve this problem:
Method 1: Using the Recovery Console
Restart your PC. When you get to the sign-in screen, hold the Shift key down while you select Power > Restart.
After your PC restarts to the Choose an option screen, select Troubleshoot > Advanced Options > Go back to the previous build. If you don't see this option, try Method 2.
Method 2: Using the Settings app from Safe Mode
Restart your PC. When you get to the sign-in screen, hold the Shift key down while you select Power > Restart.
After your PC restarts to the Choose an option screen, select Troubleshoot > Advanced options > Startup Settings > Restart.
After your PC restarts, you'll see a list of options. Select 4 or F4 to start your PC in Safe Mode.
Open the Settings app.
Select Update & security and then the Recovery tab.
Under "Go back to an earlier build", click the Get started button and follow the instructions.
Let us know if you are dealing with these freezing problems with the Windows 10 Anniversary Update in our comments!
More Windows 10 resources
For more help articles, coverage, and answers on Windows 10, you can visit the following resources:
Windows Central Newsletter
Get the best of Windows Central in in your inbox, every day!
Wen s arriving mobile anniversary update???plss let me knw

It may take more than a month or more. Don't expect AU is bug free.

Win 10 mob OS is very smooth, clean UI in my L730, but I am suffering serious battery drain issue, its not just with me but all my friends who r using L730's, L640's, L950, L950XL has the same problem no matter what u do. Its irritating to charge my mobile twice a day which takes more than 3 hrs to charge it full.

Are MS and their insiders actually testing these things?
or are the insiders just happy for new builds.
testing was the whole point and not Windows breaks in front of paying customers

MS still has testers? I thought they were all fired and all the testings are done by insiders for free?

No, that was a gross exaggeration by people who didn't know what they were talking about.

"gross exaggeration" is generous IMO.
It's total BS

Not all of them, but some experienced testers were let go about year ago.

New plan is that devs do the testing. Think about the savings by letting thousands of QA's go.

You can see "great" results of this plan. Devs are not testers.

the idiot who downvoted you clearly has no idea about sw development. devs are devs, and qa team is qa! test scenarios are being built upon user stories in each sprint by QA!! not by devs! Seems Nadella has zero idea about any dev method, be it Agile or waterfall

I have fast ring installed on my system which has the OS on an SSD drive and apps saved to a separate drive and have never come across this issue.

I have my OS and apps on my SSD and all other data on another HDD (it says in the article apps + data) and have no problems either.

So you got it installed on a solid state drive drive? Posted via the Windows Central App for Android

MS is not listening to our feedback. :(

Really? People are going to start trolling insiders now? What a simplistic view to something as complex as a Operating System and its interaction with the infinite variety of computer permeations in the world. BTW permeation = complex variety (just in case).

Complex to you and google maybe, not to a company that's been doing it for 30 years... shouldn't be

Don't be ridiculous.
Millions of different combinations for hundreds of millions of computers, all with varying software and hardware options including malware and viruses and you think a miniscule percentage freezing isn't acceptable!?
Get your hand off it.

Yes we are testing these things. every bug, crash, whatever problem we get in the build version, we let MS know and we even give suggestions.

Don't have a configuration like that, but my only issue is the Settings app crashing at every opening.

My settings app opens fine, but clicking notifications too frequently starts to open their associated app and as they are opening they crash and notification disappears.

And also.the wifi icon on the taskbar does not show the stratus of the wifi

This issue is quite old, it also happens sometimes on TH builds back then. I rarely got that issue by my friends Asus ultrabook had this issue several times that it mysteriously lost the WiFi icon and its completely disabled, but the actual hardware is still working and connect to the network.

My wifi connection shows up as LAN

I've updated 3 laptops to the Anniversary Update with no problems. Even two that are over 6 years old and were originally running Vista. But when I tried updating my 5 your old PC this weekend, when it got to the last reboot step it couldnt recognize my hard drive. Was able to roll back to the previous W10 version with little problem. I think that the issue is with my hard drive though as I had been getting bad sector warnings in the last couple of months. Will try againat a later date.

Bad sector warning, looks like a sign of bigger issue related to the Hard Drive itself. That's likely not OS related. Try check the hard drive health with Crystal Disk Info if there is more errors reported. Just do a backup soon as possible.

should just replace the HDD with a SSD (unless you need space then a HDD) using a HDD with bad can lead to issues if there are more

I have 2 issues (will be posting soon on Feedback Hub)
1. WiFi connectivity suddenly lost on my laptop (with no apparent WiFi connection available - though it works with the other phones)
2. Taskbar and Start (and sometimes even Store apps) gets frozen, and I have to redtart the Explorer just to make them working again

Had issue #1 on my Asus laptop.. Puzzling... Rebooting the router itself solved it for me though..

Same with me, ASUS Transformer Book Flip model. I have to find the WiFi upgrade to replace this buggy adapter... :/

I never had this problem with win10 until I jumped on the Redstone builds with my Asus. I doubt its the adapter.. Powering off my notebook, removing the battery resetting the adapter nothing worked on the laptop side of things.. Reset the router and magically WiFi internet access.. I suspect it has something to do with detecting and updating mac addresses or maybe a bug with ip6 addresses...

Well, I have reset the router in the first place, before I plan to reset my notebook (sadly, the battery is non-replaceable)... after the router reset, it still didn't fix the issue, as other phones can connect to the router without any issues. But what I have is, besides the no coverage bug after Win10 AU, I have somewhat slow and weak coverage on Mediatek Wi-Fi adapter (inside my notebook), and that issue had been bugging me since Windows 8.1 days. Replacing the driver doesn't help, and replacing the adapter is the only solution.

That's exactly what was going on here.. No wifi connect on laptop but WiFi connect good to go on my icon with Redstone.. Very strange resetting your router did not fix things like it has for me. Have you tried changing channels on your router? Live in a tight area, the most used wifi channel around me was 21. I moved from 21 to channel 6 and reliability has definitely improved for me.. Channel 40 on 5g was good to go out the box.

I had problem two before the anniversary update but not since than anymore. I had to kill the runtimebroker.exe process to solve it temporarily.

(Edited because it is duplicated Post)

Similar issue since TH2 where the runtimebroker.exe freeze all the related WinRT, UWP apps and XAML-based shell in Windows (Start, Action Center, etc).
So far my newly installed Anniversary Update didn't have this issue so far. Hope this was fixed since then, though this article and even some people commenting here states that the related issue might be still lurking around, waiting for a right bug to trigger this bug.
Microsoft seriously has to make sure that the WinRT runtime is rock solid stable and reliable, since its likely not just the "Candy Crush" app will freeze or crash, but the related Windows Shell components itself, making the system way more usable and frustration to everyday users.

Weird... after the AU, my laptop had this issue... which caused by WiFi network change. That made me reinstall Windows 10 from scratch, and since then, that bug still exists, but not much often than before.

So even reformatting didn't "fix" the issue? Does killing runtimebroker.exe render the UWP-related things responsive again? So you think this issue of yours is reproducable by changing WiFi network or is it bit random? Have you checked if you are updating/downloading any Windows Store apps? Unfortuantely my issue I had was bit random and unreproducable, at least somewhat coincidence whey I was using Edge then it render every UWP/WinRT-related stuff to lock-up until I kill the runtimebroker.exe and some other processes I don't remember. It doesn't happen that too often or consistently which is bit hard to reproduce. Though I was thinking if we have related issue. So far Anniversary Update running fine on my after upgrade. Edge is way better than before but still finicky at times.

Mine exists after AU, which is weird, and there's no issue with runtimebroker.exe (my CPU usage is at under 10% at that time, nothing's odd). That made me frustrated.

Killing the runtimebroker.exe was the solution for me that time regardless the CPU load which was mostly under the 10%.

Somewhat odd, though, I restarted explorer.exe did that, too... but I didn't know what happened, the taskbar soon enough freezing again when I messed with network again...

Maybe it's another issue in your case than.

Well, I have to submit that via Feedback Hub, and hope from Microsoft team will fix this issue... Thanks anyway :)

I had the same issue with my start and taskbar freezing ever since Win10 decided to do the Anniversary update on me. I am now restarting explorer.exe every 20 min or so just to retain use of my PC.

I got the same issue (#1) and to make it work i turn airplane mode on and off, but is annoying, any definitive solution?

Installed on 850 EVO SSD and AHCI mode is disabled by default in this AU. Samsung Magician reports AHCI mode disabled and cant identify SATA 3 connction.

Our home desktop isn't completely freezing, but it is dramatically slower with some apps going "Not Responding" mainly for about 15 minutes after turning it on. Almost as described, it has an SSD for the OS and apps then files on a separate 4TB. My only other issue so far has been my work laptop not allowing me to set a default browser. Edit: right after posting this, I got another streak of "Not Responding" apps.

Soloution from Chiffon Silk Fabric The solutaion for this freezing issues​ is very simple. This is happening to people who have changed the default storeage location other then system defaults kindly do the following and restart this system it will work normally press Window KEY + i (W+i) system - Storage - Change the default to C: Drive Restart the system it will work . reply if your solution is solved from Silk Fabrics From Silk Fabrics Manufacturers

I don't know if this is the root cause, but my system is SSD for SYSTEM and two separate drives for data and I'm A-OK so far. But I have storage setup to C: drive only as I install non-modern apps / my documents / photos / music / videos manually in these other drives.

It would also be nice if Microsoft would bother looking into various issues when using Surface Pro 3 while in its docking station. When bringing the device out of hibernation while in the docking, System and Interrupt processes will start taking up a lot of CPU causing the fan to kick in. And this can only be resolved with a reboot. Also, when connected with an external screen the device will BSOD when it tries to turn the screen of when the time specified in the power scheme has expired. Setting this to Never "solves" the problem.

I sometimes get this issue on my surface 4, when the message center kicks in I have to reboot and its fine...hoping for a patch to fix it, good to hear other people are having issues.

After 12 days since release, I am beginning to wonder if Microsoft has temporarily disabled the AU release via Windows update due to the kinds of issues users have reported. All our machines received the 10586.545 update. But none, not even my day 1 gen 1 Surface Pro, have seen the AU. I'd consider a manual download and update, but I need to know my system will be as dependable as it is now.

I think these issues affect a comparatively small portion of users. AU has been awesome for me on my 4 machines. No issues whatsoever. I did clean installs by the way seeing that windows completes installation under 20 mins (or less). The bugs will be fixed, overall I give the AU very good scores.

It is a bit strange that MS own hardware is left behind.

I have my OS on SSD and Apps on 2TB HDD but every thing is OK. Cpu i7 6700K - 32 GB G-Skills 2400 - 256 GB SSD - 2 TB HDD - Main MSI Gaming M3

AU is Great on my PC even with this kind of OS and DATA seperation.

There is also a problem with external USB hard drives. This has never happed before. Windows detects the drive as RAW format instead of NTFS. This can cause you to think that you've lost all the data on the drive, but this isn't the case. The drive works fine on Windows 10 1511. They must fix this before people start losing their data.

I can confirm that problem. I've got 2 external drives, one NTFS and one Fat32. Both don't work on a freshly installed Windows 10 Pro AU (Build 1607), the system just shows "RAW". The drives work perfectly on any other system, I've tried them on systems running Windows 7, 8 and 10 (Build 1511). Even on my Smart-TV they work without any problems. Yes, I've got the latest chipset drivers installed and I also deleted the USB-Ports completely and reinstalled them, the problem persists. By the way, my AU system also freezes for a few seconds from time to time.

Dell Venue 11 pro with many apps and all docs folders in microSD, build .67 -> can't see a problem. I wonder if eMMC here is to be considered SSD-like out not

I had no issue with my PC when I had Windows 10.0.14393.67 saved on the SSD. I have updated to Redstone 2 build 14901.1000. The only issue I have now is Windows Central app does not work on my PC anymore. Posted via the Windows Central App for Tecno-L8+

Try uninstalling and reinstalling. I haven't had the W10 app on my desktop pc until yesterday and it works great, no crashes like on my 650 and 920...yet.

My desktop has issues with notifications. If I don't clear them first screens stay open and cannot be closed even in task manager! If I plug my 950xl in, notifications just crashed full stop! Restart, clear notifications, plug phone and all is good. This after the latest cumulative update.

I've had to roll back from the AU build on my SP4, multiple freezing issues, edge, notification centre, Cortana. Not impressed.

I still cannot understand how MS can **** up even its own devices. Mind-blowing.

I'm having these freezing issues and it's a total pain. Really annoying and very disappointing as I was really looking forward to the anniversary update. I'll be rolling back. My SP3 has also been more unreliable since the update. Lift your game Microsoft! Posted via the Windows Central App for Android

I have the Anniversary edition installed on three PCs. One is a laptop with O/S & apps on one drive, and data on another drive (both SSDs), one is a desktop with O/S and apps on an SSD, and data on a HDD, and the third is a desktop with O/S and apps on one HDD partition, and data on another partition on the same physical drive. I have not experienced freezing on any of the configurations.

I have this issue, but it's less "damaging". The freezes that occur here are very "soft", and appear when I made a request for the system (like open a new tab on the browser (no matter if it's Chrome or Edge), open a software or request any action on the system. The freezes are random, and appear 5 or 6 times in a full day.

Had this issue with my Desktop PC. I had all my stuff on a 1TB Samsung 840 EVO SSD. I ended up just nuking it from Orbit and reloading all my backed up stuff afterwards.

For me, it's been severe lag issues

Don't have SSD, but on my HDD, AU is rock solid. I had done the 1511 and 1607 updates via ISO. No app crashes and stuff. Settings app is also working fine.

My laptop started freezing yesterday.

Exactly the same issue here!

Not 100% related, but I got some random freezing weeks ago (windows 10, non insider), including boot files missing sometimes... I just plugged off all my 3 hdds (cables, energy and s.m.a.r.t. always were fine), plugged just the main hdd, all fine again, executed sfc, ccleaner, no issues found, then plugged the other 2 hdds back. Since then, no more issues.

After having Windows 10 Anniversary Update my Laptop - Dell Inspiron 5559 too started to freez mainly audio,start and notification.Did reboot many times but nothing changed.Finally i uninstalled Intel display driver,audio driver and network driver and installed fresh again and the problem got rid off.But i missed the Dell Audio (Waves Audio) and Wi-Fi connected status on notification Icon.

I've got total system lock up issues on two of my three PCs ... Neither of which have an ssd, and only have a main C: drive partition. The freeze happens within a few minutes of booting, at which point the only thing I can do is kill the power. Rolled both back to TH2, and they're both fine again. Somewhat ironically Redstone runs perfectly fine on my 8 year old Dell desktop, my 950XL and my 640.

See my answer below and how I fixed it... maybe you can try?

I've not had any of these issues. Running version 1607 on a 1TB Samsung SSD, storage location for pics, documents is set to a separate partition on the same disk (apps are saving to C: though). Update was done through Windows Update

Anyone also experiencing random shutdowns? SP4 here and in the past 3-4 days, mine is constantly randomly shutting down.

THIS is exactly what happened to me... I am on SSD drive but my Documents, etc are on D: drive. About 1 minute after login my Windows WILL freeze... rendering the system unusable. Luckily the PC has two logins (one for me and one for my son), when I login using my son's account Windows is working fine... so I made a backup of all my Documents and then delete the freezing account and then re-create the account again... It has been working fine since... but it is a hassle since most of my application's customizations/settings are now gone... but considering that I didn't have to format the PC and reinstall the entire things again so this is quite ok... I spent 1-2 hours fixing this... luckily I know my way around computer... what if this happens to non-techie user??

What about the issue which prevents apps downloaded from the store from opening and edge extension says "Reinstall"?

Actually a got my laptop run slower than it was before the Anniversary Update

I've got a few freezes so far....hope cumulative updates fix this

I'm on the latest build (official, anniversary update) . It takes like 4 seconds to display the right click menu when I click on desktop. Else everywhere it displays in normal time.
Does anybody know what possibly be the problem ? Actually, It is happening since last build before anniversary update.. Thanks.

I always install my app on my main drive because I want to take advantage of the speed of my SSD where my OS resides. Only photos, music and other stuff are on the HDD drive. This is the same on my Lumia 950XL, all apps are installed on This Device while, photos, music, movies and stuff are on my SD Card.

I have this issue. OS installed on SSD and media/docs on a standard HDD. After the update Windows didn't recognize my HDD. It seemed to be missing drivers for that drive even though Windows indicated it had the latest drivers. Uninstalled the drive through device manager and reinstalled and Windows finally picked it up. However, now anything I open from the HDD freezes the computer. I can't even open task manager to kill the program. Only solution is sign out or restart.

on my HP Stream 7 tablet, I had to remove the SD card so I could get it to not freeze long enough to roll it back

I have this bug with my SP4. It occurs when I click on pop-up notifications.

Same thing here... I'm working on my Mac. LOL

I had the problem of my PC freezing and 'Not Responding' messages from websites on Edge after applying the AU. It dawned on my after updating I immediately installed the Last Pass extension. I uninstalled the extension and everything appears to be okay. It could be the Last Pass extension or extensions in general.

I am facing a windows update stuck at "downloading 0%" since more than a week after AU. Tried many things but no use. Anyone else facing same issue?

Experienced this issues on AU: 1. Sudden freeze on watching video. 2. Sometimes (rarely) freeze on lockscreen 3. Audio volume sudden spike (some ppl say this is driver issue. I only installed driver through windows update) 4. Opening apps take longer before AU (using ssd). 5. Some icon become square (like missing font) I won't blame insider tester. but I don't think insider not experienced (or they don't) this freeze issue. Maybe they reported it and microsoft just ignored it :p. Looks like now Macos and Ubuntu is way more stable.

Yup, it just keeps getting worse. Mobile in freefall Developers abandoning the platform. Enterprise abandoning the platform. Shoddy beta W10M OS Now this. Was it this bad under Ballmer?

Another prime example of why forced updates are stupid.

So this update started by freezing my SSD only to end with it KILLING my SSD. My SSD no longer shows up in the BIOS nor will it work on a different machine.

Hi, I am using MS 950 XL in UAE, lst night I have updated and from the morning the phone freezing, Skype donot opens, WhatsApp hangs.. I restarted several times, But still having sme problem. Sometime cannot release screen saver even. I am struggling bcse its my primary phone. Please, requesting your appropriate action at the earliest time. Waiting for your response. Regards, - Karthik.

I have 2 hard drives and it still happens. So it has nothing to do with different types of drives

Are you kidding me Microsoft!? I just came back from vacation, so it's been more than 10 days since I update to anniversary. My Windows side crashes all the time, and now I can't even roll back. Wow, sweet just in time for school.
Windows Central Newsletter
Thank you for signing up to Windows Central. You will receive a verification email shortly.
There was a problem. Please refresh the page and try again.