SongArc free for a few more days, don't miss out on the hottest music game for Windows Phone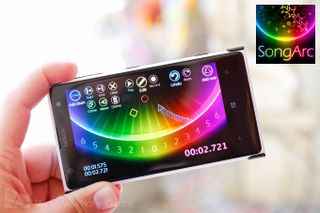 Windows Phone has a huge selection of quality games for you to enjoy. A lot of them you can find on other platforms, but we certainly have our fair share of platform exclusives to make others jealous. SongArc is a new game that's exclusive for Windows Phone that we've really been enjoying. Count us in as being fans since the beta. We were very excited with the community reception once the game launched earlier this month. Let's check out what's new in the latest relaase of SongArc.
SongArc is a really fun rhythm and music game for Windows Phone. Both Windows Phone 7 and 8 users can enjoy it, although it won't work with 256MB devices on last generations OS. The game has been well received by the Windows Phone community too. In the first week of availability it picked up 14,000 users who then played 73,000 games after creating 1,600 music sheets!
The app went to version 1.5 a few days ago. Didn't get the update yet or new to the game? Here's what's new in this most recent version:
General bug fixes
Better live tiles if we can't get the album art
Support for compressed communication from the server to save bandwidth
Much faster processing of the downloaded data
Lowest match display threshold is set to 30%
Experimental support for undo and redo in the Sheet Creator
Share text changed to include the #SongArc hashtag
Added icons to the play menu
You can now watch the Sheet Creator tutorial again
The number of people who rated the sheet is displayed next to the ratings
Lists now display the length of the song the Sheet was created for
Small fixes to the editor
The built in songs are now displayed at the end of the lists
The app should no longer crash if the phone has extreme amount of songs (over 1000 albums, etc)
Fixes to app not starting (we couldn't identify all issues yet, we need more data)
Better error / crash reporting
It's a huge update for the just launched game. A number of you folks reported issues with the game launching too slow or the illusion that it froze while "connecting to server". These issues were most apparent for Windows Phone 7 users. The cause? Over 7,000 sheets have been created by users since the game launched three weeks ago. That huge number of sheets caused the error for folks, but this latest fix hopefully address that.
Other changes to the app are somewhat general and should give the app an overall polish that might have been ever so lacking at launch. Of course, these changes are a result from users like you downloading, playing, and giving feedback to the developers.
Speaking of downloads, SongArc has picked up over 130,000 users since launching three weeks ago. Windows Phone may be a distant third place in the OS war compared to Android and iOS, but numbers like that would be a success over there as well.
What do you think of the latest changes to SongArc? It's an impressive game and one we're happy to say you can only find on Windows Phone.
Don't have the game yet? Pick it up in the Windows Phone Store. You can also use the QR code to get it or swipe to the right in our app. The app is free, but not for much longer. As part of a special promotion, the developers have made SongArc free for the first month. As you know, that month is ending soon, so make sure you get it!
Fun fact: Daniel Rubino is probably addicted to this game. We might need an intervention.

I think this game rocks in 1520

Have you played it on the 1520? :p

Even we haven't played it on a 1520 or a 1320... :)

This game was out in 1520?

It cannot work on WP7. According to WP7 users, WP7 is dead because no developer supports it anymore.......

Not dead, just not premium. Sell your WP7 device and upgrade if possible.

This is the type of quality apps you would ALWAYS get on the Zune HD <3

Quality app, but imo it isn't very musical. Shapes mean nothing then don't arrive in matching pattern and they bare no relation to the notes.
Maybe im just too used to Rocksmith and Guitar Hero!

Check out the recommended section, there are handpicked quality Sheets there. Also, Sheet ratings should give you a clue... We are working on getting even more good quality Sheets up, stay tuned!

I tried a couple almost 5 star ones. But i didn't feel like i was doing anything very musical. I think its just me!

No it's not just you.
I tried it also and I found that a lot of the time the pattern of the shapes did not go with the music at all.

Did you try the recommended songs? Also, you may need to calibrate if your song is from a different source than the Sheet Author's.

Working on that as well :)

Search Function, HD Graphics... Thanks

There should be an option to search for a song sheet.. e.g. Search bar- Find the song you want, other than that its just cool, one of the favourite games I own on my L720 and L710 :)

Shitty game. Please bring audiosurf to WP8.

dsnt want to play this...urggg....

Minus the drums (that needs to be tweeked) this thing is peaches!

What kind of problems do you have with the drums? Can you send an email to feedback (at) songarc.net?
You can also turn off the drums if you don't like them...

Any future release for windows 8.1? This would be great on a surface!

We are thinking about that... but Windows Store apps should work with a keyboard + mouse, too. Any ideas on how to make that happen?

This isn't ideal, but you could split up the arc into zones that correspond to letters on the keyboard and you could use the spacebar for the drum.

So wasn't President Taft. Point is, neither are coming back and it's time to move on already! :P

The most addictive game on WP. Once you get the hang of it, it never lets you go.

Still got error "Connecting to the server" on Windows Phone 8 - Lumia 920.

Please try again - we were having some server issues. Thank you for your patience!

The fact that I dislike how Windows Phone reads music turned me off on this game. If it was similar to Tap Tap Revenge or some sort of osu!, with DOWNLOADABLE songs, then I'd be happy to splurge in a few bucks extra...

Awesome game! My thumbs can dance!
Windows Central Newsletter
Thank you for signing up to Windows Central. You will receive a verification email shortly.
There was a problem. Please refresh the page and try again.