Sonic Dash update adds new missions, a ring bonus and character upgrades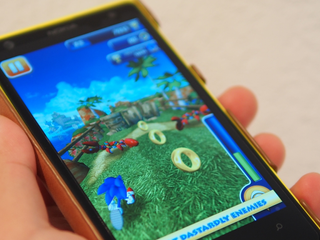 Sega has provided a update for their recent endless runner game Sonic Dash for both Windows Phone and Windows 8.1. It includes quite a bit of additional content, including a new bonus to collect, new missions to complete and new character upgrades to use.
Here's the long list of new additions from the game's change log, which brings it to version 2.1:
NEW DASH! - Dash to double your multiplier and smash through scenery for extra points!
EVEN MORE RINGS! - The Banking Bonus multiplies the rings you've collected! The more you run, the higher the bonus!
MORE CHARACTER UPGRADES! - Max out each of your characters!
MORE MISSIONS! - New missions with better rewards!
Plus loads of refinements and fixes.
Sega also promises to offer more updates to Sonic Dash in the future, so be on the lookout for yet more stuff to be added.
Download Sonic Dash for Windows Phone(free)
Download Sonic Dash for Windows 8.1 (opens in new tab)
Windows Central Newsletter
Get the best of Windows Central in your inbox, every day!
I would love this game to get Xbox integration added to it. A great endless runner; good to see the improvements added.

Exactly what I came here to say lol

Where is my xbox live sega!

Ah the days of playing sonic on the genesis back in the day. Kinda wish Sega was still in play with consoles a bit. Glad to see em still doing games and arcades machines still though...

I hear they may even draw focus away from consoles now after Sonic Boom. They want to focus on PC games and mobile games. ...Sonic Boom wasn't THAT bad. It just didn't feel like a Sonic game.

Played it on android-a boring endless runner game...

Can you finally back up game data so I can save my progress? :c

Never got into this game as it played choppily on my 730

My girlfriend's 730 now plays it very smooth. The update fixed the lag :P

Seen that last night. About time as I finished the challenges awhile ago

My son, 6, loves playing this on my 1520 and our Toshiba Encore 2. Was happy to see the update come through last night for his sake, simply because it means they are still supporting it. I start getting worried with all the apps and games leaving.

I stopped playing the 3rd time all my stats and characters were reset.

After putting this game on kids corner,the game is not showing on menu panel but still showing on kids corner.Unable to uninstall it.

Is sega done with game console dev. Evidence their publisher name changed to Sega networks(wonder why they didn't try to resurrect sega play!)