Sonic's Jewels 7 pulled due to use of Sonic the Hedgehog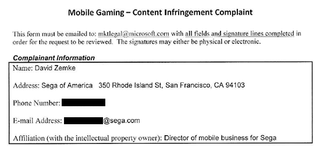 Just yesterday, we covered the Marketplace disappearance of an enthusiast's Sega Genesis Sega Gamegear/Sega Master System emulator titled Sonic's Jewels 7. But after getting in touch with the developer, we have new information and insight into what went down.
The author received an email from Microsoft on Feburary 9, 2012 entitled: "Mobile Application Content Infringement Complaint - Sonic's Jewels", trimmed for brevity.
Also in the email were two boilerplate options -- either file a DMCA Counter-Notice alleging the take down of the application was in error or actually remove the materials in the complaint. Obviously, the developer pulled the app.
In the attached complaint, filed February 8, 2012, Sega noted (emphasis ours):
As we suspected, Sega didn't like the use of the Sonic the Hedgehog imagery throughout the application. Before you arm the neighborhood with molotovs and pitchforks, let's pause and reflect. Our coin ring-loving blue pal belongs to Sega. The complaint here is completely fair. What troubles us, however, is how odd the Windows Phone Marketplace folks operate. For example, the complaint includes trademark registration/application paperwork but only for the mark Genesis. Not the actual trademark in question (Sonic the Hedgehog). Yet the complaint went through with record speed. Also, the complaint form is oddly bare and consists of a single page, unlike the 6-page monstrosity we had to fill out in the Dudley saga.
At any rate, we're working with the developer directly, helping him get through the scary-sounding Marketplace paperwork and procedures. We expect a quick turn around on this one, so stay tuned.
Get the Windows Central Newsletter
All the latest news, reviews, and guides for Windows and Xbox diehards.