Sonos Play:5 is now available for pre-order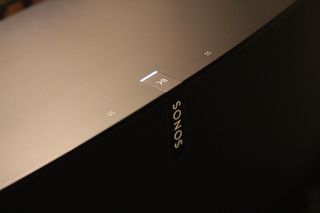 Sonos today confirmed the new and improved all-in-one Play:5 speaker is now available to pre-order for $499. The newly announced system will commence shipping on November 20 for those who reside in the US.
It's boasted that the refreshed Play:5 brings with it six custom-designed drivers – three mid-woofers and three tweeters – to produce a wider soundstage than what's usually found in a single speaker system. There are also new touch-sensitive controls too.
You can pre-order the Play:5 directly from Sonos. As noted already, the new speaker will ship on November 20 in the US, or November 25 if you live outside North America.
Pre-order the Play:5 for $499 (opens in new tab)
Windows Central Newsletter
Get the best of Windows Central in your inbox, every day!
Rich Edmonds was formerly a Senior Editor of PC hardware at Windows Central, covering everything related to PC components and NAS. He's been involved in technology for more than a decade and knows a thing or two about the magic inside a PC chassis. You can follow him on Twitter at @RichEdmonds.
Ok, so where's the app for WP I can use to run that beast?! Sorry Sonos, u don't get any money from me until you consider our platform...

I read Sonos play as panos panay everytime for weird reason

That's how I read it too xD

Where's the windows relation to this article? :P

Sonos works with Windows. They just don't have an official mobile app yet.

We've written many posts recently on how to use Sonos with Windows.

Do they have a an official Windows / windows 10 / windows 8.1 App? If not I wonder why the hell they are advertised here

Yes. They do. There is a desktop client for Windows. There's also a third party app for Windows Phone which is pretty damn good.

Which one would that be? Because Phonos sucks donkey arse.

Seems alright to me. Sonos' own apps aren't much better.

No offense Richard, you are one of the few writers I do respect here at WC, but that comment makes you sound like som what-app-gap ignorant mo#####ucker. Sure, Phonos works. It was the first usable Sonos app available for WP, but it's, IMO, nowhere near as good as the official iOS apps (or Android for that matter - I keep an old Kindle Fire charged in the den simply for Sonos control purposes). More times than not it [Phonos] will tell me it can't find any of my zones on startup, and when it does recognize them it still takes ages to perform a seemingly simple task. Listen, I'm fine with 3rd party apps, hell, more times than not I use the 3rd party rather than 1st party app, but certain apps just are not available, or what is available is so bad that it's not really a viable alternative.

I use both phonos on my Lumia and sonos app on the iPad. Most of the time I couldn't bother starting the iPad to mess with the music. Phonos works for me.
Altho its annoying it has to search for the Sonos every time it loads. Sometimes that process is quick sometimes it's not...

While your frustration is evident, name calling, especially to writer of the article is not going to get your argument anywhere.

Name-calling? I would never stoop to that, especially not towards writers like Richard. I was simply pointing out that his comment sounded like something one of the app-gap apologist fanbois would say when pushed into a corner about certain missing features or whatever on the windows platform.

I haven't found any 3p apps that allow me to play my music library on Sonos. Just adjust the speakers/rooms, etc.

Looks like a sponsored article otherwise why promote a manufacturer who doesn't support WP!?

Because this site stopped being just Windows Phone a long time ago. Sonos supports Windows.

Also, Sonos recently added Groove support, so it's definitely of interest. I just wish they would hurry up and release that UWP controller.

Oh that's great then. I suppose next time Sonos sends a press release out to be published by WC, someone could ask them when is the official app coming out.

waiting for a oficial W10M app before I guy

@emigrating Completely agree. Phonos doesn't even have a working Groove implementation. It's also still using WP7 UI. If the iOS app is a 10, Phonos is a 4. Stark difference. Sonos charges enough of a premium to push a Windows 10 universal app. I've registered my complaint with them. Have you?

Windows 10 support will be required...or no sale. Not that I could afford it anyway lol =p

I Use Phonos everyday on WP and happy with it, but my gals Iphone Sonos app is way better... I have 2 zones set up but won't buy another Sonos product until they have an official WP app...

If only there was a windows app for Sonos... I just spent $3k on a new Sonos system and need to use my wife's iPhone to operate it. Wah-wah.

Phonos for WP and Phonos lite for W8/W10 - I use both with the three Sonos system.