SoundGecko adds Zune podcast support, helps busy people everywhere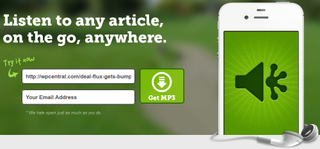 Long Zheng, the man behind the popular istartedsomething blog and MetroTwit, has teamed up with Andrew Armstrong and Ed Hooper to found 121cast. As described from their website,
The first product to come out of their startup is SoundGecko. With so much information flying around the interwebs, and so many juicy posts on Windows Phone Central, it's hard to keep up. But what if you could have articles read to you while snuggling up to people on the train, or driving? Well, that's exactly what SoundGecko does.
Give the service a URL and your email address, it automagically works out what you want to read, and in a minute or so the link to an audio file will be emailed to you. To make it easier, there is also a Google Chrome extension. Having a link emailed to you is great, but isn't perfect, especially if you are driving out of cell reception.
That's where Zune podcast support comes in.
After adding SoundGecko as a podcast in Zune, everytime you give SoundGecko a new link Zune will download the audio, and proceed to sync that onto your device (if you have it configured).
Currently there is an iPhone app, and an upcoming Android app, so we reached out to Long for comment on WP7. He confirmed that a Windows Phone app is in fact in the works, and that people can use the new podcast support until it is released.
So next time you need to go to the shops, why not pop a few of our articles into SoundGecko before you hit the road?
Source: SoundGecko
Get the Windows Central Newsletter
All the latest news, reviews, and guides for Windows and Xbox diehards.