Sozoom adds HD image support and fixes to make it perfect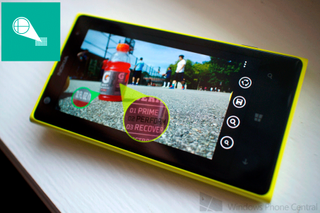 If you've got a Lumia 1520 or Lumia 1020 you might want to show off your camera to your friends. Unfortunately, places like Facebook compress the photos so badly that the zoom capabilities of the camera goes unnoticed. Thankfully we've got Sozoom. It's a new app we looked at a few week ago for the Lumia 1520 and 1020 that shows off the power of your camera. The latest update fixes all of our complaints. Let's check it out.
Sozoom is a fun app that will add a bubble or two to your photo. Inside those bubbles are the magnified view of a specific part of that photo. It's a fun way to highlight how bad ass your camera is. Here are the latest changes in version 1.8.9.3 of Sozoom:
You can now save 1600x900 size photo, it's good for social network sharing and not affecting much on the 1:1 crop power. (Windows Phone built-in Facebook share will reduce it to 960px, but the app actually save 1600px)
Adjust the magnification power
Adjust the size of the balloon
If you drop the balloon below the zoom/size adjust bar, you can hide the bar by using the 'hide bar' app bar menu
Sozoom sample
The latest changes to the app certainly help appease our initial complaints. When we first looked at the app we weren't big fans on the mediocre image quality the app would output. We're quite happy that you can now save photos at a 1600 x 900 size.
Sozoom has a free trial, but then will cost you just $0.99 in the Windows Phone Store. You'll need the Lumia 1020 or 1520 to take advantage of it.
Windows Central Newsletter
Get the best of Windows Central in in your inbox, every day!
Awesome but I have a htc 8X, only my brother can use it, nice app btw

Bravo I can't f
Download it either.

Somebody knows any trick to get it on others device?

Why? Why would you? Do you not understand how bad a zoom would like on a 9 MP photo? It'd be all blocky and look terrible.

Such an awesome app to show off the power of the Lumia 1020/1520. Really well done with this app update. For those complaining: go buy a new phone as this app would be terrible on anything less than 20 MP.

And Jesus wept. Daniel, people will never get it. Why bother wasting your time trying to explain it. The ones complaining are the privileged few who feel a sense of entitlement to all and everything regardless of the synergy involved. Let the babies throw their tantrums.
Actually, why not just exercise your power of deletion and just remove these silly asinine remarks?

Wow, a Porsche Carrera GT... R.I.P. Paul Walker.

Weird, pressing the update from the store opens the download screen but no download is happening. Repeated as necessary on my 1020.

Try restart the phone, I've had this problem too, restart helps.

So zoom, such awesome much amazing so Lumia <3

Won't work on my 1020 since last and current update. Any advice? Won't load procam photos! Wtf
Worked great when first purchased.

here's my advice, go to your city nearest nokia customer service center.

Hard reset but be careful with the endless spinning gears. My L920 did it before I sold it but I fixed it by downloading some Nokia software.

Thanks, I'll go without before I do a hard reset. I believe the problem is on their end. I'll just wait for a fix. It worked great until the 1st update.

Would you mind sending your Live ID to contact@volevi.com, we would like to send you the BETA version to try. Thanks.

Ok so I got my 1020 on Monday and now I have baught this app as promised... Lets check it out

after the purchasedoes not work on1020! even with last update

https://www.facebook.com/wow.itas?directed_target_id=0 <<<<<< Delerloper

This is an app I would likely buy. But from all the comments and review of, I think it needs more polishing. Will wait....
Windows Central Newsletter
Thank you for signing up to Windows Central. You will receive a verification email shortly.
There was a problem. Please refresh the page and try again.