Windows 8 laptops already on sale, show up on HSN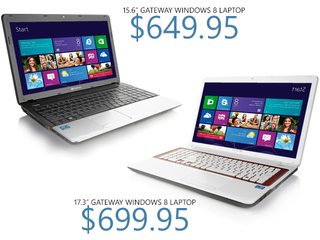 The Home Shopping Network (HSN) has two Gateway Windows 8 laptops for sale, and at an attractive price too. One can pick up a 15.6" model for just $649.95, or $699.95 for the 17.3" version. Both laptops sport an Intel Core i5 processor, and come with 4GB RAM accompanied by a 500GB hard drive. While both are identical with regards to specifications, neither sports a touch screen.
It's rather odd seeing a special offer being promoted on television for Windows 8 laptops, especially since the operating system hasn't officially launched yet. While no shipping details are provided, there's no indication that any delays are present. Should you be interested in making full use of Windows 8, you may wish to hold off for laptops that sport touch screens, but at this price it's not a bad deal if one's tight on cash.
The offer ends in just under nine hours, so be sure to get in quick should you wish to make a purchase. Remember that we've not had the opportunity to relay pricing for Windows 8 hardware that'll be released once the platform is in the wild, so take this how you will. The real question is: Windows 8 laptop or tablet?
Source: HSN (opens in new tab) (17.3" / 15.6" (opens in new tab)); thanks, MrVol84, for the tip!
Rich Edmonds is a word conjurer at Windows Central, covering everything related to Windows, gaming, and hardware. He's been involved in technology for more than a decade and knows a thing or two about the magic inside a device chassis. You can follow him over on Twitter at @RichEdmonds.
Without looking at all the specs, there are probably better deals out there. I get the reason for the story but, as said in the story, it's not like these are touchscreen or anything special...

Yes, but they have sold 3500 of them already in HSN! Wow!! Did anyone here ordered it by impulse? I'm clutching my wallet tightly and will give up only for surface or similar thin tablet!

Price meets the specs. windows 8 interface was design to work with touchscreens and without but to get the full Windows 8 experience you definitely need a tablet or a FULL compability laptop. Within the same price range too obviously ;)

What if people want W8 for its live 'Notification' system? Tiles you know. They can make you more productive, and touch will be great in some hardware as tablets, but live tiles works exactly the same on either hardware.


Yeah, I saw a tweet last night @tlowdermilk posted. I wasn't sure what I was more scared of - a Gateway Win8 tablet or him watching HSN!

Even the images are mirrors of each other

Didn't notice that until you said that.

I was going to edit the screen, but I thought I'd leave it and see who'd spot the difference ;-)

Didn't notice it until this comment also. Wow...

I haven't bought a new computer cuz I been waitn on surface iv been tempted to buy VIZIO's ultrabook for $598.99 at WalMart

Okay, I looked it up and I couldn't find a vizio ultrabook for 598$ price! I would buy one for that price anytime - would you mind posting a link?

Here you go, man:
http://www.walmart.com/ip/Vizio-Silver-14-Thin-Light-CT14-A0-Laptop-PC-with-Intel-Core-i3-3217U-Processor-and-Windows-7-Home-Premium/21089829

I actually love gateway. The specs are nice, and laptops are cheap (used). The support sucks, but I don't really need it.

Those should probably be like 100-150$ less for what they're worth. Tablets roughly running the same specs are going to be in that price point, heck ultrabooks right now that size are pretty much in that price range as well (maybe not 650, but 700). Definately not worth it.

There was also a Acer touch screen laptop and desktop ones on HSN also with win8 for 999.00 HSN also seems to have made some really cool videos explaining win8 and how to do certian functions real nice touch...link http://www.hsn.com/electronics/acer-23-lcd-windows-8-core-i5-6gb-ram-1tb-hdd-all-in-one-desktop-pc_p-6923623_xp.aspx

You have got to be kidding me!!! I watched those videos and they did great job showing it as some cool features(it is) and windows 8 is the best thing happened since the slice of bread. And they did it successfully! I mean, microsoft should take some marketing cues from these guys. And don't underestimate HSN, I know some old ones trusts anything marketed in HSN. Good Job.

I totally agree with you in MS should have done a sreies of these videos and added them into the help of the OS.

They are actually selling three different laptops and two all-in-one desktop PC's so far.
http://www.hsn.com/electronics/windows-8_c-ec_a-9591_xc.aspx?rid=2835

Love the Styling... Especially the 17.3" version...

Hard drive ? What's that (too 90s for win8 :) ??

With no touch screen. I need touch screen to get the full experience of windows 8

I bet there will be some disappointed people who buy one and then have it arrive with Windows 7 and a coupon for Windows 8. Windows 8 is NOT authorized for release by OEMs until the end of the month.

I happened to come accross the presentation today in the morning while channel surfing. You don't get the laptop right away. They'll ship it end of October, they said. The presentation was anything but professional. They claimed that everything will be sooo much more easy than on current computers and that you need to buy now, so, that you don't have to stay in line when the devices finally get released in stores. I can't believe that so many people actually fell for it, especially where this laptops have the technology of a 2 year old device from the shelf. I expect the price being at least $150.00 cheaper in stores later this year.

I saw the presentation on TV while I was flipping through the channels and they did specifically say that the laptop would ship the week of October 26. What they are doing is taking pre-orders for it now.

Tablet!!!! I want an RT asus tab with keyboard, or maybe a surface tab later

Rather surprised, the amount Windows 8 (desktop) content on a website dedicated to the phone... O_O

Well the Windows Phone OS is made by Microsoft who has their own ecosystem and cross pollenation of services (which are available on the phones and laptops). The phones running WP don't live in an isolated space by themselves. The success/failure of Window 8 may lead to the sucess/failur of WP8.

Someone was having a little too much fun with the mirroring effect in photoshop it seems...

People need to stop telling the lie that you need touch screen to make full use of the OS.

I have been using trackpad and keyboard for months and its much easier to navigate than Windows 7. It has more keyboard shortcuts than Win7 and built in support for Gestures on the trackpad make it a great experience.

Yep. I havent used Win8 that much but I have a Win8-laptop on my desk at work that I use now and then, lately its been feeling very natural and fast, you just have to get used to the shortcuts, rightklick-menues etc.

Windows Central Newsletter
Get the best of Windows Central in in your inbox, every day!
Thank you for signing up to Windows Central. You will receive a verification email shortly.
There was a problem. Please refresh the page and try again.