Splashtop 2 lands on Windows Phone 8 - Free through August 31st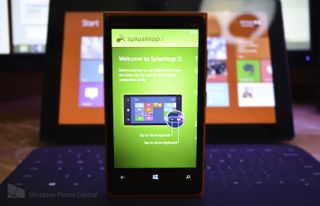 Splashtop 2 is now available to download for Windows Phone 8 devices and is free though August 31st. The popular remote desktop application allows users to access their PCs directly from their mobile phone. View and edit files, stream HD movies, play games, and more using the Splashtop Streaming App for Windows and the new mobile app for Windows Phone 8. Splashtop 2 can transmit video content at up to 30 frames per second with low latency times which makes almost anything possible.
As a writer on the go, I can personally recommend that you check out this popular piece of software, as it has saved me a few times in the past when I have left articles on my machine.
To get started, head to Splashtop.com and download the streaming client for your PC, then grab the Windows 8 App below!
Click here to be linked to the Windows Phone Store page
Enjoy and let us know if you have used Splashtop in the past – what did you think?
Source: Windows Phone Blog, Splashtop
A link right here to the app would be outstanding!

Definitely in the article...

!!!Warning!!!... Monitor your phones temperature! Its probably best to remove your phone from its case, and make sure it gets good air flow, because this app will really dig into your processor.. I'm experiencing temperatures I have never seen before on my 920. Temperatures so high the ceramic buttons, and camera bezel are hot enough to burn skin! Seriously limit use to short periods of time to avoid damage to your device!.. I'm just letting you know..

You might have a defective device... I used it for about 45 min on my 8X and it's only slightly warm.

Just tried it, very impressive for free.

Free? Yes please. Even if you don't like it uninstall it. Always interested in these type of apps. Installing now..

the only thing that bothers me is that it needs to be on the same wifi, otherwise absolutly amazing app

( i mean it would be awesome to use app for example on train. )

Odd that it mentions:
"it has saved me a few times in the past when I have left articles on my machine"
Saved him from going downstairs? If it was on the same wifi then the arcticle shouldbnt be that far away.

The Pro version allows you to access your documents from anywhere. You do not have to be on the same WiFi network.

Where do you find the pro version?

The part I find funny is that he doesn't keep articles in Skydrive. Completely negates the whole RDP issue.

you can but you have to buy an additional pack. its written in the app details page!

Yeah just saw that, its monthly 1.99 $ or yearly 16$ .. I think I'm fine without lol

Wow, I thought remote desktop apps usually went for like $10. I'll be grabbing this one for sure.

Keep in mind if you want/need to access PCs not on the same network/subnet you need the subscription pack ($1.99/mo. or $16.99/year) then you can access these from anywhere you have an Internet connection.

I am thinking. Can't I just use some sort of dyndns setup? I already managed to set up Wake on LAN over the internet so I can wake up my PC from anywhere, surely I can do that as well :D

Please ling to the download correctly sh it will recognise it as a link to the store in the WP app Thanks

Sorry jrnag24, The correct QR is up now! Thanks for letting us know. :)

August 31st= MY BIRTHDAY! XD

But..but...we don't need that information

Of course we do, congrats on August 31

Oh well then don't tell everyone its mine too. Shhhh mums the word....

Well then, you aren't allowed to download this until then :P

Lol! I'm not gonna even use it. It's a neat idea though.

I noticed reading articles on wpcentral with app link, there's no download app option in the more tab. Just a heads up!

Software is free, but service isn't. Can't knock them for making some money out the deal, though.

Intranet service is free, internet service is not.

The internet service, called the Access Anywhere pack, is extremely useful. I use it to connect to my home computer from Uni on Surface RT to run the apps I need and to access files I don't have with me.

I thought MS was against this app due to the issues with lic. of its Office & etc use via this app. There was a big fuss when it was released on iOS and Android.

Sounds like OnLive. Don't remember it happening with Splashtop.

You are right, I stand corrected. However wouldn't the same apply?

Well OnLive gives you a copy of Office and a version of IE that lets you access the OnLive site and the OnLive site only. All this is remote access, completely different.

Nice, but connectMe is better, and... Cheaper to buy it for $10 than to buy the $16/yr service from splashtop

I wish it didn't change my screen Res. I keep all my article pictures and links on my second screen all organised, and when I used the app it moved them all to my 1st screen and mixed them all up. With that said, the app works better than any other remote app I've played with on my phone. Smooth and quick for the most part(although I couldn't play a windowed game cause it was so laggy but oh well) and it works seemlessly with dual monitors.

I give kudos to the makers, altho I don't see myself using it if I have to pay a monthly fee to access my pc outside of my wifi. Onenote works well enough for editing my stuff on the go.

You can "long press" the computer item in the computer list, the setting for the computer item will pop out and then you can set to use native server resolution. And if your server is with static IP or DDNS, you can set in it to connect outside same network.

interesting, I'll have to re look at it again later. There's a few uses for this that I'd use it for if I could have it outside of my network.

can you tell me what ports I need to forward?

Unfortunatly even after changing the Res in settings it still moved all my 2nd destop stuff. I guess it's not 100% bug free for 2nd screen use. Oh well.

I was able to watch a video(a bit laggy) from my pc on my phone which was cool. However, my music sounded terrible when I tried streaming it.

Can't connect to my laptop for some reason. It shows my computer name but when i tapped on it, nothing happened.

It will only connect in the same wifi. If you are in different connections, you'll need to pay the subscription.

Wait, how is this better than RDP?

You can use it on your phone. Windows Remote Desktop is only available on a Windows Machine, or a Mac RDP connection client from Microsoft.

Or, you know, any RDP client for Windows Phone.

Ive seen "RDP" clients that require their own streaming client, but ive yet to see one that connects to Windows' built in RDP (AKA: Remote Desktop connection.)

...I also see i missunderstood your initial comment. My appologies. This compared to most RDP clients, its supposed to deliver real-time video and audio. Also, it supports Windows 8 gestures, which i havent found on other apps.

Ah yes, realtime video is pretty impressive. For a true RDP client on Windows Phone, you could try
http://www.windowsphone.com/en-nz/store/app/remotedesktop/e2af408b-555a-...
The panorama UI is a bit rough but that's not the point of a remote desktop client. There are also a couple of other clients on the store that support true RDP.

Works for sure but changes the resolution and the audio is high pitched for some weird reason. 3 star review for now

Have you noticed popping and crackling sounds in audio playback?

I just noticed it today while trying to watch movie on my L1020 have you solved this issue? I contacted splashtop support, and they're confused saying that they never hear this issue before on wp8 devices Even on very low volume, the crackling sound is dominant

I'm not sure if it still does the noises.. I need to check.

Took them long enough, however I'm happy that it's finally here on WP8. I've been using this on my Android phone and Surface for a while and I'm very impressed but it relies on a fast network connection.

WIsh their phone version of their apps supported touch input (Two finger scrolling, native pinch and zoom) versus it just moving the mouse and zooming in on the screen. Id like to use WIndows 8's touch features and not have to use the menu to open the charms bar. But aparently only tablet versions of their apps can mimic touch screen input. Phone versions only support emulating the mouse.

You can open the app settings (my phone is not at my side now, it should be to press "..." at the right-bottom in the server list page"), then you can enable Win8 native gesture support.

does it requires that the computer and the phone are connected to the same wirless network or not?
my pc and phone are not in the same network and it is not working or maybe i missed something, help pls!!!

It requires the same network unless you pay for the Anywhere Pack which is 1.99$ a month. Otherwise, you have to be connected to the same wireless network.

Meh, I wish TeamViewer was available on WP8...

I'm a HUGE fan of TeamViewer, but I would give SplashTop 2 a shot. :)

Me too.. Wish they show some WP love

We just released TeamViewer for Windows Phone 8 yesterday. Check it out: http://bit.ly/15Q1zlL

its so awesome, handling with out the touchpad mode seems a bit buggy, but its the best an easiest remote app ever

Only works on an internal network, unless you buy the Access Pack for $1.99 mo. Or 16.99 year. No mention of that in the description.

"(Access across the Internet requires purchase of the optional Anywhere Access Pack.)"

thats the very last line in the description in the windows phone store.

I agree it's a CPU and battery eater. A good app anyway, better experience than the other PC Remote, if compared both on free version.

I must have lucked out a while back, because I don't pay a subscription fee, but I have Access Anywhere capabilities. I've been using splashtop for a while though, so maybe they offered it as a one time purchase a while back???? Oh well, I'm happy I have it!

Well if you already have Anywhere Access Capabilities, just check with Splashtop customer service directly. All their clients should share the same subscription. You don't need to pay again!

Works on 920. One of my top 5 missing apps now available! It does eat battery but very usable UI.

Hey guys :) I use another app for remote access with WP8 - it doesn't require installation, works through the browser and has very easy access: https://deskroll.com/

Well its name changed. Now - Splashtop Personal -

Anyone have audio playback problem? I play it on my Lumia 1020, and I hear this crackling buzzing noise even at very low volume I emailed splashtop support, and they hear no issue regarding this Tried playing on the ios, and it has no issue (same setting on the pc) Only happening on my wp8 device
Windows Central Newsletter
Get the best of Windows Central in in your inbox, every day!
Thank you for signing up to Windows Central. You will receive a verification email shortly.
There was a problem. Please refresh the page and try again.