Splemy, an odd little puzzle game for Windows Phone 8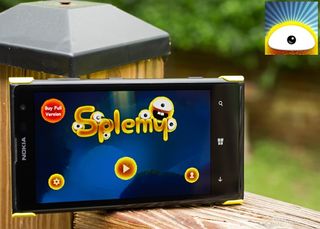 Splemy is a relatively new Windows Phone 8 game that is wonderfully animated, full of challenging levels and a fun game to pass the time with. The story line has you helping Splemy, an odd little character, journey through seventy-five levels of play to find his creator.
Along the way you'll have to navigate through, around and over mysterious caves, mushroom forests and an abandoned factory. Splemy's journey isn't a cake walk by any stretch with plenty of dangers to avoid. Each level has goals for the number of moves, number of critters you collect and the time it takes you to go from start to finish. Splemy will test your aim with a slingshot, your skills at strategy and speed.
Splemy is an odd little game for Windows Phone 8 but in a good way.
Born from Primordial Soup
Splemy's main menu has options to jump into game play, access the game's settings and options to visit the developer's Facebook, Twitter or YouTube pages. Settings cover sound and music levels, a help section, and an about screen.
Game play is spread out across three chapters that hold seventy-five levels that are progressively unlocked. Prior to starting the first level, you'll need to view the cinematic intro (tap the screen to fast-forward through it) that reveals Splemy was created from primordial soup and must find his way to his creator.
Splemy reminds me of a dirty tennis ball and to navigate him through each level, you will slingshot him around. Just tap/hold on Splemy and pull back to aim and launch Splemy.
Each level has a set of goals that will be used to base your scoring off on and will be displayed on the left side of the gaming screen. These goals include:
Number of moves to reach the finish line
Number of little Splemies you need to collect
The time limit to reach the finish line
You also have a blue Splemy looking creature you have to collect for bonus points.
Game Play
Game play with Splemy is simple, yet challenging. The first few levels are a little on the easy side to let you get used to gaming mechanics. As you shoot Splemy and hit the little Splemies (?) they latch on for the ride.
The yellow ooze can be used to stick Splemy to the side of walls you will need to scale or slow you down if you land in a puddle. You also have mushrooms that act as a trampoline to send Splemy upwards, fans to keep him airborne and portals to bounce Splemy from one area to another.
Dangers include spikey cave floors, floating spiked boulder type creatures, sharp crystal formations and more. If Splemy hits any of these dangers, you'll lose your collected little Splemies and eventually fail the level if you are hit too many times.
Once you reach the finish line, marked with a yellow flag and a bunch of little Splemies jumping up and down, your score will be generated and you will be able to advance to the next level. Levels are re-playable to let you improve your score.
Overall Impression
Splemy is a fun gaming option, well worth considering for your Windows Phone 8 device. Game play is simple to pick up but each level is challenging enough to give the game a little grit. That is, Splemy isn't too easy that you'll get bored. Graphics are well done from the dark caverns you have to navigate through to the facial expressions these little creatures have. All in all, Splemy is well worth trying.
There is a free trial version available for Splemy that lets you play the first eight levels. The full version of Splemy is currently running $1.99 and it is available for Windows Phone 8 devices. You can find Splemy here in the Windows Phone Store.
Get the Windows Central Newsletter
All the latest news, reviews, and guides for Windows and Xbox diehards.
George is the Reviews Editor at Windows Central, concentrating on Windows 10 PC and Mobile apps. He's been a supporter of the platform since the days of Windows CE and uses his current Windows 10 Mobile phone daily to keep up with life and enjoy a game during down time.
I would say, nice graphic :)

Something like wimp who stole my pants ? I loved that game on my bro's android tab !
But damn, its paid and i cant buy it right now ! :(

*Grins* Thanks for the great review ... from that odd dirty tennis ball :P

3 Words...Take My Money! Whimsical games like this are what games are all about, not to mention a game I could give to my kids. Well, my kids could buy their own game now but if they were kids, its a responsible game for them to play. :) This one is for me and thanks for doing the video and for building this app. It looks amazing.

Thanks so much Jazmac :D We put a lot of love into our 1st game and we are so pleased people appear to like it. We made the decision at the beginning that we wanted to keep adverts etc. out of the game, hence why we are charging a small amount to help us hopefully make the next one. We hope people will understand that rather then us ruining your playing experience with ads we wanted to give you the game to enjoy with no hidden costs.

I downloaded it two days back when it was free... Amazing game!

Damn i wanted it for free ! :(

You should always check new+ rising section.. I learnt this from my past mistakes!

Lol thanks !
I had even missed the angry birds+cut the rope for free back in October when i didn't read wpc..