Splinter Cell: Conviction sneaks in as the Xbox Live Deal of the Week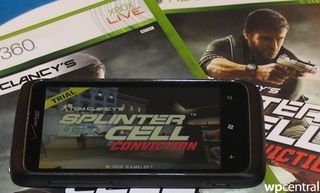 It took a bit longer than usual, but we have a new Xbox Live Deal of the Week at last. And I do mean new – Splinter Cell: Conviction is on sale for the first time. It's just $2.99 this week, down from $4.99.
This version of Splinter Cell tells the story of series lead Sam Fisher's investigation into the death of his daughter. To do that, he'll need to sneak around in the shadows, killing hundreds of guards when they're not looking. That's what they get! A number of voiced cinematic sequences drive home the console-like feeling.
That makes sense because Conviction is actually a port of the excellent Xbox 360 game, though the level designs are different. Despite the rudimentary 3D graphics (darn XNA) and a few difficulty spikes, Splinter Cell is a fun and easy 200 GamerScore overall. Check out our review for more details.
Splinter Cell: Conviction is on sale for $2.99 for one week only. Get it here on the Marketplace. QR code after the break...
Paul Acevedo is the Games Editor at Windows Central. A lifelong gamer, he has written about videogames for over 15 years and reviewed over 350 games for our site. Follow him on Twitter @PaulRAcevedo. Don't hate. Appreciate!
Strange. Its still 4.99 for me.

Still showing $4.99 on my phone and on the online marketplace. Once it does drop to $3 I'll grab it, I really enjoyed the 360 version.

Between this, Gun Bros, and Contract Killer, my memory is gonna be gone real quick. Altho I don't know how much longer Gun Bros is gonna stay installed...

Also, I noticed this is a Gameloft game. I hope another Gameloft title, Let's Golf 2, gets a discount soon!

I wouldn't bother if I were you. Lets Golf 2 has an unobtainable achievement which they obviously have no intention of fixing. I'll let my money go to devs who fix their games thank you very much!

Any chance you guys can start writing tutorial or short guides for games? Or maybe even a tips Wiki or something. Run into a roadblock with Splinter Cell and Mirrors Edge and actually Gun Bros seems like it will be the first WP game that I get the full 200 gamerscore from. Thanks.

We did that for Final Fantasy, but I think people looking for gameplay advice would usually go to Xbox360Achievements.org or TrueAchievements before they come here. Still, I'd love to do more strategy guides in the future!

Thanks, ill check those sites though I think for the first one I did already in the past and they dont have any guides. Would be good to have it here with all the other WP news.

How about a wiki powered by members, that way people could contribute themselves to a central place thus you guys only have to set that up here but dont have to write guides yourselves.

That would actually be a sweet idea (the wiki), though it seems like it would fit in more with a WP games site than it would with just a WP general site, I'm not sure how much effort is required to run a wiki

Also I've found that wikis on super popular sites like IGN don't always get a lot of contributers.

I would love to see achievement guides on the site, easy access on my phone from your app. There is an app idea. Achievement guide-hunter app.

I need some help with mush because I can't find everything on level 2 of the game and I must have played that level ten times

Maybe Gamefaqs.com will have tutorials and tips....
Anyways, once it shows $3, I'll buy.

Cool concept but, disapointing controls at least in my view. Grapics look like NES game. I was disapointed in this game. I was really looking forward to a 3D game for my phone but, this was not it.

Try the demo before you buy it...

Do you actually know what an NES game looks like? Come on, David. Put your back into it.

He must have this game confused with lode runner classic

Ok, I got the more like "N64" feeling on it, sorry. I will admit, I was really disapointed after playing Rage on the iPhone (my friend has one) and that is a older game than this one. Is this the best they can do on WP7 ?

This is the reason I wont really buy any of these type of games for WP7 any more. Windows Phone 8 is coming out in a few months and I'll save my cash for my next phone that will have games as good or better than the iPhone or Android..

I guess it's not bad for one of the first 3D games for WP7 but, I am still disapointed...

I thought it looked better than a PS1 game.

Easy achievements. The only ones that is slightly hard is beating the game on the hardest difficulty. Can be tricky in spots .

Still showing as $4.99 for me (in California).

That's because Enron is the developer...zing!

I would but it was an awful game.....

a waste of effort i think. would be nice if all these development efforts go to a proper gaming platform like xbox pc ps3 etc

Uh, there is a Splinter Cell Conviction game on the Xbox 360. Do you want devs to stop making games for WP7?

£3.99 in UK. Is THAT discounted?

No, £3.99 is the full price

It's now 3pm here in the UK and still no sign of a lower price, unless £4 is the lower price down from £6?

£4 is the normal price, sale price should be £2.29. It's not showing as discounted for me either :(

Still at 4.99 for me as well.

Still at $4.99. Come on, I'll gladly buy this if it ever drops.

Showing as £2.29 for me now!
Windows Central Newsletter
Thank you for signing up to Windows Central. You will receive a verification email shortly.
There was a problem. Please refresh the page and try again.