Splitgate launch delayed due to server overload during open beta
The developers will still release new content on the original launch date.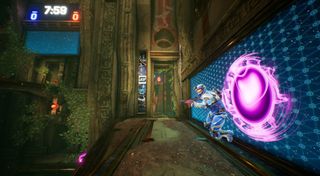 (Image credit: 1047 Games)
What you need to know
Splitgate is an upcoming multiplayer FPS that's been described as "Halo meets Portal."
The game has experienced a huge surge in popularity since the launch of its open beta, which has caused server problems.
Developer 1047 Games is delaying the game's launch date for a month while it scales the servers, but the game will remain in open beta.
Splitgate, the upcoming free-to-player multiplayer shooter with portals which has skyrocketed in popularity in the last few days, will not meet its expected July 27 release date. Developer 1047 Games announced that the game will remain in open beta for another month, with the release date pushed to an unspecified time in August, in order to improve the game's servers.
The game looks like a typical multiplayer arena shooter, with the addition of two-way portals adding a new wrinkle to the gameplay formula. 1047 Games is extending the game's open beta to give the small development team a chance to scale server capacity. The team will launch a pre-release version on the original launch date of July 27 with three new maps, a field-of-view slider on console, and customizable controller layouts.
According to the 1047 Games' CEO Ian Proulx: "Our team has been blown away by the incredible reception the Splitgate community has shown us. With the steep and sudden increase in players trying to access servers, we're having to sort out a myriad of technical issues that come with this level of insane growth. We've worked hard to provide a high-quality game and experience, and our biggest challenge is simply to have enough capacity to serve the entire community."
This was not entirely unexpected, as the developer already had to take the beta offline due to its overwhelming popularity. They shared at the time that the game's servers could only handle a maximum of around 65,000 players. According to their latest update, 2 million players have downloaded the game in 2 weeks, meaning it's easily exceeded the server limits.
1047 is turning to its venture capital partners in order to fund the server scaling. "That's why we're excited for Human Capital to lead this latest funding round. In addition to providing capital necessary to increase server capacity and stability, they'll help build the engineering team we need to create the best possible game for our players," says Proulx.
Change the battlefield
Start thinking with portals.

This upcoming free-to-play game puts a fresh twist on Halo-style arena multiplayer with the addition of portals. Currently in open beta, it's a crossplatform title that's coming to console and PC in August.
Get the Windows Central Newsletter
All the latest news, reviews, and guides for Windows and Xbox diehards.
Rachel Kaser is a Windows Central gaming contributor, who's been writing since 2013 and gaming since the age of five. She's covered everything from gaming news, reviews, and analysis -- if it exists in gaming, she knows about it. She also contributes to Future's other sites, iMore and Android Central. If you want to hear her opinions on games, pop culture, tech, and everything in between, follow her on Twitter @rachelkaser.