Spotify announces new family plan for up to five users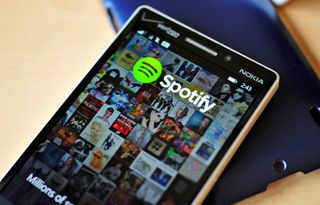 Spotify has today announced a new plan for the entire family. If you've been wanting to have a single billing account for the household but keep individual playlists, it's now possible for up to five family members to share a single Spotify subscription, starting from $14.99 a month.
While each family member will share the same billing account, listening history, recommendations and playlists are stored separately. When it comes to pricing, there are some savings available with $14.99 required for two members, $19.99 for three, $24.99 for four, and finally $29.99 for five. Spotify Premium currently sells for $9.99.
Spotify Family will be launching globally over the upcoming weeks. Should you require more information, check out the official Spotify announcement.
Source: Spotify
Get the Windows Central Newsletter
All the latest news, reviews, and guides for Windows and Xbox diehards.
Rich Edmonds was formerly a Senior Editor of PC hardware at Windows Central, covering everything related to PC components and NAS. He's been involved in technology for more than a decade and knows a thing or two about the magic inside a PC chassis. You can follow him on Twitter at @RichEdmonds.
And if we're lucky, should be available for use on WP sometime in 2016 :)

Why do you think it has something to do with the app?? It probably hasn't.

Maybe not, but we still haven't received the same support for the Netflix app yet..

This is a new subscription & will be available to all users. There's nothing to do with the app.

Its not just a subscription, its separate listening stats for one account. Unless the subscription aplies to more than one account I can't see it being as simple as you think.

Lets see. But I think changes will be required on servers rather than in apps.

Humm strange to hear that, i'm already using it on my WP ! (and i'm from Canada)

seperate album downloads instead of just playlist downloads sometime in 2015 lol.

Very nice! I don't see Xbox Music doing anything like this at the moment :(

Cause : Even if they update the shit outs their app - it will still have a bad UI ! And its just crap

I use Xbox music everyday and improvements could be made, but in its current state it is far from crap. Have it synched across 3 devices and no real issues. But that's me.

I think I may be the only person that likes Xbox Music...

All the WP users in my family all have Xbox Music subscriptions. Best deal around. We love it.

Yeah, It's better than it was when DP first launched, but it could still use some TLC. ONe thing i've been noticing lately is that the catalog is shrinking. Some of the indie artists i like, and some classic artists either are missing, incomplete, or have that one song on the album not available.

I understand that would be dictated by the publisher or artist, not Microsoft.

I think you need to give it another try. Xbox Music is once again my primary player and it runs great. Of course there's still room for improvement but what app doesn't???

Did anyone notice before, that the name of Richard combined with the initial letter of his surname results in Redmond? :D

Omg :o and what do the illuminati have to do with it o.O MYSTERIOUS

They would probably notice that it would actually spell Redmonds!

This should be standard for premium users

Standard for 9.99? Meh, I don't believe that. Artists got to get paid.

Been saying Xbox Music need to do this for some time now... Come on MS!! Be first for a change!

Pretty sure Zune pass was the first music subscription service of its kind. So they were first to something.

That's great. So they should have been first to bring out family pass, which is the next logical step

Who cares? I have MixRadio for free. Suck it spotify

U and me both, Mixradio rocks my world..

Not the same thing, of course.

Beats Music on AT&T has a better deal. Up to five people across 10 devices for $14.99 a month.

I want family sharing with Xbox music...They have family gold for Xbox live, why not music? Microsoft have so much more money than Spotify, they could easily implement this change or even take a hit and cut the price more to gain market share.

Actually they got rid of Family Gold on Xbox over a year ago I think.

If only they update the WP app to just as good as IOS/ Android version. That will be good.

Agreed.Spotify app is a way lot better on iOS/Android.

I need this for my Xbox music pass!

Ha! In Chile we pay just $6 for Spotify Premium

All well and good, but I could use an update of the WP app more ...

Wish Xbox Music had this too...

I've been asking for this since day one out of MS. This might make me switch from Xbox music now.

I wonder how much will cost in the Philippines since the monthly premium subscription is currently at ~$3/Php129.00.

***limited Offer*** http://www.ebay.com/itm/121465848254?ssPageName=STRK:MESELX:IT&_trksid=p...