Spruce up sliding panels on WinMo 6.5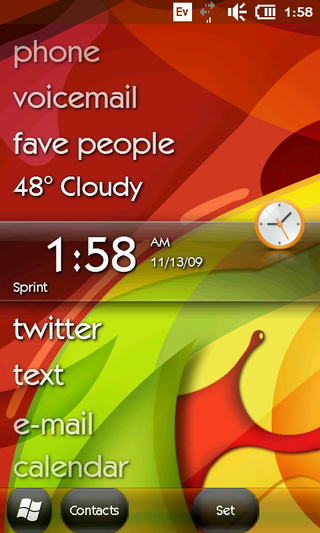 Although many like to use HTC's TouchFLO3D, using the Sliding Panels (aka Titanium on WM6.5) is sometimes preferable — in fact I often find it more efficient and revealing, which is why I'm taking a well-deserved hiatus from HTC's design.
Case in point, there are lots of really good 3rd party plug-ins that can be added to the sliding panels to augment their functionality. Sure TouchFLO3D may have lots of eye candy, but as far as speed of access, Titanium is faster.
In this post, I'll share with you three which really improve the usefulness of the default WM6.5 home screen: Twitter (Titanium Artesea), Favorite People (AppStar Titanium) and Weather (Showaco TitaniumWeather*).
First things first: to install any of these, you must initially disable the Titanium/Windows Default plugn via Settings --> Today --> Items. Run the .cab installation then re-enable Titanium.
Even though I use Twikini 90 percent of the time, sometimes I just like having my Twitter feed auto-update and available on my Today screen, and Titanium Artesea does the job nicely.
It features auto-update at user specified intervals, scheduling (i.e. only between these hours should updates occur), pulls down avatars and when you tap the screen goes to a special, more advanced Twitter page, or you can tell it to open your favorite Twitter app e.g. Twikini, PockeTwit, TouchTwit. What's really neat is if the tweet has a URL in it and even if you have a third-party app selected, it will automatically open up your default browser to that URL isntead. Smart.
Sliding left and right goes through the various tweets and you can even specify how many tweets it should bring down per update.
Only downside? It all goes through the author's server, including your unencrypted password. The author is very upfront with this fact, so if you find it discerning, then this is not for you. Me? For my personal feed, I don't mind.
Want quick access to your favorite peeps? Check out this plugin by AppStar.
The plugin allows you to add your favorite contacts, with their picture to the sliding panel. Clicking on the contact can call them, email, send SMS or open the contact.
You also have a secondary option for the Right softkey. Highly configurable, smart and easy to use this one is a winner. You can even re-name the plugin to anything you want in case you don't like Fave People and assign a .wav for audible alerts.
Cool.
This fills in that gap that we had expected Microsoft to fill: quick access to current conditions and forecast on your Today screen. Sure HTC is kicking butt with their Sense UI/My Location feature and full screen weather animations, however, it does actually lack details and a specific forecast.
Showaco, no stranger to the community for his many contributions, has been developing this weather plugin for quite some time. In turn, it's very well rounded with constantly new additions.
Running off a Mortscript, you simple add in your zip code for the location setting. You can then specify what hours updates should occur between, how often and what information to pull down.
Recent additions including the tie in with GPS Radar, which is very nice--simply slide the panel over and click it to launch the program. Additionally, the program supplies detailed current weather conditions, forecast and even has configurable icons (I prefer BeyondInvisible myself).
*Note: The original file posted for TitaniumWeather by Showaco has some bugs, please download this revised version here.
So there you go, three very useful and easy to install plugins that bring a whole new level of functionality and simplicity to WM6.5's default plugin (Titanium). There are certainly more of these out there and we'll be covering those as they grab out attention.
Oh and if you want to re-organize your Panels, of course use Showaco's CHome Editor v1.6.
Are you using one that you think totally rocks? Leave a comment or drop a tweet @malatesta77!
Windows Central Newsletter
Get the best of Windows Central in your inbox, every day!
Phil is the father of two beautiful girls and is the Dad behind Modern Dad. Before that he spent seven years at the helm of Android Central. Before that he spent a decade in a newsroom of a two-time Pulitzer Prize-finalist newspaper. Before that — well, we don't talk much about those days. Subscribe to the Modern Dad newsletter!
I tried switching from TouchFLO/Sense to Titanium ... but the weather thing stymied me. I used to run Titanium weather back in April when I had 6.5 on my Vogue.... .... but my attempts on the weekend to get NAM|CA|ON|TORONTO to work for my local forecast ... didn't work at all and I'm back using TouchFLO for now. That, and I like the HTC Music app :)

Oh, well at least for the U.S. all I did was type in my zip code and it worked. Very easy to setup.

Is Maletesta really running a touch pro 2 as his daily driver? What happened to the Treo Pro?

Still love the Treo Pro but it got bricked during a bad flash/bad attempt to fix the flash. Keep meaning to try and get a warranty exchange, but need the time. So yeah, TP2 daily phone for now. But played with a friend's Treo Pro w/6.5 last night and really miss it :-/

I like the Titanium interface. TouchFLo just seems to be too busy sometimes. And does the clock have to be so frickin big !!??!! Titanium seems to be related to Zune HD (which i love very much).

is there an app to add Tasks or Notes to the titanium slide bars?

I really like Titanium, but the thing that keeps me from using it the most is the lack of showing upcoming calendar events. I want to see my next 2-3 upcoming calendar events on the home screen. One nice feature I'd like to see added to the Titanium weather is the option to have more than one city (like HTC's). I also agree with "gregorypleau", HTC's music player is pretty good. Titanium needs to get a killer music player. Hopefully that'll be fixed once Zune is added into the mix with WM7. If those three things were added to Titanium I would use it and never look back!

Yeah, totally agree about the Calendar thing--gotta see if anyone has made a more advanced one. Re: Music. Oh I have a killer combo of freeware that'll give you a Panel plugin and a free music player that smokes HTC. Look for it tomorrow though ;-) Will do a separate post/video.

Looking forward to the music story.... mind you I'm always interested in tweaking things - even the stuff that works :)

Just wondering when we'll see the post/video about this music panel plugin! I can't wait to see what it is!

Any update on that killer Titanium music plugin? I'd love to try it out!

Gah, I totally forgot about that. Note to self...

How do you carry the touch pro 2? It seems a little big for the pocket.

I've tried both and a few points for me... 1. I love the Calender tab in T3fd. Being able to see which days have appointments is great rather than having to load up an app to see that. 2. Program launcher. I can use the window key too, but like the tab better. 3. Weather tab and being able to load up more than one city can be handy when traveling for work. 4. I want to say there are improvements when using wm6.5 in Tf3d vs just WM6.5. Some things that I would love improved in Titanium.. 1. As already mentioned, a way to view more calender appointments. 2. The ability to see tasks. There is a plugin already out there, but it's not great. There isn't a way to do this in Tf3d. It's a gripe I have about both interfaces. 3. A better way to get to Opera favorites. Having to slide, slide,slide through a list of many favorites isn't efficient. 4. Same thing with people as #3. I use TF3d for now, but go back to Titanium every now and then to see if things are improved with new plug ins but there aren't many out there. Now that 6.5 is out, maybe new ones will be coming up and I will completely change my mind.

Offtopic but - what is that font in the screenshots?

What version of winmo 6.5 is that, w/those lovely big buttons at the bottom. I want!

Another sort of off-topic comment, how can I get the wallpaper you are using? I really like the colors and the fonts.