Watch us play Sixty Second Shooter Prime and Nutjitsu in this Twitch replay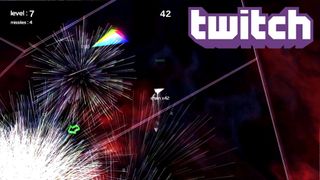 Every weekend, Windows Central streams an Xbox One game or two on Twitch for 1-2 hours and gives out free games to the cool people who join us during the stream. Last week, we streamed Tales from the Borderlands and Game of Thrones and dished out a whopping 22 game codes to lucky viewers.
Tonight we're playing two more downloadable games: Sixty Second Shooter Prime from Happion Labs and Nutjitsu from NinjaBee. We want you guys there, chatting along. So we're giving out five Xbox One codes for each game (10 codes in all)!
Update: The stream has ended, but you can still check out the replay of both games - plus a quick bonus game of Onigiri (the first Xbox One MMO)!
Watch live video from EastXTwitch on Twitch
Watch live video from EastXTwitch on Twitch
Want more to watch? Follow this link to see our 16-minute bonus round featuring Onigiri!
Sixty Second Shooter Prime
Before Geometry Wars 3 was a tinkle in gamers' eyes, Sixty Second Shooter Prime was the first twin-stick arena-style shooter on Xbox One. Zoom around psychedelic arenas shooting everything that spawns in your way. Hop through portals to advance to the next level, but the enemies will get faster and more numerous the higher you go.
Sixty Second Shooter Prime offers two simple modes: 60 and Infinite. 60 lasts only sixty seconds, making for short, intense play sessions. Infinite can go on as long as you survive, but that might not be much longer than 60 seconds if you're not careful!
Sixty Second Shooter Prime – Xbox One – 292 MB – $4.99 – Xbox Store Link

(opens in new tab)
Nutjitsu
In this classic arcade-style maze game, players take on the role of a ninja squirrel who must rescue his clan's acorns from the evil kitsune samurai.
Each level contains a maze filled with samurai guards that the ninja must sneak past. Objectives vary but usually involve picking up as many acorns as possible. As you play through a level, more and tougher enemies start to appear, making it tougher for the ninja to go undetected. Even if he does get caught, he'll still earn XP that contributes to his overall rank.
With two modes of play (Ninja Missions and Survival), multiple difficulty settings, and Achievements that can be fully unlocked in less than five hours, Nutjitsu is a small but enjoyable old-school game. See our full review for more details.
Nutjitsu – Xbox One – 276.5 MB – $6.49 – Xbox Store Link

(opens in new tab)
The Contest
We'll be streaming both games for 30 minutes each (one hour total) tonight, starting at 8pm Central (9pm Eastern, 6pm Pacific). During that time, we'll be giving out a total of 10 game codes:
5 Sixty Second Shooter Prime for Xbox One
5 Nutjitsu for Xbox One
To enter, just follow me at Twitch.tv/Eastxtwitch and tune in during the stream. You can watch the stream right here in this post, but you need to actually participate in the stream chat to have a chance at winning. We'll deliver codes to the winners via Twitch message (PM) during the stream. No code begging!
What's the best way to experience Twitch? If you don't have a PC, you can get the Xbox One or Xbox 360 Twitch app and watch from the comfort of your couch. Or grab the unofficial app Livegaming for Windows Phone. It has plenty of great features, including the ability to chat along with your fellow viewers. Unfortunately you'll have to add our channel to your favorites from the Twitch website, outside of the app.
I'll be available for a few minutes before and after the stream if you have any questions or just want to say hi. If you enjoy the stream, I'd love for you to tune in to future streams. For now, we'll do one every weekend, with a few non-contest streams throughout the week.
Defense Grid 2
Contest schedule
Want to know what's next for Windows Central's weekly Twitch streaming contests? Here's our upcoming schedule:
Saturday, December 20: Strider from Capcom!
Saturday, December 27: Defense Grid 2 from Hidden Path Entertainment
Saturday, January 3: Chariot from Frima Studio
Mark your calendar on your phone and tune in those days for your chance to win each game on Xbox One, Playstation 4, and Steam!
Winners
Come back here after the show to see the list of winners.
Sixty Second Shooter Prime
mociwe
afalcon90
mrtayto
evilernie667
kluckmyduck
Nutjitsu
surrealsonicus
mattleibow
certifiedninja1
royalbob5
oxagarh
Thanks to our Twitch stream moderators Tylerh1701 and DerekDoesIt (who goes by isi mcf here at Windows Central) for moderating our streams and giving away the prizes!
Paul Acevedo is the Games Editor at Windows Central. A lifelong gamer, he has written about videogames for over 15 years and reviewed over 350 games for our site. Follow him on Twitter @PaulRAcevedo. Don't hate. Appreciate!
Although no Xbox but I will be there to watch. ;-)

We'll be glad to have you!

Have both games but will be there as always. I'm part of the stream I guess.

If the game suck can we sell the code to our cousin bubba. ( not saying this round of games suck )

Yup like too watch on twitch

My highlight of the weekend, well next to the Bama game, ha. Can't wait.

I'll see if I can stop in

Grab that 8stream or livegaming app!

Have you tried 8stream? Yesterday it quit working on both phone and my windows 8.1 PC

My 8Stream stopped working as well. Looks like I'm back to LiveGamimg.

I'll see you all tonight!!

I'll be around for the second half of the stream. Going to try out the livegaming app for the first half. Interested to see how it works.

I will be there. Always a good time with EastX

Will hopefully be there :)

Missed you bro last time. Add me on steam bro.
[url=https://steamcommunity.com/id/ZaeemAkhtr]STEAM PROFILE[/url]

Gs_johncallahan here. Sadly, I won't be able to watch tonight as both of these games look great, but I've got a party to go to. Hope everyone has fun!

We'll miss ya John! You guys with your multiple usernames. :-)

It's like you guys do this every week.

Great stream tonight! Won Nujitsu too which is a great bonus!

Thanks for the stream tonight!

​checked out silently at the end of the stream, but had a good time as usual... thanks again to paul, tyler, derek for putting together a good streaming experience aka - t3kn0thugZ​ ​ ​

Great Stream as usual, well the thirty minutes I got to watch it cause I was coming down from a Monster Java binge and dozed off. Think I might have to buy Nujitsu. Looked interesting.

Good having you and the others in the stream as always! Hope your nap was nice as well. :-)

Was a great stream, as always! Thanks for selecting me as one of the winners! Downloading now! (and ReddX)

Great stream tonight! Thanks!

It was Nice to see you there guys

Missed it :( I was too busy playing Outlast

Aww, there's always next time! Can set a weekly alarm if needed. Glad you're enjoying Outlast. :)

I missed out I was too tired to make it this weekend

Ah well. Next week's the big one. ;)
Windows Central Newsletter
Thank you for signing up to Windows Central. You will receive a verification email shortly.
There was a problem. Please refresh the page and try again.