Stacks for Instapaper: A smarter way to read it later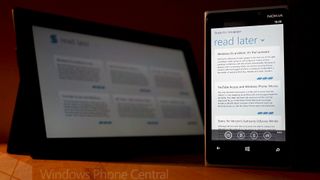 Keeping up to date with things we want to read can be a constant challenge, thankfully there are services which allow you to save things for later. The premise is simple, notice something on the web that you want to read and you can save it to your reading list. One such service is Instapaper, it essentially allows for a stripped down mobile-friendly version of the article for reading later.Your reading list is stored in the cloud so can be easily accessed on your computer, smartphone and tablet.
Stacks for Instapaper has been around on Windows Phone for some time and consistently gets great reviews in the Windows Phone Store. Stacks is now available on Windows 8 and combined with an upcoming refresh of the phone app it might just make this the best Instapaper experience on both platforms. We review the Windows 8 version while taking a sneak peak at the coming update for the Windows Phone 8 app.
Stacks for Instapaper - Windows 8 App
Windows 8 has just launched and many of the apps in the Store are from developers from Windows Phone. This has been really helpful in quickly determining what apps are worthy of our time. Stacks for Instapaper already has a good track record on the phone so it is great to see it available for use on Microsoft's touch friendly Windows 8.
Login or if you have used on a Windows 8 device before hit sync, easy.
Getting up and running
In order to use the service you will have to have a subscription, it costs $3 for three months and allows the developer of Instapaper to keep the service running. Paying to use a service like this isn't for everyone but it does ensure the developer gets some income for their efforts.
Once you have installed the app you simply need to login with your Instapaper credentials and it will automatically download all your saved articles. They are then available for your offline reading pleasure. Another nice touch is that if you have already used Stacks for Instapaper on another Windows 8 machine you won't need to re-login. You only need hit the 'Sync' button to do it all for you. As we move more and more to an eco-system where we have multiple Windows 8 devices this is essential.
Reading view, options, options options..
Features
The app provides much of what we expect from a dedicated reader client, including the ability to read articles when offline as well as a night mode to help in darker conditions. The reading settings are of key importance and the app supports changing line spacing, font used in articles as well as the size of the text. You can choose to have a white background, sepia or black if you so wish, go crazy.
You have the ability to archive articles that you may want to keep for longer but out of your current reading list. Other functions include to 'like' it move it, bin it or even pin the article to your start screen. If you want to read the original at its source you can opt to view it in Internet Explorer.
Add articles from almost anywhere in Windows 8 - just share with Stacks for Instapaper..
Adding articles to your reading list
Windows 8 brings with it some awesome new features and one of those is for an app to establish a sharing contract. In Windows 8 you simply swipe in from the right to show the charms bar and you'll have the ability to share a webpage you want to read later with Stacks for Instapaper. There is simply no need for browser plug-ins or fiddly favourite's links. If you happen to use a newsreader client like News Bento or Nextgen Reader then you can do exactly the same thing, swipe over, share with Stacks and it will be available in your reading list. The magic of this comes from Windows 8 but it's a nice implementation of sharing from the developer and very welcome indeed.
In use
The experience of using the app is pretty slick, the layout is clean and you'll be presented with your read it later list as tiles with a paragraph of text in preview for each. As you read through an article there is a progress indicator to show you how far you have got, when you are done reading it the tile becomes grayed out.
Performance of the app is very good and it moves along nice and quickly on the Microsoft Surface tablet, scrolling is smooth and the app is responsive. When you are reading an article you only need swipe down at any time to reveal the apps controls for reading and so forth.
Stacks also has the ability to work while in snapped view meaning you can keep reading while you're doing something else. It is hard to see why you would want this but it's nice to see the function exists just in case.
App works well in portrait mode..
Reading
The most important task for the app to achieve is that of actually making content readable, with the combination of options for text size, background colour and so forth it scores high here. You can use the app in both portrait and landscape modes. Stacks does an excellent job of turning the reading view into columns when in landscape mode, making full use of the screen format. At present there is no pagination in this view but we have been advised this is just around the corner. For now the presentation is great even without that ability but good to know it's coming.
Nice neat columns in landscape mode make reading a pleasure..
Preview of Windows Phone 8 version
Now there has been such good work put into the Windows 8 version the developer has decided to give the coming version of the Windows Phone 8 app a nice make over. The new version of the app does away with the list view that we had in the old version and replaces it with the tile previews we see in Windows 8.
Start Screen tiles, use them extra wide if need be..
Also along for the ride is support for a new double wide tile with notifications and the logo has now been harmonised with the Windows 8 version. In Windows Phone 8 you can also opt to add Stacks to the list of apps that can show quick notifications, there is also a hint that lockscreen screen wallpaper might be making an appearance too.
Read later list look and feel now changed to fit with Windows 8 version..
Reading view preferences, sharing options..
Conclusion
It is very hard to fault Stacks for Instapaper on Windows 8, it has been crafted with great care and attention. Not only does the app give an excellent reading experience and access to the full feature set of Instapaper it does so quickly and effortlessly. The built in syncing between Windows 8 machines which obviates the need to log in time and time again is not only a time saver but smart forward thinking for an app destined to get use on a range of devices.
When it comes to utilizing the features of the Windows 8 operating system, Stacks really comes into its own when you need to add articles to your reading list. The use of the sharing charm to add things to Instapaper is a great example of how these things can be handled sensibly. You also get the option to add notification to your lock screen if that is what you wish.
Some things are better together..
The Windows Phone 8 app has also received a great series of updates bringing it into line with the look of the Windows 8 version. What this means is that when you switch between the two it is both familiar and easy to adjust to. Visually the Windows Phone 8 app looks great and performance is excellent to boot.
There are currently no plans to develop a first party Instapaper client for Windows Phone or Windows 8. That does not look set to change anytime soon as we have been in touch with them today. While it would be nice to see, we have to say that with clients this good there really isn't much need. The Instapaper developer is actively recommending Stacks for Windows 8 use and it's easy to see why. We are lead to believe that there is a whole heap more coming to both versions so this represents a good app investment.
If you are a keen reader and want an Instapaper client that works great and looks good on your Windows Phone and Windows 8 devices then you need to grab Stacks For Instapaper. What are you waiting for?
The app is available from the Windows Store at a cost of US $1.99. The current version of Stacks for Windows Phone can be had in the Windows Phone Store here for US $1.99 and you'll get the update to 3.0 when it arrives out of beta.
Get the Windows Central Newsletter
All the latest news, reviews, and guides for Windows and Xbox diehards.