Everything you need to know about the Star Wars Battlefront II Beta: start dates, maps, modes, and more
By Matt Brown published
Get hands-on with Star Wars Battlefront II for Xbox One ahead of launch with the multiplayer beta. Here's what you need to know.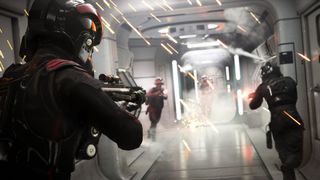 (Image credit: Electronic Arts)
Star Wars Battlefront II is on track to release later this year and is set to bring some significant improvements to the franchise.
Although its new single-player campaign is highly-anticipated among franchise fans, multiplayer remains a core component of the package. However, if you can't wait until Battlefront II's November release, its upcoming beta test allows players get hands-on with the multiplayer component one month early. Here's what you need to know about the Star Wars Battlefront II beta before it drops on October 4.
How to get access to the Star Wars Battlefront II beta
The Star Wars Battlefront II beta will be playable on all three launch platforms – Xbox One, PlayStation 4 and PC. The rollout of the test will be staggered into two key stages, to steady the influx of players expected to try out the game prior to launch.
Those who pre-ordered Battlefront II will have the opportunity to play the beta two days ahead of the public, provided their copy was secured at a retailer participating in the promotion. When pre-ordering in-store via a third-party retailer, a one-time use code should be provided at checkout. If your copy of the game was reserved prior the beta's unveiling in June, you may need to re-visit the store with a proof of purchase to obtain a key.
Pre-orders via the Xbox Store operate slightly differently, meaning your beta early access should be automatically tied to your account. When available to download, the client should appear in the "Ready to Install" section of "Games & Apps," or begin automatically installing on your console.
If you haven't pre-ordered Star Wars Battlefront II, there's no need to worry. Although pre-order provides early access, the public will be given a chance to experience the beta two days later. This will be available via a free download on the Xbox Store.
Star Wars Battlefront II Xbox One buyer's guide
What is playable in the Star Wars Battlefront II beta?
Ahead of the Star Wars Battlefront II beta, Electronic Arts has already disclosed what players can expect from the experience. Over the period, players will be granted access to three maps across four game modes – providing a glimpse at all the biggest multiplayer changes debuting in the sequel.
Galactic Assault on Naboo: The first playable scenario will be the Battle of Theed, set on the planet of Naboo. This map was used to showcase Star Wars Battlefront II at E3 2017 and appears to be the location at the forefront of the game's marketing. Playing this mode, you'll be able to experience the new class hero and vehicle systems, as a part of 40-player battles between droids and clones.
Starfighter Assault on Fondor: Multiplayer Starfighter Assault takes battles beyond the skies with space combat. Expanding on the mode introduced as a part of its predessor, some major changes have been made to the core flow of ship combat, with more robust mechanics expected over the original experience.
Strike on Takodana: Strikes are class-based battles, which are restricted solely to the four main classes of Battlefront II. Without heros in the battle, players must work harder as a team to take advantage of the abilities offered by each class.
Arcade on Naboo: Unlike other modes in the beta, Arcade mode allows players to fight hordes on AI-controlled enemies converging upon your location. This mode is also the only that supports cooperative split-screen on Xbox One.
Star Wars Battlefront II multiplayer improves on the original in 5 big ways
Although yet to be confirmed, it's also safe to assume all progress made in the Star Wars Battlefront II beta won't transfer to the full game. If like the first test, players will be restricted by a level cap and limited equipment, and progression will be wiped ahead of the game's slated November release.
When can I play the Star Wars Battlefront II beta?
Aside from the early access available to those who pre-order Star Wars Battlefront II, the rollout of the beta is relatively simple. While some of this year's releases stagger their betas between platforms, all three platforms will be receiving the Battlefront II beta test on the same day. Here's a breakdown of the key dates over the testing period.
October 4 – Pre-order beta access commences
October 6 – Public beta access commences
October 9 – Beta concludes for all players
The beta is expected to conclude on October 9, but based on previous moves by the publisher, don't be surprised if the beta is extended by an additional day later down the line.
Once the beta concludes, a month still remains until the game officially hits store shelves, on November 17, 2017. Will you be trying out the Battlefront II beta? Let us know if you've already secured a pre-order in the comments section.
Matt Brown is Windows Central's Senior Games Editor, Xbox & PC, at Future. Following over seven years of professional consumer technology and gaming coverage, he's focused on the world of Microsoft's gaming efforts. You can follow him on Twitter @mattjbrown.
Pretty sure the download is going to be slow as everyone hits the servers 10/6.

They should open it for download as soon as they can get it ready, even if it wouldn't be playable for a week or so.

Apparantly the whole multiplayer is Pay to Win. All DLC might now be free. But unless your willing to fork out a few hundred dollars then multiplayer is pointless.

Played the closed alpha, pretty damn good compared to the farce the first one turned out to be.

Always felt the first one was shallow or light in progression or skills required. Does this feel more robust Ala battlefield 4?

Again coop splitscreen is thought of as a "console thing" and left out of the PC version. Makes no sense. It's already programmed into the game, just effin' port it and let players choose how they play it. PC players do local coop too. In the living room, even. With a huge LED tv and wireless controllers. It's 2018 after all.

Pfff, with the killer rig I have? No thanks, PC Master Race all the way. And I play plenty of local coop games in it, with bells and whistles. In the end, this game is probably not worth my time, but the lack of local coop in PC vs consoles as a general observation still stands. If consoles are getting more "PC like" with connectivity, apps and keyboard and mouse support, there's absolutely no reason for ported PC games for not having exactly the same features as their dumb box counterparts.

I was very surprised to receive a second early-access code for a friend!

If it's only one month before release, then it isn't a beta, it's a demo or server stress test.
Windows Central Newsletter
Get the best of Windows Central in in your inbox, every day!
Thank you for signing up to Windows Central. You will receive a verification email shortly.
There was a problem. Please refresh the page and try again.