Everything we know so far about Star Wars Battlefront 2: Story, multiplayer, beta, news and more
Here's everything we've learned so far about Star Wars Battlefront 2's single-player campaign, multiplayer modes, release date, and pricing.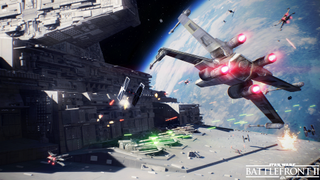 With the next major Star Wars film in the pipeline, the sequel to Electronic Arts' multiplayer-focused sci-fi shooter, Star Wars Battlefront 2 has been unveiled. Showcased at the 2017 Star Wars Celebration and E3 2017, we've managed to get a significant look at what the game will offer ahead of its release this November.
But why should you care about Star Wars Battlefront 2? And why will it be one of the biggest releases of this year? Here's everything we know so far about the game.
Story: Exploring the Empire through new eyes
One of the biggest changes in Star Wars Battlefront 2 is the introduction of a single-player campaign, which looks to place a heavy focus on its narrative. While the original focused on creating an authentic multiplayer experience set within the Star Wars universe, a more cinematic campaign now looks to be a significant share of Battlefront 2's package.
During the development process, Electronic Arts is working closely with LucasFilm on delivering an authoritative and canonical Star Wars experience. This makes all events over the course of the singleplayer official canon, which ties directly into the films themselves.
Although details on its plot are thin right now, we know the game's single-player puts players in the shoes of Iden Versio – a commander of an Imperial special forces unit known as "Inferno Squad". This makes for an interesting angle on a canon Star Wars story, telling a deeper tale from the perspective of a Stormtrooper of the Empire.
The events that take place during the campaign will bridge the gap between 1983's Star Wars: Return of the Jedi and 2016's Star Wars: The Force Awakens. In the trailer, we can see a clear crossover, with key events and locations from both films reimagined within the game's engine.
In an interview with Glixel, Game Director at EA Motive, Mark Thompson, gave a brief insight into the approach this story will take. Through this, we learned the narrative will try to create empathy and understanding for members of the Empire and their own individual values and ambitions.
Although we're yet to see any further detail on the story's direction, this provides a small insight into what to expect. While we can't expect to see any drastic events which could affect the films, the story will likely provide a new perspective on events previously explored in the Star Wars universe.
Multiplayer: A deeper online experience
While the announcement of a single-player campaign has drawn some attention away from Star Wars Battlefront 2's multiplayer, this will still be a major component of the complete experience. Electronic Arts' took the wraps off the game's biggest multiplayer changes as a part of E3 2017, with details on changes to core mechanics and the new content in the pipeline.
One of the biggest adjustments in Battlefront 2 will be a shift to class-based gameplay, which defines stricter roles in combat. Players will have to choose from four different classes, Officer, Assault, Heavy, and Specialist – each which have their own outstanding traits and abilities for use in battle. Think Battlefield 1's class system, which assigns general player roles, with gadgets and equipment to tweak in accordance with your playstyle. Here's a breakdown of the four available classes and the play styles they encourage.
Officers are the support class of Star Wars Battlefront 2, which equipment and abilities aid allies on the field. Among the class's roles are opportunities to heal teammates, deploy buffs and lay down supporting fire to back those on the front lines.
Assault Troopers are a traditional damage-focused class, designed to rapidly push enemy forces and deal heavy damage. Being fast and nimble, Assault Troopers can deliver rapid attacks and flanks to push holes into enemy defenses. However, this class is restricted to close or medium range and is most effective when backed by supporting roles.
As the name suggests, Heavy Troopers are specifically designed to use heavy fire and brute force against enemy forces. While slow movement keeps the class weighed down, they're best used for holding the line with suppressive fire.
Specialists are the stealthiest of the class types, utilizing long-range weapons and traps to support allies. Alongside their sniping abilities, Specialists also have the tools to reveal enemy locations and scout the field from afar. While the class's low armor will keep Specialists away from combat, picking off players in the shadows can be equally effective.
A majority of changes to progression in Star Wars Battlefront 2 are centered around these classes. The four roles will now be a core aspect of multiplayer, and better structure the flow of gameplay.
Star Cards, a somewhat controversial aspect of the first Battlefront game, has been reworked in Battlefront 2. These consumable cards originally provided power-ups during battle but added a level of unpredictability to gameplay. Many Star Cards now face restrictions by class, with abilities more closely tailored to specific play styles. "Heroes" are now also able to take advantage of Star Cards, with specific cards available for each character. These cards will be obtainable via a randomized "loot-crate" progression system, which drops random cards of varying rarity upon players.
A shift away from on-map pickups is also being made – a system which used in the original Battlefront to distribute various equipment, vehicles, and heroes onto the map. Progression for in-game rewards is now handled by a new currency known as "Battle Points," which rewards players for their skill in combat, rather than fortunate positioning. Each match, players will earn these temporary Battle Points, which can be redeemed for limited time upgrades.
Retaining a link to the Star Wars films, Battlefront 2 will also bring forward the "Heroes" and "Villains" systems of the first game. This system, which allows players to take control of iconic characters as power-ups, will make a return with some small changes. Rey, Yoda, Kylo Ren and Darth Maul have all been announced as a part of the game's lineup, with unique abilities and progression systems on a per-character basis.
Finally, like the first game, traditional multiplayer modes will accommodate up to 40 players per match. Although some hoped we'd see a bump to 64 players like EA's Battlefield franchise, this appears not to be the case. All multiplayer matches will be hosted on dedicated servers, to hopefully ensure a smoother and balanced competitive environment.
Space battles: Taking battles beyond the skies
As an extension of the core multiplayer, Star Wars Battlefront 2 will also introduce the highly anticipated support for outer space battles. Being a major part of the Star Wars franchise, the original Battlefront was heavily criticized for the feature's absence, even with the dedicated dogfighting modes already on offer.
Though a huge amount doesn't appear to have changed from the original game's Fighter Squadron, we can expect these battles to offer a new angle on ship-to-ship combat. Iconic aircraft such as the Millennium Falcon and Luke Skywalker's X-wing will also be pilotable in space, like the famous aircraft from the first game.
Beta and editions: How to get hands-on
Star Wars Battlefront 2 is currently set to release on November 17, 2017. As of right now, only two editions of the game have been announced, but we'll make sure to include any new ones that may arise.
Electronic Arts has also announced that Star Wars Battlefront 2 will be receiving a beta ahead of launch, to test the game's multiplayer infrastructure. Those who pre-order the game are currently being promised two-day early access on October 4, before a public release on October 6. After three days of play open to the public, the Battlefront 2 beta will finally conclude on October 9.
The Standard Edition of Star Wars Battlefront 2 provides access to the full experience. Like usual, this edition of the game will be stocked by most retailers and provide no additional bonus content. This version of the game will go on sale November 17, 2017. Pre-orders will also gain early beta access and an upgraded Epic Lightsaber Mastery Star Card for Yoda.
The Elite Trooper Deluxe Edition, on the other hand, releases three days early, launching on November 14, 2017. Aside from the exclusive early admission, you'll be gaining immediate access to a range of bonus content. This includes upgraded versions of each trooper class, four ability upgrades and instant weapons unlocks. Although all this content will be accessible from day one, all players can earn this content via in-game progression. Pre-orders will also gain early beta access and an upgraded Epic Lightsaber Mastery Star Card for Yoda.
Star Wars Battlefront 2 also ditches the Season Pass – a part of the original which hugely segmented its already small player base. Instead, Electronic Arts hopes to release free updates to the game with new content and will explore new routes for monetization. While we can expect in-game microtransactions as a part of this, it should be a worthy trade-off if the community is able to thrive.
Looking forward: Gamescom and more
While we now know a fair amount about Star Wars Battlefront 2, we're sure to learn more soon, with its launch set for later this year. Once new information releases we'll make sure to update this article, so make sure to check back frequently.
Updated July 4, 2017: Following Star Wars Battlefront 2's debut at E3 2017, we've listed all the major changes to multiplayer, with additional information on the beta test.
Get the Windows Central Newsletter
All the latest news, reviews, and guides for Windows and Xbox diehards.
Matt Brown was formerly a Windows Central's Senior Editor, Xbox & PC, at Future. Following over seven years of professional consumer technology and gaming coverage, he's focused on the world of Microsoft's gaming efforts. You can follow him on Twitter @mattjbrown.