Star Wars games now branded under Lucasfilm Games, beginning a "new era" of game development for the franchise
A galaxy far, far away is rebranding its Star Wars games under one banner, and it really makes me miss LucasArts.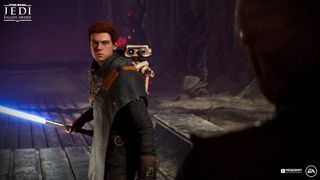 (Image credit: Electronic Arts)
What you need to know
Star Wars games are being rebranded under the Lucasfilm Games banner.
This is set to begin a "new and unprecedented phase of creativity."
Upcoming Star Wars games include Lego Star Wars: The Skywalker Saga and a likely Jedi: Fallen Order sequel.
It's been eight years since Disney effectively shut down Lucasarts, and since then development on Star Wars games has been helmed by EA. Lucasfilm has now announced that all Star Wars games will be brought under one banner: Lucasfilm Games. Though it doesn't appear to be its own development studio — EA still has the exclusive licensing rights to Star Wars games until 2023 — the brand will collaborate with "with the finest studios across the industry" to create new Star Wars stories.
Per the announcement on starwars.com, "Lucasfilm Games is now the official identity for all gaming titles from Lucasfilm, a name that encompasses the company's rich catalog of video games and its eye toward the future."
The accompanying sizzle reel showcases games like Galaxy of Heroes, The Old Republic, Battlefront 2, Squadrons, Jedi: Fallen Order, and many more. We don't know exactly what the future hold for the franchise just yet, but Disney has already announced Lego Star Wars: The Skywalker Saga to be released later this year. With Jedi: Fallen Order passing 10 million players, you can bet that a sequel is probably in the works as well.
Star Wars Jedi: Fallen Order marked a turning point for the franchise as many of its predecessors from EA never quite got enough love from fans. Get ready for a new generation of Star Wars games on Xbox Series X and Xbox Series S.
Dark times
(opens in new tab)
Star Wars Jedi: Fallen Order
Execute Order 66

Respawn bucked the trend and created an amazing single-player Star Wars game. Set after Order 66 decimates the Jedi, one Padawan must flee from the Inquisitorius and help save the remaining Jedi.
Xbox Series X/S
Main
What is the Xbox Series X release date?
How much does Xbox Series X cost?
Why you can't preorder Xbox Series X yet
Windows Central Newsletter
Get the best of Windows Central in your inbox, every day!
Jennifer Locke has been playing video games nearly her entire life, and is very happy Xbox is growing a stronger first-party portfolio. You can find her obsessing over Star Wars and other geeky things on Twitter @JenLocke95.
Now if they could just dump EA or get rid of the exclusive licensing. I've regretted every EA published Star Wars game purchase I've made. Fallen Order was okay but it was $60 for content that you go through in less than a weekend.

Ok. But now that title doesn't mean anything. Or they wouldn't have dropped it decades ago.

I suspect (and hope) this means that the studio will provide the story lines and ensure that everything is canon, regardless of the studio, or explicitly not (like the Lego stuff or anything else based on prior-released films). As long as they do that and maintain some quality controls, I don't think it matters too much which studios do the work. Some studios will be better at battle simulations, others at RPG. It's good to partner with the best studio for a given project.