Star Wars Jedi: Fallen Order runs at 4K resolution on Xbox One X
By Asher Madan published
It'll look clear and run smoothly on Xbox One X.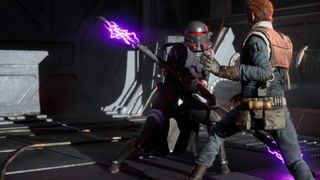 Today during the Star Wars Celebration, EA unveiled Star Wars Jedi: Fallen Order. The panel which reveal the story trailer also confirmed that Microsoft was the marketing partner on this game. This means that Star Wars Jedi: Fallen Order gameplay may be shown during the console manufacturer's E3 2019 media briefing.
However, if you can't wait to find out how it looks on the Xbox One X, we have some good news. According to a listing on the Microsoft Store (opens in new tab) — it's available for physical and digital preorder — the game runs at "4K" resolution on the upgraded machine, and features enhancements like high dynamic range (HDR) and variable refresh rate (VRR).
4K should make Star Wars Jedi: Fallen Order look incredibly crisp on the system; HDR should make the colors pop; and VRR should smooth out any issue related to performance.
Are you going to pick up the game on Xbox One X? Let us know. We'll update you as soon as we know what the frame rate is. For third-person games, it's usually 30 frames per second (FPS), but given Respawn Entertainment's past titles, 60 FPS remains a possibility.
Find the Force
(opens in new tab)
Star Wars Jedi: Fallen Order
Don't stand out

Star Wars Jedi: Fallen Order is EA's first story-driven Star Wars action game, following the events of Star Wars: Revenge of the Sith. From Respawn Entertainment of Titanfall and Apex Legends fame, Star Wars Jedi: Fallen Order will be an unmissable experience for series fans on Xbox One.
Xbox accessories you'll love
Every one of these quality accessories is guaranteed to enhance your Xbox experience.
PowerA Enhanced Wired Controller for Xbox One (opens in new tab) ($20 at Amazon)
PowerA's take on the Xbox One controller is an attractive pickup for budget-conscious gamers that nails all the basics.
Talon PDP Xbox media remote (opens in new tab) ($20 at Amazon)
The Talon PDP Xbox media remote is great for watching shows on your console.
Xbox One S vertical stand (opens in new tab) ($10 at Amazon)
Stand your console upright with this accessory.
Asher Madan handles gaming news for Windows Central. Before joining Windows Central in 2017, Asher worked for a number of different gaming outlets. He has a background in medical science and is passionate about all forms of entertainment, cooking, and antiquing.
I'm an not pre ordering anything with Star wars and EA in the same title, nor buying until it's at most half price. Neither should you, according to Reddit and Imgur.. boycott has begun.

I have red it heaps of times and for the life of me, I cannot find EA in the title. Star Wars jedi fallen order. Maybe if i grab an E from Jedi and an A from star, then we get EA.

Did you even watch the trailer, or look at the photo in the article? EA is prominent in the tile text of the game.

With you all the way! Let's do this!

Star wars aside, Microsoft did a bang up job on the One X, seems like every new AAA game that comes out runs 4k. I have no doubt that anaconda will be amazing.

What a complete non-news. Any new game runs at 4K resolution on One X. That's the final frame buffer. But of course like any other game Fallen Order will not regularly hit native 4K resolution. For a game to get the 4K moniker on One X it can run at variable resolution, it can use reconstruction, it can even never hit native 4K to begin with - as long as it is upscaled to 4K for output. And considering there is no information whatsoever regarding frame rate calling it crisp and smooth now - that's just bad journalism.

Almost all 4K games are native 4K on Xbox One X. No evidence supports your claims.

Of course Xbox's very own definition of their "4K Ultra HD" tag includes: Native 4K, Checkerboarding, and/or Dynamic Resolution (source: https://news.xbox.com/en-us/2017/06/11/new-packaging-icons-xbox/ ). So as of now, we have no clue which of the 3 this game is.

Again, almost all games that say 4K are native 4K on Xbox One X. This is not the PlayStation 4 Pro. So it's safe to assume it's native 4K, especially since it's EA. Even Anthem is native 4K on Xbox One X. If that changes, I'll let you know. Don't ignore the hundreds of games that are native 4K because you don't like this post for obvious reasons.

There are maybe 2 or 3 games on Xbox One X out of the hundreds that say 4K that use checkerboard rendering like Nier: Automata and Devil May Cry 5. Even that's debatable because there may be strange post-processing effects involved. We've covered dozens of "AAA" games that are native 4K on Xbox One X, so you probably want to refresh your memory.

How many use dynamic resolution?

You can assume whatever you want. And maybe the game ends up being "native 4K" on Xbox One X, maybe it doesn't. There's no way for anybody outside of EA/Respawn to know for sure. All I'm doing is just stating Xbox's official definition of "4K Ultra HD". Now if anybody is taking issue with Xbox's official definition, they'll have to take that up with the source. But as of now, the only thing we can say for 100% certainty is that this Star Wars game on the Xbox One X, will either be Native 4K, have a dynamic resolution, or be checkerboard.

You're ignoring the hundreds of games that are native 4K. Maybe you just don't know about them because your don't keep up or have a different platform of choice.

There are not even hundreds of X enhanced games. And 95 % do NOT run at fixed native resolution.

One thing you are forgetting uptownsoul is that Asher Madan treats Native 4K and dynamic resolution as exactly the same thing (provided that dynamic resolution hits 4K at any point in time).

Who gives a flying f***k? It's 4k! It looks better than 1080, that should be good enough! Dynamic resolution is a bit different, but it doesn't bother me unless it really dips down to HD levels.

That's true. PS4 Pro seems to generally hit 1440p. Yet they advertise their Pro console as 4K. Check out digital foundries youtube page and you'll see X1X games hitting native 4K. RDR2 is a perfect example of this. People are just upset that their console of choice cannot do native 4k.

@SaschaDr
Totally agree, at this point I'm not really surprise though. Just more of the same...

With the poor graphics revealed at the trailer, I hope it will run smoothly...

It's using Unreal Engine 4 from my understanding, and the visuals weren't poor at all.

Will it support ray tracing on PC?
Windows Central Newsletter
Get the best of Windows Central in in your inbox, every day!
Thank you for signing up to Windows Central. You will receive a verification email shortly.
There was a problem. Please refresh the page and try again.