Official Starbucks app comes to Russia and Mexico for Windows Phone with exclusive features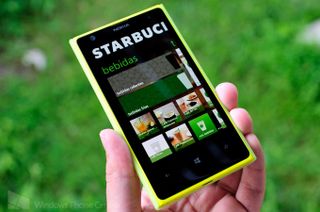 Although people in the US can benefit from the CBS Sports app released today, what a lot of users are looking for is one from those caffeinated gurus at Starbucks. Yes, the mighty coffee giant has so far been MIA on Windows Phone, but things are starting to change.
Back at the beginning of August, Starbucks did release an app for Mexico and today, Russia gets ones too. We were planning to report on the Mexico app (the site WinPhollowers originally found it), but even Microsoft were unable to confirm its authenticity for us or future plans for the Seattle based company.
That tells us that Starbucks is going market by market akin to Domino's Pizza and not necessarily coordinating with Microsoft on a global level. Still, it is a sign of good things to come. Let's take a look at each app.
Starbucks – Mexico; Windows Phone 7.x and 8
My Rewards: Counts your Stars in the My Starbucks Rewards program and check your balance.
Store Locator: Find your nearest stores and times
Drink Builder: Create and share your perfect Starbucks beverages.
Food and drink menu: Find Starbucks products and save your favorites.
Coffee Menu: Explore the Starbucks Coffee menu for your perfect cup. Find it depending on the degree of roasting for each coffee.
That's certainly a lot of features and it looks like Starbucks spent some significant time on building the app. Indeed it's quite gorgeous and it's even compatible with all Windows Phones, which is vital in Mexico since Windows Phone 8 devices are still premium.
Pick up Starbucks, localized for Mexico, here in the Store or scan the QR code below.
Starbucks – Russia; Windows Phone 8 only
Coupons
My Rewards: Counts your Stars in the My Starbucks Rewards program and check your balance.
Store Locator: Find your nearest stores and times
Drink Builder: Create and share your perfect Starbucks beverages.
Food and drink menu: Find Starbucks products and save your favorites
The Russian version of the app is certainly laid out a bit differently than the one for Mexico, but it also features some handy features, including ones not found in the iOS app like coupons and store locator. This is made evident by the slew of complaints on the official Starbucks Russia page, where users are bemoaning not having those features for their iPhones while Windows Phone 8 gets them first.
As mentioned above though, this app is for Windows Phone 8 only. Users in Russia can grab the app here in the Store.
Does this mean an app for the US is in the works? We find it difficult to believe that Starbucks wouldn't be looking to localize an app, but presumably due to the size of the US market, things are taking a bit longer. We'll needle Microsoft to try and get more details, but for now we'll have to wait on the sidelines.
Daniel Rubino is the Executive Editor of Windows Central, head reviewer, podcast co-host, and analyst. He has been covering Microsoft here since 2007, back when this site was called WMExperts (and later Windows Phone Central). His interests include Windows, Microsoft Surface, laptops, next-gen computing, and arguing with people on the internet.
Hopefully that means it comes to the USA soon!

I sure hope so, but I'm not holding my breath.

Dude, hold your breath. We got your back.

Doubt it. It started in Mexico so it appears they are going the wrong way.

wrong way? there are more windows phone in mexico than US. so how is the "wrong way" giving the app to more people who may use it?
anyway you might want to check what RamiPow mentioned, about Starbucks and how/why it works different in some countries.

Where did you hear of more Windows Phones in Mexico than the US?

There are more Windows Phones in EVERY single country in the world except maybe SPAIN. The US is Apple and Android crazy. The rest of the world gets it.

I'd love to see some numbers.

I have no idea about the raw numbers of WP users, but I would imagine the WP users in the US are more likely to be Starbucks regulars. Nothing against Mexico, but I don't see a Starbucks on every street corner like in the US.

Depends on the city :P I live in Mexico and I can guarantee you that in most major cities there is one in every corner lolz though I rarely visit one.... Paying $5 bucks for a coffee? For god sake....

Yep, we have many more Starbucks than we need and coffee is not that good; although frappes are a different story, you can't beat them in frappes.

Why would you imagine that? People in Mexico enjoy Starbucks just as much as Americans. Most every major city, just like in the U.S., has plenty of Starbucks shops. As well as McDonalds, Burger King, and even the occasional Costco.

I would imagine it because just a quick look shows there are about 100 Starbucks in Mexico City. There are about 120 Starbucks in the city of Seattle, WA. The population of Mexico City is about 10 times that of Seattle. It's simple math. Sorry if that offends you.

WP is the number 2 platform in latin america. Thats been reported by this very site and others. So why not go where the numbers are

My comment was based on home town Geo location. Always glad the OS is supported regardless of country. Just that Starbucks doesn't seem to support the OS in the US as it appears that them and Apple are very, very close business partners.

Just like the Domino's Pizza app. I'm guessing that's coming soon for US and others.

I thought US already had Dominoes

We do. I think he meant that the app is releasing region by region instead of worldwide like the Dominos app.

It does. But it came 1 year after the UK and Ireland got it, which is sacrilege. India just got it like last week.

Market share in the US, that's all I'll say!!!!!

I think that it can more aversion to the platform from the decision makers than about the amount of users, or the ROI considering making the app in USA compared with for example Mexico or Russia.

It's well known that market share for Windows Phone is lower in the US than the rest of the world so why release an app where a minority of people are going to use it!!

I understand that part but honestly, how many hours would it take a programmer to code the app, the testing, etc? I'm sure the investment does payoff (monetary and loyalty wise), also you can always hire an offshore company to get a lower price.
I think that is hate towards Microsoft and Windows behind a financial mask. Similar to BBC posture with Andriod and WP. What was the company Nokia did partner to install Qi Spec'd wireless chargers?

In Soviet Russia coffee drinks you!

Careful, I've been attacked for those jokes.

And no one tells him anything lol

Didn't Starbucks just a few months ago say that they weren't vesting any resources into WP8, but now all of a suddent they've released an app for Mexico and Russia???

Probably because WP8 market shares are rising so fast in those countries. Particularly Mexico.

True that...Stupid me heh didn't even think about it

Living in Russia I don't see WP really rising. Maybe I just don't see.

The one in Mexico has been out for months!!!

So why aren't they releasing an app for their biggest market?

If you're saying the US, because even though it's their biggest market, its WP's smallest market. :(

But they are not going after WP users, they are going after Starbucks customers.

Windows Phone still has a part to play and if it has an insignificant market share in the US then why would Starbucks devote time and effort to a minority!!!!

It makes me sad that Canada likely won't see any apps like this. Windows Phone market share here is probably close to nonexistent.

Low Canadian market share is likely due to our carriers pushing the Blackberry phone—made by a Canadian company. WP8 sales should take off with Blackberry out of the picture with the soft sales experienced by their Q10/Z10, rumored company sale (WSJ), BBM launching on Android and iOS, and the pending launch of the 1020 and 625 by Telus and Rogers.

Still no Dominos or Starbucks apps for Canada... Hell, not even local vendors such as Cineplex or Tim Hortons... :(

Damn BB10 country.

It will be all over soon when Microsoft buys BB

It's true. I wish we'd get apps from places like Cineplex or Starbucks Canada, but Windows Phone is barely anything in Canada. Most people don't even know it exists.

Different app layouts for different countries? Yikes, I thought developers were trying to avoid Windows Phone because they would need to recreate the app in order to follow Modern UI guideless (their typical excuse not to build an app) but Starbucks is now deciding to do this. Who understands them! lol

Seems clear that the decision for making an app and outsourcing its development is regionally based and not coordinated by Starbucks HQ, if you ask me.

I would bet that's the case. Having worked for major corporations, I'm all too familiar with things like this being done behind the back corporate IT, many times because corporate is too slow to meet the needs of a business unit.

Starbucks is a waste of money. Can't believe people still go there.

Agreed, their coffee tastes like something bad happened when it was being made, must admit I like the "fru-fru" drinks there tho :)

How much is it? I've never had it. Most coffee in Australia is $4-5 for a basic cappuccino, latte, macchiato etc. Would it really cost more than that?

I think my Starbucks was around $9 in Australian dollars when I was down under. Same drank is US $5.50 I'll see if I still have my recipes and double check

I wouldn't be surprised at that price. Although they can be pretty huge! The higher price is mainly due to being a non-tipping society as staff are paid reasonable salaries ;)

Starbucks Mexico, Russia as well as USA are all owned by different companies. In Mexico for example, Grupo Alsea has the exclusive rights to use the brand. So, you must blame the owner of the brand in a given country and not Starbucks "per se". Each owner can do whatever they want within the country, including of course official apps.

Super interesting. Never knew that. Thanks.

I thought Starbucks doesn't franchise?

Starbucks stores in Chile and Argentina are also owned by mexican company Alsea.... http://www.eleconomistaamerica.com/mercados-eAm/noticias/5000639/07/13/Mexicos-Alsea-buys-Starbucks-businesses-in-Chile-and-Argentina.html

Its not a franchise per se, think it more as a licensing deal. Alsea bought the exclusivity for Starbucks for some countries in Latin America, since Alsea also has the rights for Dominos I'm really hoping for an app here in Mexico

Well, that answered my question. Thanks.

As Sam mentioned, thanks for the info. "Super Interesting" indeed! I learn something new everyday on WPCentral. I love this app. A must have for the Windows Phone enthusiast!

Who cares about Turkey, huh? Altough Starbucks, Dominos and Windows Phone are sofa king popular on there.

I emailed Starbucks UK and they said the windows phone program will be released soon.

Cant wait. Sbux card does not support rewards and voucher;) but works just fine apprt from that

That sounds good, I'm getting tired of using my crapdroid phone just for Starbucks!!!!

No mention of card management? The ability to reload my cards are only feature missing from sbux app.

You have to go to the web site to set that up. There you can set it to replenish when it gets below a certain amount. In my case it's $10.00.

Yeah I know you can do that from site but IOS app lets you do it from app directly. Makes it quicker\easier when on the go.

Where's the Seattle love?

US windows phone market share that's the problem!!!

One would think as the two companies are so close one could strike a deal even if MS had to make it

Thank god there's love for 7.8 in the app for Mexico.

i sure ain't seeing it :/

I emailed Starbucks a couple of months back and they actually responded back to me saying that they didn't have any immediate plans for a WP in the US. Hopefully that has changed and we will see an app in the near future.

Like the fact they gave the WP app "different better features" than ios users have, that's another way to get the WP ecosystem in front of the public, make it differentiated in a positive light for WP!!!

I'll make sure to email Starbucks to show more interest in a WP official app. I find it highly ridiculous that the WA based Starbucks has yet to come out with an app. I'd assume they'd be on good terms and try to support their fellow Seattle area company. I hope they are working out the kinks and it's only a matter of time. I use the Sbux app and will continue to use it to support having such great access to Starbucks. But still, come on Starbucks, others like official apps far more than I do, so it'd be nice if there was one already.

I'm going to tweet them right now

WTF oh well I have been using SBUX Card App but still I would like a US app on both phone and W8

Get on it Starbucks! I'm just waiting for the app to be all in on rewards! #LovesTheCoffee =P

Is taking a long time for a Seattle coffee chain to make an app for Seattle phone....

I use sbux app here in the us and am not really missing an official Starbucks card. Sbux works really well.

Please, please report on when the US version comes out.

As an old fart, I can NOT believe anyone could care. You want some coffee? You got to Starbucks. (Although I try to buy local or smaller chains.)
Next, there'll be an app with interactive swallowing?
Gimme a you know what break.

Im about to cry, im from mexico and this is maybe the first time that i can see some love for wp8 in mexico, especially from a multinational company. But hell i dont go to starbucks

Bring it to Canada please!!! I've been waiting for an official app for Starbucks from the beginning!

Russian Starbucks is nice and cheap. Coffee is very good and costs 5$(~170rub) which is very cheap. Now I just need a windows 8 phone.

5$ is cheep only for Moscow or St Petersburg cos they like separate countries.

Don't see any mention of using the app to pay for purchases assuming that the owner has a registered Starbucks card. Is this feature supported? I have seen people do this with iPhones in my local Starbucks.
Windows Central Newsletter
Get the best of Windows Central in in your inbox, every day!
Thank you for signing up to Windows Central. You will receive a verification email shortly.
There was a problem. Please refresh the page and try again.