StarCraft, Diablo II And Warcraft 3 remasters for Windows 10 may be in the works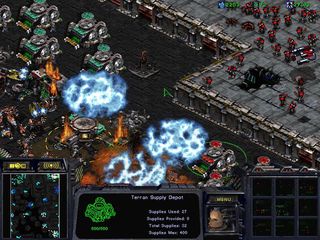 Blizzard is one of the biggest PC game publishers of all time, but many of its older games don't currently work or scale well with today's high-end hardware and operating systems. Now there's hope that Blizzard may be planning to release remasters of games like StarCraft, Warcraft III, and Diablo II so they will work well with operating systems like Windows 10.
In a job listing for "Senior Software Engineer, Classic Games": Blizzard states:
"Compelling stories. Intense multiplayer. Endless replayability. Qualities that made StarCraft, Warcraft III, and Diablo II the titans of their day. Evolving operating systems, hardware, and online services have made them more difficult to be experienced by their loyal followers or reaching a new generation."
"We're restoring them to glory, and we need your engineering talents, your passion, and your ability to get tough jobs done."
"So if you like wearing many hats, know small teams are the most effective, and look forward to challenges that will create millions of new adventures for our players: we would love to hear from you."
RESPONSIBILITIES
Make gameplay first again on modern operating systems.
Create conditions for experiences that look as good as they play.
Own implementation and curation of features new and old.
Combat hacking to improve multiplayer.
Diagnose and fix all the things: crashes, deadlocks, overflows, heap corruptions, etc.
Microsoft has had success in releasing revamped versions of classic RTS games on Steam such as Age of Empires II, Age of Mythology and Rise of Nations. Would you buy HD remasters of StarCraft, Diablo II And WarCraft 3 for your Windows 10 PC? Let us know in the comments!
Windows Central Newsletter
Get the best of Windows Central in in your inbox, every day!
Wouldn't this be the perfect time to make them universal apps? As a showcase since these games are legendary.


Yep. What Microsoft needs to do, like yesterday, is port all their PC games to the Windows 10 Store with Xbox integration, and then start getting developers on board with doing the same. Windows 10 has been out for more than three months now, and the only really notable Xbox games in the Store are Minecraft: Windows 10 Edition, and then two ports from Windows 8 (Project Spark and Halo: Spartan Strike). That's not a good enough start. Their Store will never catch on if they don't start getting some real content in there stat.

That would mean developing solely for Windows 10 though. The world is trying to move away from exclusivity. Developing for the few hundred million Windows 10 users mean shooting themselves in the foot and willingly limiting your sources of revenue. I understand if Microsoft did it. But 3rd party developers have little incentive to do so. And you are also forgetting that one of the reasons these games need to be tweaked to run on modern computers is because of their over reliance on proprietary technologies in the first place. Why should Blizzard limit their target audience for what is basically a second incarnation of a game the target audience already likely played?

Universal WC3 remastered Wth continuum. Drool

Not going to happen ever. Blizzard is using its own battle.net client to sell their games. That's not going to change.

You don't have to use Xbox Live in Universal Apps Posted via the Windows Central App for Android

Never say never. Blizzard is also a very interesting and independent organization. They've done things outside of their comfort zone before. The big reason I could imagine that they'd sell things like this through platform app stores is... ... It leaves that Battle.net launcher clean for *new* games, especially as they're starting to launch new IPs like Overwatch.

Yea but it took them what? 16 years to come up with ONE new IP (overwatch). You think they are going to release a bunch of other stuff? I mean don't get me wrong, I'm a huge fan of blizzard games, but new IPs are not exactly what they're known for. More likely we get new expansions and/or sequels.

Microsoft should allow stores within stores. In this case a blizzard store within the Microsoft store. Or a stream store within...

I've been saying this for literally 2 years. I wish they would finally do this, since I think that it would make a lot of big names like EA and Valve port their stores to the Windows Store. Although, I think that would require Project Centinnial.

you do know DIABLO 3 Already works on Xbox One and PS4 right? and is sold on their respective networks

Do you not believe that, if the opportunity was there, Blizzard (and every big name publisher for that matter) wouldn't try to make you go through their seperate stores?

While that would be awesome, playing stategy games on a small touch device like a phone can be quite tricky. The idea of managing hundreds of zerglings on my phone is quite daunting and I think that this might ruin the gameplay. However, if they were to make these universal apps, playing these games on a phone using Windows Continuum would be a great reason to upgrade my phone.

It's not playing on small screen that interest me... It's playing these games using Continuum whenever possible. Oh, and ... Frozen Throne has many maps that using single character control which should be easier compared to standard RTS games. These maps should be playable on smaller screen, let say 5" and above. I already imagining playing multiplayer tower defense maps with coleagues while at hotel room when on some trip.

Same here, possibly my favorite game all time.

Even without xbox support..haha

If it only worked on my 950 xl once I get it

WARCRAFT (RTS) IS THE BEST WARCRAFT.

For years all I wanted out of Blizzard is...Warcraft 4 not another MMORPG.

Same here been missing the old school rts not a fan of the newer games aoe ii still my fave

Yeah... We want Warcraft 4! Hey have you guys seen the movie trailer for Warcraft? :D

If we get a remastered Warcraft 3/diablo 2 as a Windows 10 exclusive, Windows 10 will be the only used OS within a month of that release.

Umm, yes! Send them to the Windows store, I'll grab them and then tell my friends about them.

My middle school memories!

These games are like RTS games for Android/iOS, I would love to see a comeback of Warcraft 3 the frozen throne but with much better graphics for Windows 10 that require discrete GPU to run, I would purchase on day 1.

Show me one game on iOS/Android, or any mobile platform that has a tenth of the depth or fun as these classics. I cry for people playing games on their phones, they don't realise what they're missing.

I have to agree with that, Warcraft III was even considered an e-sport in Korea, I remember about 5 years ago there were very popular tournaments for this game. Mobile games like Order and Chaos Online look very childish with menus that look to be for 8 year old kids, Blizzard games were always more serious for older age gamers (for players 18 year old and up)

You can play Strom of war : Sacred Homeland. Its great and way better than COC wp ez lub msft ez lub

remake WCIII:TFT and goodby life...

Erm Hearthstone needs a universal app treatment too!!

So many hours spent on those... *sniff * much simpler times *sniff*

Day one purchase for all and hearthstone as well even though it runs well on my venue 8

StarCraft brood war nowwww!!! Can't wait

Played last week. Had to get my Zerg on.

Definitely need to bring these games back as universal apps for windows 10, throw in a few other cult classics like fallout 1-tactics and windows phones would fly off the shelves.

It's maybe the announcement to this blizzcon.

UOW, the original Starcraft remastered ! I only hope they give licenses to collectors editions buyers... Like me. Got them all

I'd love them to bring WarCraft, WarCraft II and Diablo as well. I want to be able to play through the entire series remastered. StarCraft is one of my all time favorite games and I'd love to see it remastered.

Yes Yes Yes Yes yyyyeeees! WARCRAFT 3 on Windows 10 is a super great news!!!

Take my money! I want Diablo 1 and 2. NAOW!

Warcraft 3 please!!! All we need a new engine. Add another expansion too. My money is yours!

And Warcraft 1​ and 2 !!! Please!!! As Universal Apps for Windows 10!!! Wouaw!

What about making those games playable on Phones too :D

I would totally play Starcraft again... I haven't played any of the new versions so it's been a long long time since I squashed any Zerg.

I would have prefered Diablo 1 and 2 to be remastered and sold as expansion packs for D3. Storyline with legacy UI or the D3 one.

Dammit, you are right. I have a D1 CD and am unable to play it :(

I'd love to see Dune 2 Remastered from Westwood ...

Westwood has gone, unfortunately. Try to talk with EA for that.

These NEED to be made Universal Windows apps. MS needs this if they want their store to catch on.

Back at Build Microsoft promised MSI/Win32/traditional desktop apps for Store, are they still working on this?

If they manage to get this right, that idiotic argument: "who uses apps on a pc?" Goes right out the door. It goes without saying that i am going to buy/download this game if and when it comes out. I also hope it gets a tablet or a smartphone mode. I can also use this in a continuum set-up.

Id love to see remastered Starcraft cutscenes

Of course, all of them! Will probably take few years again, though,

Would love to see Diablo1. I have the old battlechest but I am unable to play it and apparently the game is not even supported by blizzard anymore :(

This is the best news I've heard in a while. Hope blizzard will go through with this.

Yaaahoo!!! (I mean this is cool)

Microsoft released AoE 2 HD but not on Windows Store!!! Shame on you MS.

What o_o
I hope it'll be not like HoMM3 "remaster"

I would insta-buy a "new" Diablo II. Maybe Warcraft III as well.

right, they can work their way back.

Cool, but they should release warcraft 4 which continues the story where Warcraft 3: The Frozen Throne left off. Posted via the Windows Central App for Android

Oh my gosh I would buy a remake of Warcraft III in half a heartbeat!!

A port for my windows phone 10 would be epic! Diablo 2 on a cell I would pay for that!

Actually the chances of blizzard releasing them on steam or through the Microsoft store are zero. It's gonna be battle.net or nothing. Stop having unrealistic expectations.

good news!! hope starcraft woulb be in the remake and playable on windows 10
Windows Central Newsletter
Thank you for signing up to Windows Central. You will receive a verification email shortly.
There was a problem. Please refresh the page and try again.