Steam now offers Hunger Games and other Lionsgate movies for rent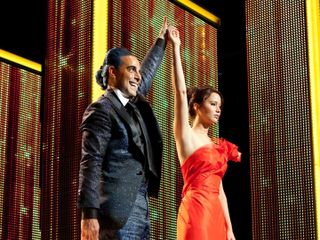 Valve has announced that Lionsgate will offer a large number of its movies, including the hit Hunger Games and Twilight films, for rent from the Steam service for Windows, Mac and Linux users.
Lionsgate is the first major movie studio to offer part of its film library to Steam users. The new partnership begins with 69 movies, including films in the Scream, Saw and Expendables franchises. Lionsgate plans to add more of its films to the Steam store in the coming weeks and months.
None of the movies are available to purchase and download from Steam; they are just for rental, and priced at $3.99 for two days.
Check out the Lionsgate movies on Steam
Windows Central Newsletter
Get the best of Windows Central in your inbox, every day!
I want Half Life 3, not yet another movie rental service.

"The new partnership begins with 69 movies, including films in the Scream, Saw and Expendables franchises." Well with those 3 series........that's almost half of the 69 movies right there. :)

And to be frank, if you add the aforementioned Twilight and Hunger Games series, it's easy to realize that this particular studio doesn't put out very good movies.

And still more than red box. Sigh

Yea, I really dont understand why digital rents or buys is more than physical copies. Makes about no sense to me really.

I'm surprised at this gross overlapping of services being rolled up into Steam. It was a bit of a stretch to have non-game software to be distributed, even full movies (though I didn't know of others than Indie Game: The Movie). But this is clearly too much. That guy Newell probably wants to take a swing at Amazon Prime or something. Very ambitious. But let's not forget that when he gets this kind of thing done to him, that is, people threatening to get into game distribution, he doesn't like it and throws a tantrum. Like what happened with the launch of the Windows 8 store. So yeah, taking all this into consideration, this is pretty crappy of him. Plus personally I find the prices to be incredibly expensive, and it's likely that the catalog for my region is drastically cut (as I see only 11 titles with nothing more identificable than the Leprechaun movies). So, hell no.


This is the real reason he hated Windows 8 so much. Valve is like google, they hate competition.

Steam wants to bite more than it can chew

I think it's a flooded market for them to try and get a slice of the pie...but we shall see...!

Rent films? What is this? 1995? Posted via the Windows Central App for Android

Isn't lionsgate owned by Starbucks? Maybe its just a rumor going around.

So like Microsoft Movies & TV but crappier and the money ends up in gabens grubby hands...

Steam trying to remain relevant.

Piratebay store has better business model.