The SteelSeries Rival 700 PC gaming mouse has a modular design and an OLED display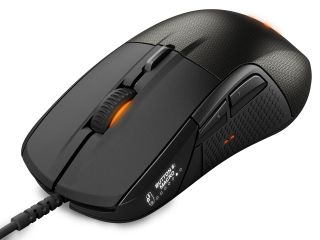 SteelSeries has released its latest PC gaming mouse, the Rival 700, for $99 (opens in new tab). It includes a modular design and an OLED display.
The SteelSeries Rival 700 (opens in new tab) includes these features:
OLED Display - Powered by SteelSeries Engine, gamers can now personalize the OLED display to track game stats, change profiles, see their CPI settings, as well as set custom logos and animations. The Rival 700's OLED display provides vital information on-the-fly, allowing gamers to gain an edge without having to navigate cumbersome options and menus.
Tactile Alerts - The Rival 700 gaming mouse is no longer an input device, but a tool to dominate opponents. Gamers can now customize and feel in-game events and alerts through subtle pulses, aiding them with decision-making during crucial times. The Rival 700 can notify gamers when cooldowns are up, ammo is low, or even if health is peril without affecting precision or accuracy.
Maximum Personalization - The SteelSeries Rival 700 is ready to dominate today and the future with a modular design that supports a plethora of customization options. It comes with a state-of-the-art optical sensor with up to 16,000 CPI, but allows gamers to easily swap their preferred or the latest sensors without having to purchase a brand new mouse. The Rival also features interchangeable faceplates available in different designs and surfaces, and Prism RGB illumination with millions of color options and lightning effects.
See at Amazon (opens in new tab)
these new mice sure look nice but what I really need is a nice sized middle mouse button and no the wheel click down is not very efficient. anyone remember the bearclaw? i'd use a modified version of that for sure.

I <3 SteelSeries mice. May pick this one up for the kicks & giggles.

I'd really like to see Kensington come with an "Expert Mouse" style gaming trackball.
Windows Central Newsletter
Thank you for signing up to Windows Central. You will receive a verification email shortly.
There was a problem. Please refresh the page and try again.