SteelSeries bringing new Siberia gaming headsets to Xbox One and other platforms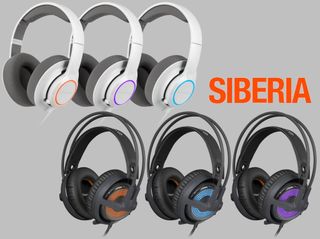 The Xbox One is the new kid on the block as gaming consoles go, so it's still building up a library of quality accessories. Headsets are one area with a fair degree of choice, though I'm still waiting on Microsoft to create an Xbox One wireless headset standard. But we have looked at several headsets in a buyer's guide, and you can sometimes find deals on the official Stereo Headset.
We'll soon have a new quality wired headset to look forward to thanks to popular gaming accessory manufacturer SteelSeries. The company just announced the SteelSeries Siberia headset family. This new product line consists of four distinctive gaming headsets that range in price from $60-$200. Besides sharp looks and the promise of equally sharp sound, at least one Siberia headset model looks like it will come packaged with an Xbox One Stereo Headset Adapter.
Headsets for any budget
Siberia RAW Prism – $59.99
Introducing the most affordable SteelSeries headset yet. This one features a lightweight design which will appeal to users who find bulkier headsets too heavy. The ear cups and top of the headband have soft cloth padding with a mesh surface, so your ears won't get too hot while wearing the headset.
Even though this is a somewhat value priced accessory, it still features illuminated LED ear cups. These can be customized to display a variety of solid or shifting colors using the SteelSeries PC software.
SteelSeries Siberia v3 – $99.99
Here's the model we're most excited for, because SteelSeries touts the Siberia v3's multiplatform compatibility. The launch models support Windows, Mac, Android, iOS, and Playstation systems. But SteelSeries promises an Xbox One version is coming soon.
The Siberia v3 boasts redesigned speakers that will offer better sound than ever before. The ear cups are made of memory foam. They will conform to your ears, enhancing comfort and noise isolation. The microphone is extra slim and even retracts into the headset when not in use. This sounds like a classy headset with some significant advantages over the official Xbox One Stereo headset.
SteelSeries Siberia v3 Prism – $139.99
The Prism features all the same design advances of the Siberia v3, but also adds some impressive lighting features to the ear cups. It holds a lot more LEDs than the RAW Prism, thus offering many more color customization possibilities. On top of that, you get:
Unlimited profile settings that can be saved and accessed from anywhere via SteelSeries CloudSync
Microphone Noise Suppression and Microphone Auto Compression technologies optimize voice communication automatically
Digital audio quality with custom EQ
ColorShift illumination effects and modes that can be set by the user, or triggered by game sounds and events
Siberia Elite Prism – $199.99
Finally, the cream of the crop. The headset that makes you jealous whenever some baller says he has one. This one features Dolby ProLogic IIx and Dolby Headphone that will simulate surround sound and add extra depth to the sound recreation.
The Elite Prism has memory foam cushioning all along the headband, giving it the highest possible comfort level. The foam on the ear cups is extra thick, providing an even better noise seal than other models. They also light up, though perhaps not to the same extent as the Siberia v3 Prism. This headset also includes a USB sound card and a variety of adapter cables.
Coming soon to a gaming machine or mobile device near you
SteelSeries doesn't list the specific launch date of the new headset line, but their website is already taking preorders. Based on the shipping data on the pre-order screen, it looks like all of these will be available by October 15. As for the Xbox One-specific Siberia v3 headset, we're investigating that and will update with a release date once it becomes available.
What do our headphone loving readers think of the Siberia headset family? Do any of these fall within your budget and audio needs?
Get the Windows Central Newsletter
All the latest news, reviews, and guides for Windows and Xbox diehards.
Paul Acevedo is the Games Editor at Windows Central. A lifelong gamer, he has written about videogames for over 15 years and reviewed over 350 games for our site. Follow him on Twitter @PaulRAcevedo. Don't hate. Appreciate!
Good for the platform, but more overpriced junk headsets

Do you actually read up on things, or just assume that everything is junk? I've got a friend who has owned these since back when they were Icemat, and he's had no complaints. I'd just like to hear an actual basis for your argument.

While I haven't used these headsets, I can tell you I have a set of Sennheisers that I paid half the price of the lowest modle. They are beyond awesome, crystal clear and supercomfortable. Also they have a very long cord, which was surprising. If they can do it at a better pricepoint, Steel series can too. The issue is, as soon as you tack the word gaming to a product, the price goes up by a minimum of 50%.

@AlanMan @ Nakia Johnballs @Axmantinm YOU BOYZ DON'T KNOW JACK I have the Steel Series H Wireless. THE best wireless headphones currently. Better than the Astro's. (I know as my son has those, and I waaayyy prefer the H Wireless) So please, it all _depends_ on the exact product. You cannot blanket an opinion like "junk" across an entire range or manufacturer (unless its true, in this case I can tell you as FACT that its not) .

Had the siberia v2 for my pc back in my old gaming days. Comfy headset but sound not very good unless you put on its soundcard.

So it supports windows, mac, android, ios, playstation, and Xbox one, BUT not WP???

I'm thinking maybe it would work with WP as well but they're just not familiar enough with the platform to mention it. I'll ask for confirmation and/or test it myself if I ever get one.

Awesome. As I'm looking for a pair to travel with, if they sound decent and work well with my environment then its another pair to strongly consider.

If it doesnt work with both PC and Xbone i dont want it.

They all work for PC. The v3 is going to work for Xbox One when they release that particular model.

I have the one at the end there in its pc form. Any idea if these will also work with Xbox being of the same design?

Should work with the Xbox One headset adapter. Almost any non-USB headset will.

Just take some cheap headphones and a clip on microphone and - there you have it! A very good versatile headset!!!! :D

The v3 Prism model looks the best (dark body with LEDs). However, $140 is too much for a headset. The Bone-compatible ones are a bit on the plain side, though if they come in other colors, they might be acceptable. I'm still looking for a good PC/Bone headset, as I hate having 2 (using an old Turtle Beach from my 360/PC time for the PC and the stock one for the Bone now). This might have potentialy, but I'm not sold. I most definitely want no part of a white headset again.