What's with Stephen Elop's getting millions for what many consider to be a failure?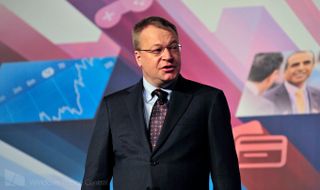 Today it seems everywhere you turn in the financial media, there is a story about how Nokia's chairman screwed up in disclosing information about Stephen Elop's bonus package to the media. Some of the reporting on it is a bit wonky, so I thought I'd clear things up.
Long story short, Nokia's chairman was initially quoted as saying Elop's contract was essentially the same as that of the prior CEO, Olli-Pekka Kallasvuo. When a Finnish newspaper, "Helsingin Sanomat", dug into his employment contract, which is published to the SEC website, they discovered one important major difference. Elop stands to have his stock compensation vested in an accelerated manner should he resign following a change of control. The prior Finnish CEO didn't have this clause. The difference amounts to about $25 million, according to various other folks who did the math (I didn't, and I'm assuming their math is correct).
People love to complain about these things. A Forbes article even went so far as to say that Elop gets paid specifically because he managed to get the stock to go down, and then sharply up again on a takeover bid from Microsoft. The Forbes piece made it seem like this roller coaster action was a requirement to trigger the bonus.
That's not true. Here's what is true:
In the US, it's quite common for executives to be awarded stock as part of their compensation. Sometimes the stock is a stock option, with a strike price, meaning that it has no value if the stock drops below a certain value. But other times, and it looks like this is increasingly common, executives are paid in restricted stock units. This stock is granted to the executive according to a schedule. They're being given part of their bonus in actual stock, not a stock option, so it always has value even if the stock drops a lot.
The best way for a CEO to make a ton of cash in this situation is to actually make the company more valuable. The higher the share price goes, the more money the CEO makes, which is reasonable. That's the idea behind the compensation scheme. I can assure you that Stephen Elop did not have some weird arrangement that caused him to make more money by Nokia's failure versus its success.
But unfortunately, CEOs with accelerated stock grant "change of control" clauses in their contracts will also make a lot of money (less, but still a lot) when they sell the company. So in Nokia's case the stock price dropped tremendously until Microsoft put in a bid. When Nokia accepted the bid and Elop stepped down this was enough to trigger an accelerated bonus.
Nokia's stock for the last 12 months (Source: MSN Money)
For most of us, we look at the bonus ($25 million) and we think it's totally insane. But it's still a lot less money than he would have made had he successfully turned the company around.
I think executives need clauses that protect them against unemployment in the event of a change of control. But boards of directors, in my opinion, are not exercising enough thought in constructing these executive employment contracts. Elop isn't losing his job. He's going to be the head of Microsoft's handset business. He'll probably wind up with another sweetheart executive compensation plan through Microsoft. That's not how this is supposed to work.
I also think boards have gone too far in using stock grants versus stock options. I don't think it makes sense for a CEO to make millions of dollars for screwing up. Never, ever should this happen.
So to wrap up, yes, the Nokia chairman screwed up when talking about Elop's contract in the press last Friday. But the contract that Elop has is not unusual, and it certainly did not reward Elop specifically for causing the stock to drop, be taken over, and go back up again (in that specific order). It rewarded him for the sale of the company, but much less than it would have rewarded him had he successfully fixed Nokia. And finally, I think boards of directors should revisit how they setup executive compensation contracts. No executive should ever be handed millions of dollars for a screw up.
By the way, Thorsten Heins of BlackBerry is set to take home a huge chunk of change for a similar screw up should Fairfax succeed in taking the company private and decide to show him the door. When and if that happens, expect to see more stories about this all over again.
(Chris Umiastowski is a contributing financial writer to the Mobile Nations network. You can see the rest of his posts here at AndroidCentral, iMore and CrackBerry.)
Get the Windows Central Newsletter
All the latest news, reviews, and guides for Windows and Xbox diehards.