Stephen Elop taking your questions live today, 9am EDT! (Update: Live!)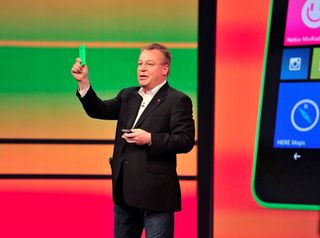 Microsoft has announced on the Conversations blog (since they appear to be removing "Nokia" branding from web properties) that Stephen Elop will be holding a questions and answers sessions today at 1PM GMT / 9AM EDT and 6:30 PM for those in India. In simpler terms, be prepared to join the new Executive Vice President of the Microsoft Devices Group in 45 minutes.
Those of you who have questions for Elop (covering the Microsoft deal, what happens next, etc.) will be able to pass them across for a response live during the event. We'll attempt to grab the code for the stream and publish it here so you all can get discussing while watching through. Be sure to check back at the stated times above.
The chat is now live, follow it below and join in the discussion in the comments!
Source: Conversations
Rich Edmonds is Senior Editor of PC hardware at Windows Central, covering everything related to PC components and NAS. He's been involved in technology for more than a decade and knows a thing or two about the magic inside a PC chassis. You can follow him over on Twitter at @RichEdmonds.
How can we ask the questions? Is it through Twitter? I just wanna know if they're gonna ditch the "exclusive" nonsense.

Not 100% sure at the moment, but we imagine it will be through the Conversations post.

Can anyone ask whether ms mobile oy is going to focus on developing markets as much as nokia did ?

Please save your questions and add them to the online Q&A that will appear when the session is live.

I doubt they will do that as it's basically the only way (especially in the US) to get sales

Please explain how exclusivity enhances sales in the US. I would buy a 930 today if it weren't exclusive to Verizon. Seems restrictive to me.

Thanks... I should've just asked Cortana..

You're an hour behind Eastern time and you couldn't do the math yourself? Come on, Rodney! :P

No... Brain still sleeping till 10am...

It's a shame I may not be available for this - want a reason why flagship Nokia phones (bar the 1520) don't have sd slots, and whether Nokia will have their own file browser, as part of their own suite of apps. That and where is the 1020 successor!!!!!!!!

I want to ask the same! And if there is any WP OS team memeber, I would ask them "why there isn't a cursor in dialler?" http://windowsphone.uservoice.com/forums/101801-feature-suggestions/suggestions/2294827-cursor-in-phone-dialler-to-allow-editing

Exactly! We either need 64GB internal storage or microSD!!

I wish, but it seems that is too much to ask, as it's too hard to satisfy consumers. Too hard for them to make consumers happy. :-/

One of the 1020 variants has 64 GB, all it needs is SD. 64 for apps and games another 64 or 128 for pics and music

Worse is it was yet another carrier exclusive. I hope Microsoft makes unlocked phones available in their stores, just need GSM and CDMA. For the rest of the world they can use the Nokia stores.

Why are they removing the nokia branding they must already know that some of us entered wp just because of nokia's name on the back of every lumia

Nokia is a different company now, and it still exists.

How about sharing video files via Bluetooth??

You can already do this for the videos saved in pictures folder, just cut or copy the video, you want to share in saved pictures folder.

Better option.... download Aerize Explorer to manage and share files and folders. It's free but a little buggy. You can live with that. ;)

Thnx sambyo... On the way to install it

@yaar dude that everybody knows... I want an independent way to share video files just,like sharing music files.. Where the hell am I going to get a pc to transfer it to camera roll n the share... Its a shit way... I was expecting better in wp 8.1

Use aerize explorer, i do the same if i want to send a new video to my friends on WhatsApp then i copy files to saved picture folder.

Will Nokia continue to be the flagship of Windows Phone. Will Verizon Wireless get its own version of the Nokia Lumia 1020

Can we ask him to leave yet?

He is doing a good job. Nokia is getting better reputation every coming day.

+1520, he destroyed Nokia hope he doesnt destroy MS now.. he has good reputation for that, ======== Before Nokia[edit] Elop was a director of consulting for Lotus Development Corporation before becoming CIO for Boston Chicken in 1992,[10][11] which filed for Chapter 11 bankruptcy in 1998.[12] In the same year, he joined Macromedia's Web/IT department[11] and worked at the company for seven years,[13] where he held several senior positions, including CEO from January 2005[14] for three months before their acquisition by Adobe Systems was announced in April 2005.[7][15] ===========

This Elop guy never fails to impress.... :D

Whoa! You're telling me a fast food chain filed for chapter 11 and a tech company was bought out? Unbelievable!

I agree with you. In fact windows Phone in general is getting better and better (depending on the devices)

Hey Rich. Thanks for mentioning India time! So thoughtful of you.

How is your feeling about killing Nokia corporation? Happy Or not?

Nokia was suffering from financial problems at the time of deal.

Which were aggravated year after year by his leadership as CEO.

I've read lot of your comments regarding this matter. I understand the frustration. Just a bit curious: Do you really despise Elop and hold him responsible for everything bad ever happened to Nokia? What could he had done differently to make things better? All this spite against him, don't you think its little unfair? In your vastly educated opinion; as of this moment, is Nokia getting better in sales and reputation or still struggling with either or both? My point is; if its like "this ship has sailed"; no goodness (innovation, device, technology) from Nokia team would ever change your opinion and win your heart whatsoever, so what is the point of fighting it. On the contrary, if there are potentially good suggestions and expectations / goals, then this uproar-cum-criticism can be transformed into extremely productive cause, you would have a very valid case and masses would be lining up to support you..

I opened up the source link. It's like people saw a few key words and started asking all the questions they have on their mind. I wish people would read entire articles.

I can see people being a bit harsh on Elop, I really hope someone makes him feel really uncomfortable with the right question

Why high end products don't have an option for SD cards or why don't they have only 32/64GB versions, instead of 16GB? If we'll see a quad/2gb ram version of the 820 (4.5" tops!) with HD display. If we'll have the oportunity to choose different programs for our daily tasks (music, browsing, etc).

Please, someone ask him why in the heck we can't seem to get SD card capabilities on the majority of phones that are put out.

we want to sign in/out on OneDrive

Need wifi direct and multitab on same one screen

Click "Conversation" @ end of article

Crap, I can't think of anything :/

it aint lack of app, etc that slowing growth, its the carrier exclusive thats doing it, you can get an iphone on all carriers, as well as the galaxy series S4. thats the old way of doing things from when the iphone first came out, even apple stoped that to further growth

When it comes out the app for the lock screen?

Nope I will ask cortana all this she is more responsive than elop

In summary,
Q: Really specific thing?
A: Generic executive speak. Waste of time unless you cared about his favorite pizza.

Does Microsoft Is Going To Bring Dual SIM Flagship With Full HD Models In Lumia? And What The Series Of Lumia Is Called By Microsoft ?

Elop will be on wpcentral????

Should We Expect Lumia Tablets From Them In India And When ?

will support for HiD bluetooth still come to windows phone? would make it more productive for office mobile for windows phone.

He is so vague about everything. Kind of a pointless Q & A in my opinion.

I didnt get to ask when we would be able to edit emails when forwarding emails to other people damn it mannnnnn

Wouldn't that be a question for the Microsoft office team who produced the recent version of office for ipad???

This was just like the Chris Weber Q&A. None of my questions were answered. Such a waste of time. But he happily told us what kind of pizza he likes.

Ask them why is there no recording settings in windows phone! There is no call recording which is must in every phone!

Instead of asking the real important questions, someone asks about a pizza!, i think this question was asked by a Kid.

No it's for either. He is over WindowsPhone now so why not ask him too

Get the 930 to the u.s on tmobile

so disappointed that I missed the opportunity to ask about a future Nokia device on Sprint

im tired of waiting wp on getting better and better when wp should be waaay better

Whole thing seemed like a lot of hot air and very little substance. Its not that I didn't like what I heard, I just didn't hear ANYTHING.
Windows Central Newsletter
Thank you for signing up to Windows Central. You will receive a verification email shortly.
There was a problem. Please refresh the page and try again.