Bring order to chaos with puzzle game Sticklings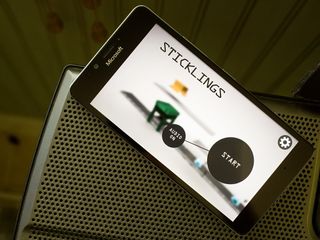 If you are looking for a unique puzzler for Windows 10, Sticklings is a game worth checking out. You are tasked with leading a group of stickmen who happen to be walking around aimlessly across a series of platforms. Stickmen move along in follow the leader fashion and at your disposal is a series of tools to guide to their goal, a glowing portal.
Sticklings includes clean looking graphics and 37 puzzles to solve. Gameplay requires strategic planning and a bit of speed to get solutions in place before the stickmen walk into dangers.
Available for Windows 10 PC and Mobile, Sticklings is currently priced at $0.99 and is a challenging game to pass the time with.
Sticklings offers you a clean design with 3D-Like graphics. The main menu offers you the option to jump into gameplay and access the game's settings that cover sound, music and graphics level controls.
The goal of the 37 puzzle levels is to guide as set number of stickmen to a glowing portal or exit. Puzzles include a series of platforms and obstacles to navigate around. A number of stickmen pour out of a box at the top of the puzzle and a number appears above the portal. That number represents how many stickmen need to reach this goal to complete the puzzle.
The stickmen walk blindly in one direction, only changing directions if they hit an immovable object (wall, stationary stickman, etc.). Sticklings includes a series of tools to help guide them in the right direction or get past key obstacles. For example, the halt tool stops a stickman in his tracks allowing the others to change directions as they walk into the halted man. Other tools include bombs, stairs and bridge building.
Just tap on the tool and then the stickman you want to use the tool. This may be the only downside to the game in that at times, there was a slight delay in seeing the tool in action after tapping a stickman. Gameplay not only requires you to be quick on the tap but also learn the timing of the game.
Keep in mind that the number of tools and available uses varies from puzzle to puzzle. Once you place a tool into play, you cannot withdraw it. Gameplay is timed, affording you just under three minutes to complete a puzzle. Should you get a solution in place and need to speed up the stickmen, a fast-forward button rests in the bottom right corner of the game screen. You also have a Nuke Button that can be used should you get stuck with a puzzle. The nuke option initiates a self-destruct feature sending you to the retry button faster.
Sticklings is a fun puzzler that requires on-the-go planning and a quick application of the tools. You do need to get used to the timing and while tools could launch a little quicker, the delays are not a deal breaker. If anything, they add to the challenge of the game.
Priced at $0.99, Sticklings is available for Windows 10 PC and Mobile. It is a sharp looking game with plenty of puzzles to help you pass the time.
Download Sticklings from the Windows Store (opens in new tab)
Windows Central Newsletter
Get the best of Windows Central in in your inbox, every day!
George is the Reviews Editor at Windows Central, concentrating on Windows 10 PC and Mobile apps. He's been a supporter of the platform since the days of Windows CE and uses his current Windows 10 Mobile phone daily to keep up with life and enjoy a game during down time.
Windows phone is extremely lacking apps some examples MAME4DROID, DrasticDS, Dubizzle, AMAZON, EBAY.. So laid back in app race.

Wow, it looks like a Lemmings clone. I've missed the cute little creatures too much...

That's the first thing that came to my mind also. Why not mention that in the article, mr. Ponder?

They must work for Aperture Science.

"unique puzzler" - This is nothing but a rip off of Lemmings.

Why do every games which I look at the screenshot and thought "oh this's gonna be a good game" always come with a price

Because people deserve to get paid for their hard work. Do you have a job? If so do you go to work for free?

It's 99 cents, seriously. This guy (or girl) will have spent many many hours, days and late nights making this. And you know what, studies have shown that 'free' games that support ads take more power from your phone, that means that your phone needs charging more regularly. That means you are paying more in electric to power your phone, that means that 'free' game is costing you money every time you play it and in the long run, will actually cost you more!

Look at other platforms. PvZ, Fruit Ninja, Real racing,... how much do they cost? Take charge of good game, essential apps, and people switch platform, there're less users so developers have to follow them to other platforms or increase price of apps and games, that's an infinity loop. I don't mind paying money for games on my PC, but many games on phone does not worth. You may say "they work hard for this", pls there're many good games and apps on the Windows Store and they're free, some even don't have ads.

If you can't afford ninety-nine cents then maybe you should be out there looking for a job or one that pays better than your current one.

Did you get your phone for free ?
Windows Central Newsletter
Thank you for signing up to Windows Central. You will receive a verification email shortly.
There was a problem. Please refresh the page and try again.