Sticky Notes HD makes the jump from iOS to Windows Phone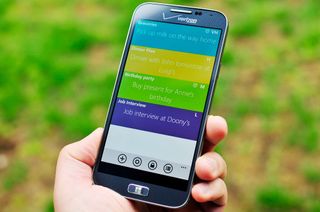 OneNote or Evernote not doing it for you? No worries, take Sticky Notes HD for a spin. It's a popular iOS app that has found its way into the Windows Phone Store. Over on iOS it's rocking high ratings from users and has many fans around the globe. The app is now available for free in the Windows Phone Store. Let's check it out.
Sticky Notes HD is used to take notes and jot down anything you want. Here's what you get with the Windows Phone version of Sticky Notes HD:
Intuitive design
Personalization
Live tiles
Lock screen background
Reminders
Sharing
OneDrive backup/restore
Instant note search
Password protected notes
Sticky Notes HD can be used for anything. Use it for notes, lists, reminders, memos, tasks phone numbers and more. You get over 20 colors for the various notes and can personalize them how you want. Expanding on the personalization front is the ability to change the note size, alignment, order, text size, color and font.
And like every good Windows Phone app you get Live tile and Lock screen support. You can pin any note to your Start screen and use your notes as your Lock screen image. You can even have it to only show specific colors on the Lock screen.
Sticky Notes HD seems to be a winner of an app for Windows Phone users. It'll also make those coming over from iOS have an easier transition. It's also worth noting that the iOS version of Sticky Notes HD will set you back $0.99, while the Windows Phone version is free!
Thanks for the tip Mary J!
When is the WhatsApp update coming? Posted via Windows Phone Central App

I'm thinking maybe it'll be release same with big Facebook update. My guess tho.

I think it will only come out with the final version of wp8.1
At least was what I understood from reading the post WPcentral posted some time ago about that

facebook had an update few days ago, but for WP8.0

Out of curiosity, what does this comment have to do with Sticky Notes HD?

The comment was posted on the same day as the article was posted. Isn't that a pretty direct direct correlation?

Have no idea idea what you mean.

Yes i wanted a note app which makes live tile of my note

Does anybody know when that one movie comes out?

the original sticky notes was me looking at a playboy

You mean that one movie, with that one guy. You know, the guy. With that one girl.

Nice app. Now I just need to train myself to take notes.

I wonder if you could just ask Cortana to take notes or remind you to do stuff. /s

I do that on occasion, and certainly more now with Cortana. Sometimes though i want to jot things down and not have her cut me off mid thought. I still find OneNote a bit odd to use at times, so this seems simpler.

I think this app really has different uses than Onenote. I downloaded it and will use it for "sticky" notes to my screen. I use one not for organizing and sharing notes between computers. I assume that IOS does not have a way to 'stick" notes to its screen? I love sticky notes, I remember my parents visiting my office years ago and were amazed at all the sticky notes attached to my monitor.

OneNote has really bad navigation. When you go in, you are always somehwere deep inside a section/notebook, and you have to press that tiny text at the top a couple of times to navigate back.. it's really awckward navigation.

One note, is both difficult and easy at the same time. Taking notes - easy. but organizing them, I feel its cumbersome.. have been using Trello for a while... sad, there is no official app for windows phone for that...

But with onenote you can insert pictures into your notes. Probably not something used often but I did use it recently to keep track of all the new appliances we ordered for our new house with prices, dimensions and pictures.

I forgot about the note taking feature... Thanks❕❕

what about whatsapp chief?

Really? .99 for a colored text box? Is that what we're doing now? Who thought that option in Microsoft Word would be a whole app?

I would have thought for sure that you had someone to do that and get coffee for you. :)

Nice Phone. Is that the SE.

And free too... music to my ears :)

Yeah :) Props to the developer!

Could it have something to do with app development for winphone and windows is now almost like killing two birds with one stone? I have a feeling we're going to be seeing more of this for that reason alone.

Lemme Download while its still free..

I tought the same thing...

Nice app! Doesn't take much space as well!

OneNote will always be my favorite. But wouldn't mind alternatives. Screw you Android! WP + iOS = LFE

AWESOME... downloading ASAP..off topic: yes,where is WhatsApp update ..needs background wallpaper, ability to remove last seen feature and sending of music and videos =)

Me-"Cortana, remind me to check out Sticky Notes HD"
Cortana-"Why?" ;-)

With all the off-topic and random stuff that ends up in the comments section, this website could really use a place to start topics with replies. Maybe have multiple sections to make posting and browsing easy and organized.

People just don't use the site properly. If they want to post something off topic they can always go to the forum section. Also, a lot of times they can find answers to their questions in the forum without even having to start a new thread!

I have a better idea. People should stop posting off topic stuff. Like this!

Less expensive than the iOS version and more complete since it has live tiles! Awesome!

The live tiles makes this app more functional than on my iPhone. What I can do with it on my L920 changes its use for me. And I see myself using it far more than what I do on my iPhone.

OneNote not doing for me? Yeah right.

I love OneNote, but not having a password function makes me uncomfortable, sometimes, I put things in my notes I don't want anyone picking up my phone and glancing through, also won't be a bad idea if they can decouple it from the OS and add things like black theme.

You know what. That's infact a great idea. Well, different people have different needs, like, I don't care about that password stuff for my notes, cuz there is nothing personal which I note down. But the password idea and black theme is very nice. Maybe, you should make a uservoice feature about it.

Awesome for windows users. I am impressed with all the big apps WP has picked up over the last year. I really wish this app was for android also. Posted via Windows Phone Central App

I would but still have a year left on my contract. We have 3 phones in my house, a lumia 920 and a 520. I'm the only holdout with a Motorola moto x. Its a good phone but I like WP a lot, its a very cool looking OS.

Live tiles really make this app come to life, and shows the serious benefits of WP design over iOS. My friends who have made the switch love what live tiles brings to their old iOS apps. Countdown is another iOS app that comes to life on WP with live tiles. Great stuff.

Pretty nice and simple :)

I use Notelook. It's the only WP app I've found that supports Notes in an Exchange Server account. IOS native notes does that since iOS7.

this app just begs for a large, tall and interactive live tile. So everyone, start begging microsoft for this feature in 8.2!!!!!!!

Nice even has backup/restore to onedrive

How about a hard hitting article on why the text in our live tiles is left justified and how to change that. Because there is one app that you can. Do you know which app it is???

One note should have a text tile as well. It comes handy. I'll give this app a try.

Love this! Its fully functional and free!!

Hmm. Looks lovely. Tried to copy and paste some larger notes I have in OneNote and when I open the saved note, it won't show all the content. What's app with that, is there limitations in the app?

Wow.. I've heard of this app before I believe. No Android version? Paid version on IOS ,and a free Windows Phone version. It must be raining in hell!! We should download this app at least to show support and say thank you if nothing else.

Waiting on a new TMO 5"+ device. Wtf am I still waiting for...

Time to update this article. App is no longer free; now it's 99 cents just like IOS. Thankfully I got it while it was free.
Windows Central Newsletter
Get the best of Windows Central in in your inbox, every day!
Thank you for signing up to Windows Central. You will receive a verification email shortly.
There was a problem. Please refresh the page and try again.