Sticky Notes update brings UI tweaks and more to Fast ring Insiders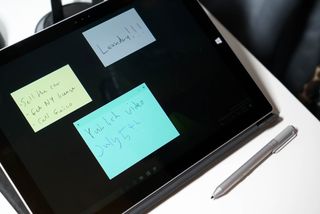 A new update to Microsoft's Sticky Notes for Windows 10 is now available to Windows Insiders on the Fast ring. Though small, the update contains some performance improvements, along with UI tweaks that bring a smaller minimum windows size.
From Sticky Notes engineering manager Donovan Lange on Twitter:
Sticky Notes v.1.1.24.0 released to Insiders Fast Ring. Smaller min window size and UI, better boot perf, memory, and bug fixes.Sticky Notes v.1.1.24.0 released to Insiders Fast Ring. Smaller min window size and UI, better boot perf, memory, and bug fixes.— Donovan Lange (@dolange) August 23, 2016August 23, 2016
And there you have it! While there aren't any astounding new features as part of the update, performance should hopefully be smoother and the new minimum size should make things easier to use on smaller screens.
More: How to create a reminder in Sticky Notes on Windows 10
Dan Thorp-Lancaster is the Editor in Chief for Windows Central. He began working with Windows Central as a news writer in 2014 and is obsessed with tech of all sorts. You can follow Dan on Twitter @DthorpL and Instagram @heyitsdtl. Got a hot tip? Send it to daniel.thorp-lancaster@futurenet.com.
Actually ran into the minimum size issue today after using notes for a while now without noticing so this hits the spot for me! Love the new default font compared to the cursivey one of the past.
As a side note:
Many people have commented about me using sticky notes in a somewhat derogatory manner and I always tell them they are perfect for notes you don't really care if you lose or not and are the most accessible. I still use onenote for things I need available on multiple devices and backed up but sticky notes are perfect throwaways. Give 'em a whirl!

Sticky notes isn't recognizing my dates, phone numbers, website, etc. Is there something I need to enable? Or is it not availble outside of the US market? (I'm in Canada)

My guess is that it's a Cortana feature. Got that enabled?

It's US only as far.as I am aware, Im in the UK and not been able to use them features yet :(

Same here, glad others in the UK are noticing this too. It's surprising to be honest, and they usually quite openly specify when features are US only (They = Microsoft) but whenever I see this talked about it's not mentioned.

Still don't get it. Why do we now have 2 note apps - OneNote and Sticky Notes?

Try them, and you'll see they are different.

They should not be different. OneNote can already do everything that Sticky Notes can do, but a lot more. And OneNote can also already make screenshots and clip them. It's just Microsoft's way to reinvent the wheel (but a lot more imperfect) and then when they have worked hard to make it work better, they will notice they already had the same wheel in perfect conditions, but they only needed a new color. Then they will throw all over what they had already done.

The OneNote team and the sticky notes team worked closely together as per this video: https://www.youtube.com/watch?v=G1Uqntav6ZA . Perhaps they will integrate with each other in the future.

Ferec that is just PR. It is there only to sound good. Of course they probably had some kind of communication (i.e. In how Inking works because OneNote knows that best of all teams in MS), but obviously it only means that there is something going wrong, probably the employees not daring to question some of the managers choices. It sounds great, if Evil Corp would say "Our teams have worked closely together to find the best possible way to end the world. It's diarrhoea! Maybe in future we can work closely together with our cerebral disease team to find an better way." Sounds professional and innovative, but deep inside you know diarrhoea is not the best way to end the world.

Right, but would I use one over the other exclusively, or would I use both apps for certain situations? Don't get why they didn't just extend OneNote to have sticky notes features...

I agree like pinning a note to the desktop or having a quick access feature to one note stickies. Also would be cool to have OneNote to replace wordpad and notepad

If MS replaces notepad with onenote it will be the last time I use their products

They maybe can get rid of wordpad, but notepad is impossible, notepad is a simple plain text editor, basically everything can be modified using notepad:
*.bat, *.c, *.bmp, *.dll, *.html
Name it and you can get it (almost) everything using notepad. You can create (and destroy or modify it simpler or so badly that becomes useless) virtually any file or log, configuration file, web pages, apps for almost any system and even drivers. Notepad is one of the most powerful tool available for everyone in Windows.

Think of onenote as your journal for writing anything and everything important that you want to keep around and sticky notes as throw away one time notes. You COULD use onenote like sticky notes but you couldn't use sticky notes like onenote.

Because OneNote is a cross-platform app. So how would sticky notes transfer to iOS or Android?

My experience so far is that I'm missing an interactive experience that is more truevtobreal world use. The sticky note implementation lacks a integral experience with the rest of the OS. It's locked down in its own bubble within the ink workstation, a huge departure from the free floating widget in earlier windows versions thatvactually felt like putting sticky notes in your facebin olain view, like how it works more true to life when one sticks notes as lists, memos and reminders on real physical monitors, keyboards orvsxreen bezels. Why on earth in a seperate shell? It might be ligical from avdevelooers perspective, but as an end uset I find it too hidden, constrained and loisly associayed with the OS in terms of direct usabiluty and intetaction. Ik also troubled about this gummick of smart sticky notes with the stylus. On its own a brilliant piece of highly creative software engineering I would really like to use and I could see myself using it on a daily basis. If it only wasn't for the fact that its locked to cortana, which makes it unusable in all markets that is not the united states basically at this point, even after official release. One could argue for the workaround to set think and language to US English, but in a country where a English is not native it os extremely dysfunctional to use Rnglish and your own language to conduct professional business. And I think Microsoft is underestimating the real world handicap of only a select few supported languages on the global market by pouring Cortana on the global market. I would suggest a different platform within Windows be used for the smart s sticky note technology with the stylus for example the built in windows ink to text api with OneDrive and a UWP. I think this way the language problem can be solved and use a flow type solution to link input work the target AP via a more universally international broad coveraged cloud solution. And leave Coryana out of mainstream and select markets only till microsoft feels ready for full global Cortana release and not as now only a half baked half censored solution.
Lastly I'm missing some kind of vital sharing aspect of the sticky note. For me one of the most powerful use cases of the sticky note is leaving a new on the fridge, computer monitor or desk or any other "Surface" of colleagues, friends and family ad a memo. Not a single option sorted in this itteration of the windows sticky note in Windows 10, despite vast sharing options everywhere else in Windows 10 and Windows 10 apps. It would be awesome to simply skate a note directly to the desktop out start screen of a colleague, friend or family member on you yes/her Windows 19 account as a memo. Like I do in real life. That's the power of a digital sticky note! Not as now just limited to some separate back end out of sight out of mind storage screen hidden away in the in workplace. A sticky it's something that Vries out: Look at me! Not like now as some kind of Easter egg type likely not to look at to often. If the sole intent of the current sticky note is to merely show off the Cortana fancy trick, then why not just add it to Windows search? It was kind of there all along wasn't it? No need to hide the fancy trick in a hidden workspace, right? Be productive, easy to find, ink away your Cortana search pane within the already. Don't get all complicated with users with yet another seperate window for a Cortana feature. Okay finished now. I'm out of words now.

I didn't read your entire comment, mainly because the Windows Central app removes all line breaks which makes long comments hard to read (I write long ones too) but you can open sticky notes separately, pin it to the taskbar etc. Just start typing sticky into the start menu, and pin

Thanks for the tip. Makes the sticky note "app" a bit easier to find, but it is still feels like two other methods to the ink workspace to find a hidden function. I think the sticky note should be the form of an instant accessible widget or notification.

Great now bring it to mobile. Also add in a glass version that would look cool

Is there a way to import my old sticky notes from the previous Windows 7/8/10 version of the app to the new anniversary update UWP version?

The files are in your profile somewhere probably under appdata, but you won't need to. When you have notes in win10 regular notes app when you install the store version they will all still be there and launch when you first launch the app.

I never witnessed this as I didn't use the old Sticky Notes but nice touch by Microsoft having them migrate automatically

It will be nice if they add support for windows phone

I use sticky note to write down my workout routine

I have a question. Can you use Cortana search to find notes in Sticky Note? If so how? Is it fully integrated?

Now if the notes were sync'ed with OneNote and therefor available on all my devices I would be a very happy man. I would also really like if I could get rid of it from the taskbar.

The real question - will they release a new ADMX package to correspond with the new app that allows me to use a GPO to redirect the sticky notes to a network location? :-P
Windows Central Newsletter
Get the best of Windows Central in in your inbox, every day!
Thank you for signing up to Windows Central. You will receive a verification email shortly.
There was a problem. Please refresh the page and try again.