How to create a reminder in Sticky Notes on Windows 10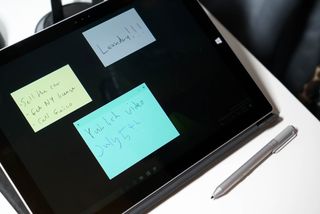 One of the major features that's new on the Windows 10 Anniversary Update is Windows Ink. It brings the writing you do every day into your digital world. Part of Windows Ink is Sticky Notes, which lets you add quick notes to your screen just like you would with Post-it notes.
While Sticky Notes is great for remembering common tasks, it can go a step further. For example, it can add a reminder to your calendar if it recognizes a time or date in the note. Watch our how-to video to see it in action.
How to create a reminder in Sticky Notes
Tap the Windows Ink Workspace button at the taskbar on the lower right corner, then select Sticky Notes.
Write a note with a date or time
If Windows 10 recognizes the date or time, it will change the ink color to blue
Tap the blue ink, then choose Add Reminder
Add or edit the time and date, then tap the Remind button.
That's it! The reminder attaches an image of your Sticky Note and tries to transcribe the note for the description.
When it's time for the reminder, an image of the Sticky Note pops up in the lower right corner along with the options to snooze or mark as completed. It's faster to ask Cortana for reminders, but it's a nice option to be able to create reminders from within Sticky Notes.
What do you think of this feature on Windows 10? Will you be using it frequently? Let us know in the comments!
I love sticky notes but its always on the way on my surface pro 4

What do you mean? I haven't taken the RS plunge on my Surface Book yet. Still debating on doing it or just waiting a few more weeks. I am really excited for the notes. Curious why you think they are in the way.

Are you using the old sticky notes that just live on the desktop? That's probably why. In Anniversary update, they live in Windows Ink Workspace :)

I took the plunge last night and decided to update. I now understand what onysi is talking about and it is fairly annoying. My understanding from everything i read was also your understanding, hence my comment asking him what he meant. When I close the Ink Workspace with notes open, they still stay on my desktop outside of the workspace. I hope that is a bug and not by design.

This is also happening to me following the most recent update. Very annoying. I hope it's a bug, because notes cluttering up the desktop sucks

Suggestion for reporting about Insider features: I wish you could cover a bit more than always just the obvious that we have read about multiple times. For instance nobody has shown what's new to the Tablet Mode or if this Sticky Notes app works also with keyboard and does replace the old Sticky Notes app? ;)

It does work with keyboard and mouse. And AFAIK it does replace the sticky notes app

Sticky Notes would be cool with Hololens.

Ink should be more focused on mobile form factor of at least 5 inch+ devices.

Reportedly this is planned for Redstone Wave 2. I would expect it with the Surface phones...

I don't know if this will change for the official release but right now this is only available in the US and maybe the UK. I'm really hoping they roll it out to everywhere that has Cortana

I just came here to tell people that. I tweeted about it to get confirmation if it's US only right now and got a yes but to "stay tuned" so I'm very hopeful for it to go to all Cortana regions (or at a minimum UK) just before or just after Anniversary is released

And what if Cortana is not available ? Cortana is still not available for French speaking Belgium. I really hope Cortana will be available in my country on August 2.

Can it be attached to login screen? Would make password sticky notes redundant.

It's funny because it's true!!

I'm just wondering about how I can use ink in the Maps app? Tried many things, but nothing works :( Can someone help me?

Apart from the original on-stage demo I haven't seen any further information on this. I think it hasn't been released yet. I really hope it's still in the anniversary update.

I wish this TINY "windows ink workspace" button was more obvious, it belongs in the Action Center.

That's a really good idea!

Can anyone confirm that a pen click will launch the workspace?

I think you can set it to do that

Yes, confirmed. You can choose several options, and the workspace is one of them.

I never knew it existed actually, until now.

I want this to work on my X3 when HP finally releases it, with a passive stylus option I think it would be great to do it on mobile as well as desktop

Is there any good handwriting accessory I can add to take benefit of Windows ink in my Windows 10 desktop? My desktop PC is very powerful and I would like to add this feature in the desktop itself instead of buying a tablet just for this.

I have never used one, but maybe something like this? https://www.amazon.com/Wacom-CTL460-Bamboo-Pen-Tablet/dp/B002OOWC3I?tag=...

Glad to see this little app getting updates like this and who else thinks that screenshot of the ink workspace should be there by default instead of the notification bar and when is all this coming to mobile

too bad it completely ignores the date format settings and uses the dumb US-only middle-endian nonsense format.

Will it come for all the devices????

If this could be on phone too

Does it syncs? I know Cortana's reminder follows me every where. But does the notes in Redstone syncs to all my PC devices?

This is good initiative that you made it more interactive and lively. But the main issue now starting is that it's using up memory space and not optimized at all. I have DELL Alien , 16GB RAM ... today only by mistake i clicked on the Active Stiky Notes .... 10% of my RAM is eaten by it.... When I run my games or software problems .... Really up happy with it's update ......

Luckily I still have a computer not updated to the latest version (1607), so I copied the StikyNot.exe file from the windows\system32 folder on to my updated computer and I now have the old version back. Hope this helps.

I wish I could create a sticky note, and then send it to someone else's desktop. Say if my boss is out and I get a phone call and use the sticky note to jot down a quick message. Then, when he gets back to his PC, the note it there on his desktop for him to read. Just like a real sticky note, except this one I wouldn't have to get out of my chair to deliver :-)
Windows Central Newsletter
Get the best of Windows Central in in your inbox, every day!
Thank you for signing up to Windows Central. You will receive a verification email shortly.
There was a problem. Please refresh the page and try again.