Everything you need to know about Windows Ink in Windows 10 Build 14328
Microsoft is currently rolling out Windows 10 Insider Build 14328 to the Fast Ring with a ton of new features. One of those features is Windows Ink.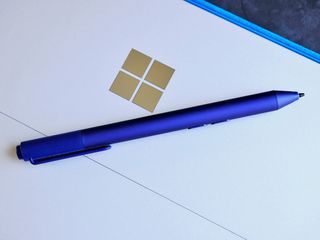 Initially demonstrated at Build 2016, Windows Ink is a vast expansion of Microsoft's vision for digital writing on PCs, and should serve as a massive boost to its increasingly successful Surface line.
Windows 10 Build 14328 adds an all new Windows Ink Workspace, accessible straight from the desktop's notification area. From this menu, users with an active pen pairing can access Windows Ink's core functions; writing sticky notes, doodling in the all-new sketchpad, and much more.
The Windows Ink Workspace will only appear if you have an active digital pen attached to your device, but you can still access it by right-clicking on the taskbar, and selecting "Show Windows Ink Workspace button" if you want to try it out regardless.
Windows Ink is not only designed to help Surface owners transfer more of those staple pen and paper tasks to their devices but enhance those experiences through Cortana and other Windows 10 features.
As noted, Windows Ink Sticky Notes are integrated with Cortana and recognise text strings dynamically to produce rich information and perform tasks. Windows developer Brian Roper demonstrated how a Sticky Note with "Call mom tomorrow" was identified by Cortana as a possible reminder candidate. Sticky Notes can also interact with other services, such as Bing, producing maps for addresses and flight paths for flight numbers.
Windows Ink also comes with a sketch pad that enables you to make larger, potentially more complex diagrams with the tap of the Surface pen. As demonstrated at Build, this also comes with ruler functionality, allowing you to make perfect lines naturally by placing a virtual stencil on the screen.
In addition to the sketch pad, Windows Ink allows you to draw directly onto screenshots, crop them, and either save or share them instantly using the Ink Workspace. For those of you who are fans of the built-in Windows Snipping Tool, this feature should be particularly useful.
Windows Ink is also integrated into other apps like Office, Edge, and even Maps, often with contextual functionality only possible with a computer. For example, when using Ink in Maps, you can draw lines to plot routes, get directions and make itineraries by writing directly onto the app, no additional menus required. Ink can also be used in Word, allowing you to highlight perfectly, make notes, and even scribble out words as you might on a real document.
You can customize your pen settings by going to Settings > Devices > Pen, giving you greater control over how your pen functions, and what programs launch from certain button presses.
Finally, Windows Ink is available for other developers to integrate into their applications. At Build, Microsoft demonstrated how Adobe had utilized the ruler functionality to create unique stencils, allowing digital artists to create perfect lines and curves while drawing in Adobe Illustrator.
Windows Ink is just one of an array of exciting new features available in Build 14328. While Windows 10 Fast Ring Insiders can get their pens busy today, Windows Ink will become accessible to the general public this summer along with the Windows 10 Anniversary Update.
For more information on what other features Build 14328 contains, check out Dan's post over here!
Jez Corden is the Managing Editor for Windows Central, focusing primarily on all things Xbox and gaming. Jez is known for breaking exclusive news and analysis as relates to the Microsoft ecosystem while being powered by caffeine. Follow on Twitter @JezCorden and listen to his Xbox Two podcast, all about, you guessed it, Xbox!
Damn lol i just updated to the previous build lol Welp time to update again.

Does this replace the ink interface in office? Or does it work together somehow? It would be confusing to have two ink input methods

I think that it takes a screenshot, lets you edit it with a pen and share it Sent from Lumia 550, HTC Desire 816 or Dell Inspiron 5122

That would be a substantial downgrade in functionality over what we have now. I haven't used the new Inking, so I can't say for sure, but I doubt that's right.

This and other questions. I shall try it on my convertable with capacitive non-active pen when it hits stable build so keen to know how well it works without an active pen. Same situation on the phones of course, how well will this translate to a passive pen on my Lumia 930? Also, how well will it work on a desktop PC using an active pen on a graphics tablet (not a tablet PC of course) when you don't write directly on to the screen? If this system fails to be flexible, I don't see this being a very universal feature which has always been the strength of the pen and paper approach and needs to be replicated in the digital world to achieve a comparable experience.

It doesn't replace the Ink interface in Office, I believe.

I really like the method to use a scale in the sketch area! Sent from Lumia 550, HTC Desire 816 or Dell Inspiron 5122

But will it come to mobile too?

Maybe one day if/when the phones support pens/digitizer

Phones already support passive pens, which the article indicates can be used as this system can be activated without an active pen. If it's going for the convenience of the pen and paper experience, it will fail badly if the prime p&p feature of flexibility is not translated to the digital equivalent.

Surface phone will most definitely have these features

Really love the addition of a virtual ruler. That is such a big deal for artists.

Can't wait to try these out as I'm a big fan of the pen with my SP3. Upgrading to the SP4 pen next week as it feels much nicer to write with even on the Pro 3

SP4 pen is light years better than the 3, on the SP3

Can I run this on a surface 3?
Very tempting!

When does Ink come to MS Visio? That's an *obvious* tool where it should appear.

Using Ink in Maps to manually draw out specific routes sounds great. I have been wanting to do that for years to plot out runs.

Bring back the Tablet Input Panel! It never should have been taken out on the first place.

Are those Sticky Notes a replacement to the old application or are they separate? To me it feels like Windows Ink is not integrated enough but something they added on top. The Sketchpad app is yet another pen app but it should be a dedicated OneNote page that syncs with your devices.

Will the surface pro 3/4 pen work with the surface pro 1, I want to buy one but need to be sure

It won't, they use different technology.

Okay, that's disappointing, thanks for the help

You're welcome. I'm sure the gen 1 pens will work, prob no button activation though.

It does work, I'm glad they thought of that and added an option to activate the workspace through the task bar. There is no button activation though

I'm wondering if Windows Ink is limited to the N-Trig pens used with the Surface Pro line or will it work with older Wacom-enabled pens and active digitizers.

double click pen to open screen sketch is pretty awesome.

Oh man that is just great, specially the ruler part while drawing. Great job MS

Great my pc deleted all the setup files. Does anyone know where I can get the is?

Sorry mate, I'm not the right guy to help you

ok that's alright. I'm downloading the iso right now

Does active pen include the likes of a Wacom digitiser?

Off topic, I can't seem to figure out the current quick actions when you use the pen (keyboard) instead of the normal touch screen keyboards. The only neat thing that I know of is when you minimize the keyboard to move it around the screen it starts out small but when you writ to the end it will automatically expand. Like how do you join to and today Or separate today into to day. The 8.1 keyboard was easier in this regards.
Windows Central Newsletter
Thank you for signing up to Windows Central. You will receive a verification email shortly.
There was a problem. Please refresh the page and try again.