Strapping the Lumia 1020 to a helicopter will get you some great photographs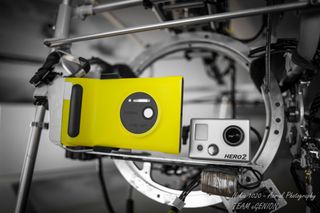 Higher-end Nokia Lumia devices have some really good camera hardware. The images produced from phones like the Lumia 920, Lumia 1020 and Lumia 1520 can be incredible for smartphones. Which is why we've seen images so good they appeared in the National Geographic. Speaking of the Nokia and National Geographic partnership, remember the contest they were running? Here's a look at some killer work from one of the entrants and his Lumia 1020.
Martin Hämmerli took his Lumia 1020 and strapped it to a radio-controlled helicopter. He then sent the camera with its 41 megapixels to capture some beautiful images around the Swiss Alps. Specifically, the Landwasser Viaduct between the towns of Schmitten and Filisur in the Swiss Canton of Graubünden. The viaduct was built at the start of the last century and carries a single train from cliff to tunnel. Check a shot from the scene below.
The Lumia 1020 was activated by a radio-controlled mechanical finger that Martin would trigger from below. The copter he built was modified from an existing kit and has been reinforced to support and carry photography gear as heavy as the Canon 5D Mark III. So carrying the Lumia 1020 wasn't too much of a challenge for Martin, but definitely above our skillset.
Be sure to go to Martin's website to check out shots from his aerial photography kit, including the Lumia 1020 and his Canon 5D Mark III. You can also view his 500px portfolio for more shots.
Via: Windows Blog
Get the Windows Central Newsletter
All the latest news, reviews, and guides for Windows and Xbox diehards.